Sun sheds tears of relief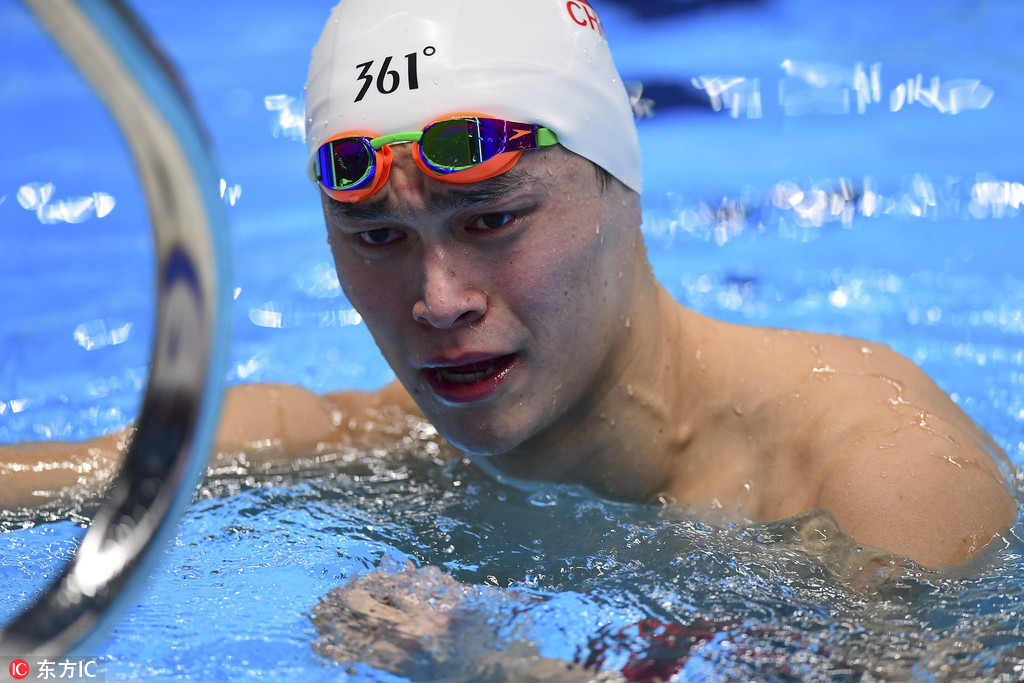 Older and wiser, but still a golden icon
Chinese superstar Sun Yang has long been known for his steely determination and uncanny ability to focus on the moment.
But after pocketing his fourth gold last Friday on the final day of the Asian Games swimming competition, the multiple world and Olympic champion couldn't help but shed tears of joy-and relief.
It wasn't the first time the 26-year-old Sun wept in front of the world, but what happened in Jakarta was special because the challenge served as a reminder that his reign can't go on forever.
The three-time Olympic gold medalist and nine-time world champion once again proved his dominance by sweeping the 200m, 400, 800 and 1,500 freestyle events-but there were no easy victories.
"Today, it's my will that pushed me to go forward, and the swimmer next to me pushed really hard to give me huge pressure," a tearful Sun said afterwards.
"It was really difficult for me at the end of the competition. I struggled, but I maintained my persistence."
Sun faced an unprecedented endurance test at these Games. With the 800m free added to the Asiad program for the first time, the champion who swept all three individual disciplines from 200 to 1500 at the 2012 and 2016 Olympics faced four finals over the course of six days.
He also participated in two freestyle relays, pocketing two silvers.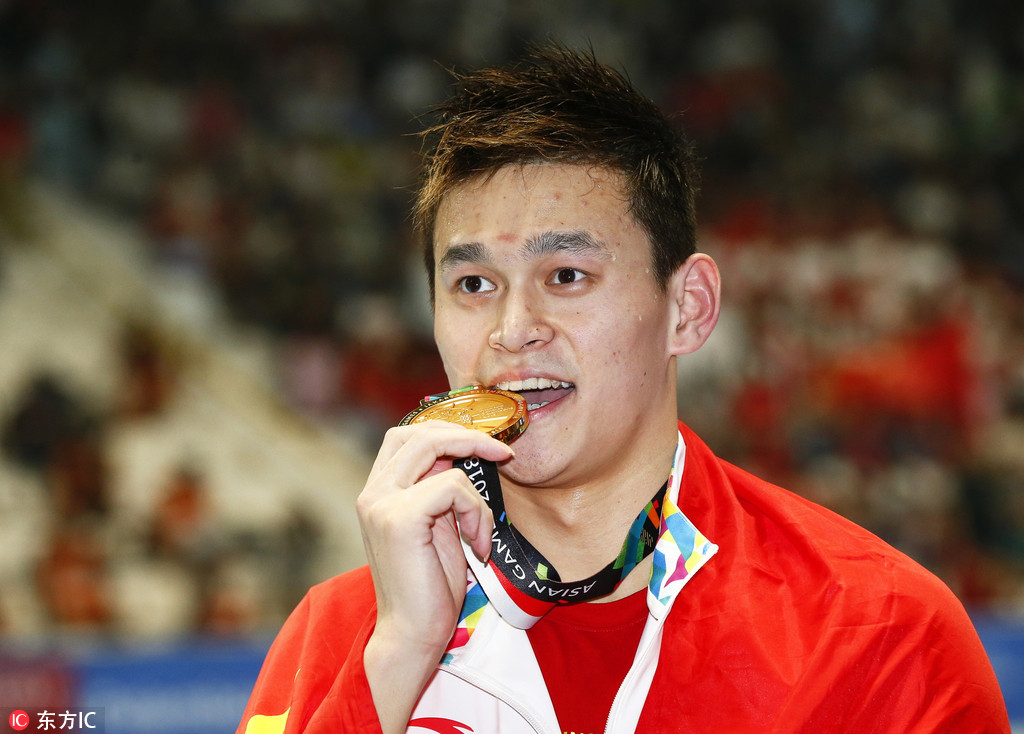 The news that he wept in front of members of the media after winning the 1,500 became the most trendy topic on Chinese social media on Friday night, with tens of millions of fans expressing love for their hero.
Many also expressed concern-especially given Sun's age and the challenges from many young rivals-that his dominance might be coming to an end. Sun had the same thought himself.
"It is not easy for me to keep my dominance for three Asian Games; I was rusty and exhausted after 4x100m freestyle relay. I thought about pulling out of the event, but I just tried my best," he said.
These Games marked the first time since the 2014 competition in Incheon, South Korea, that Sun finished the 1,500m within 15 minutes.
"I did not train for the 800 and did not compete in the 1,500 in big competitions since then. But all the effort paid off after I went back to my long-time coach Zhu Zhigen. That was a great boost for me," said Sun, who is now eyeing the 2020 Tokyo Olympics, when he will be 28.
"This is my third straight 1,500 freestyle gold medal at the Asian Games, which means I achieved it over 12 years. But it was so difficult.
"I hope the four gold and two silver medals I won here will be an motivation for me to work harder, because I want to achieve even better results in the future.
"To be honest, the pressure on me before the races was huge. But I managed to cope and hold on till the end."
Sun is considered a role model and the leader of China's swimming squad, and is a source of inspiration for the nation's next generation of stars. That includes Xu Jiayu, China's world champion backstroker who won five gold medals in Jakarta.
Four years ago at Incheon, Xu was far from contending for gold in individual events, but he was greatly encouraged by Sun who told him "don't keep a low profile. You have to make the whole world remember your name and know the capability of Chinese swimmers."
Sun is still living up to that standard.
"If you participate in multiple events, there is more responsibility on your shoulders. I participated in many events to be a role model for young athletes," he said.
"The competition between China and Japan is not over. It will last till the 2020 Olympics. We must learn the lessons and avoid the mistakes from these Games."