Singapore's Olympic champion Schooling seals men's 100m butterfly gold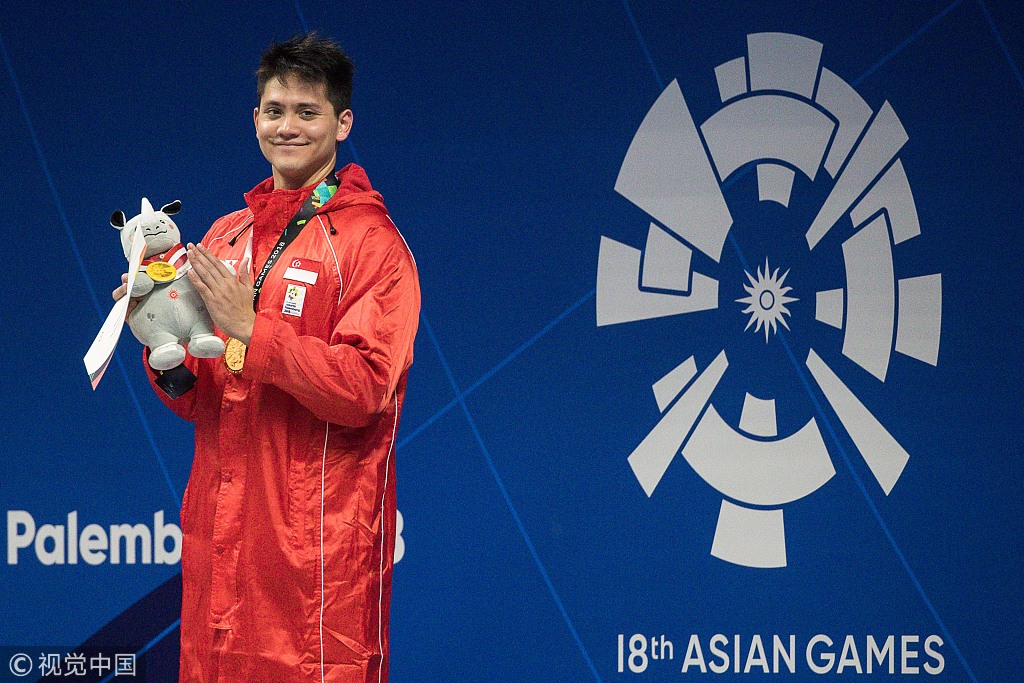 JAKARTA - Singapore's Olympic champion Joseph Schooling became the first swimmer to break the China-Japan dominance in the pool winning the men's 100m butterfly gold medal, while China and Japan tied 14-14 on the gold medal tally after four-day swimming competition at the Asian Games here on Wednesday.
Leading from the start to the end, Schooling never met strong challenges and clocked a Games record of 51.04 seconds. Li Zhuhao of China took the silver in 51.46 and Kobori Yuki of Japan third in 51.77.
"I've had an up and down last two years. But that's a part of the cycle. You can't always be in tip-top shape. What's important is to step up and grind it through. That's what defines an champion," said the reigning Asian champion.
The 16-year-old Li Bingjie and Yang Junxuan gave China a one-two finish in the women's 200m freestyle as Li topped the event in 1:56.74 and Yang 1:57.48.
"200m is not my favorite event but I expected to swim faster. However, I found out that my turns were terrible. I need to work on that in the future training. I felt tired after 1,500m and 4X200m freestyle relay and I tried my best, " said Li, who finished second in 1,500m behind teammate Wang Jianjiahe and anchored in the winning relay team.
Zhang Yufei of China ruled women's 200m butterfly in 2:06.51, followed by Mochida Sachi and Hasegawa Suzuka, both of Japan, in 2:08.72 and 2:08.80, respectively.
"I dreamed to win this title but I was too nervous. My coach told me to swim as brave as I can in the first 100 meters. I did it!" said the 20-year-old who collected a silver in 100m butterfly.
Zhang later joined the squad together with world backstroke champion Xu Jiayu, breaststroke swimmer Yan Zibei and women freestyler Zhu Menghui in the mixed medley relay. Team China timed in 3:40.45 for an Asian record. The previous mark was set by Japan in 3:40.98 at the Pan Pacific Championships on Aug. 19. Japan came to second in 3:41.21 and Singapore third in 3:49.27.
Japan had a 4-3 upperhand over China on gold medal hunt on the fourth day as Koseki Yasunhiro of Japan claimed his second title in the 100m breaststroke in a Games record of 58.86. Yan Zibei of China came to second in 59.31 and Dmitriy Balandin of Kazakhstan, the Olympic champion in 200m breaststroke came to third 59.39.
Seto Daiya and Hagino Kosuke, both of Japan, topped the men's 400m individual medley in 4:08 and 4:10.30. Wang Shun of China, winner in the 200m IM, came to third in 4:12.31.
Sakai Natsumi and Konishi Anna wrapped up the gold and silver from the women's 100m backstroke in 59.27 and 59.67. China's Chen Jie and Olympic bronze medalist Fu Yuanhui finished third and fourth.
Japan denied China's attempt to defend the men's 4X100m freestyle relay with a Games record of 3:12.68, while triple Olympic champion Sun Yang anchored with Yu Hexin, Yang Jintong and Cao Jiwen to finish second in 3:13.29. Singapore took the bronze.
For Sun Yang, it was an acceptable result and his second relay silver. "I just got the call from our team that I swim in the relay final. I tried my best with a time of 48.38. We all did our best and we felt satisfied with that," said Sun, who grabbed three gold medals so far in 200, 400 and 800m freestyles and two silvers from 4X200m and 4X100m freestyle relays.
Sun has bagged a total of eight Asian titles from hsi three Asiad trips, tying the most successful swimmer Xu Yanwei in the collection of gold medals as individual.
Sun will compete in the 1,500m freestyle on Aug 24.