Xinjiang a symbol of Silk Road promise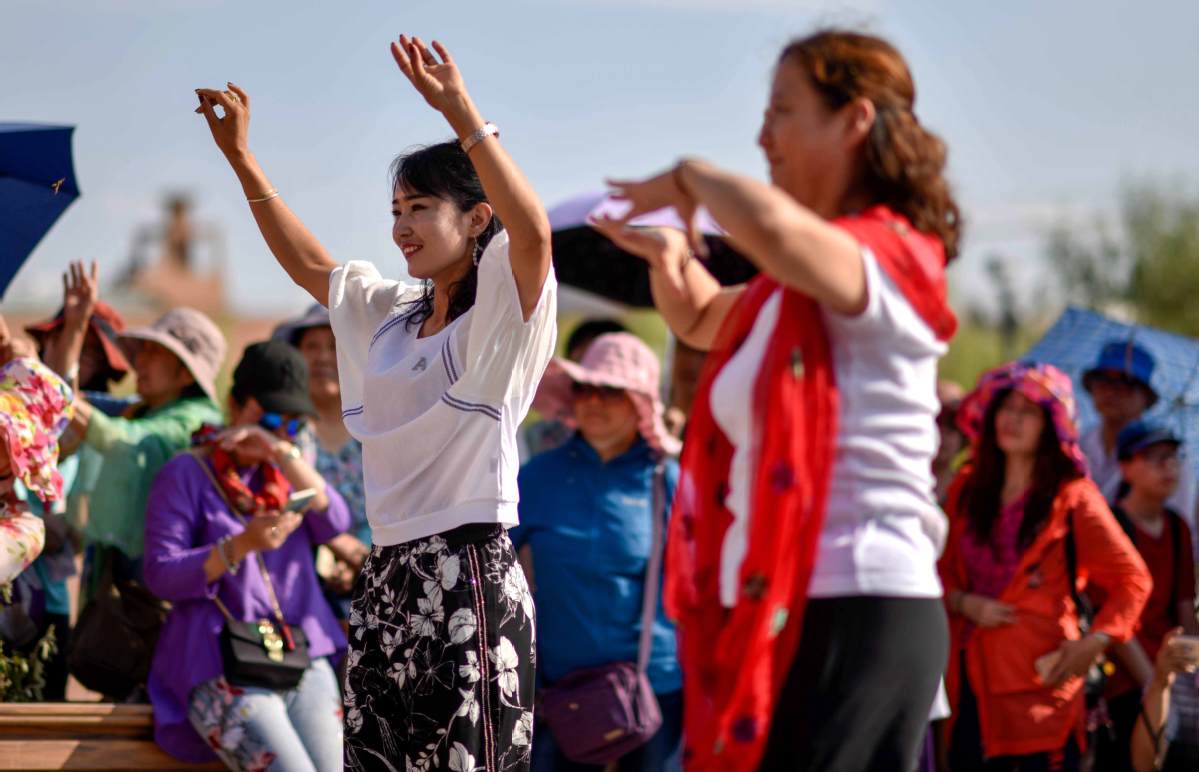 Trading hubs
Apart from being connected to raw materials and markets, the first bonded zone in Xinjiang gives the Alataw Pass an extra edge. More than 400 companies have established bases there since 2014 and total trade volume has risen to about $8.7 billion.
A local private food processing plant now has a 4,000 square meter warehouse and is building a 20,000 sq m new one, plus a 1,000-ton flour mill. Its manager, Hu Xuming, said, "Our annual imports of Kazakh wheat will reach a million tons in five or 10 years, and we will store and process all the raw materials here to be cost-competitive."
About 300 km west of the Alataw Pass, exporters in Horgos are grateful for improved customs clearance and simplified procedures.
Yu Chengzhong, CEO of Jinyi International Trade Corp, the biggest local fruit and vegetable exporter, said the benefits have been immediate.
"It used to take 10 to 15 days to transport goods from Horgos to Russia, but now it only takes five days," he said. "Customs clearance in Kazakhstan used to take a whole day, but now it is only two hours."
When Yu, from Central China's Henan province, arrived in Horgos more than 30 years ago, he struggled to make ends meet by selling fruit on the street.
Now his company exports 70,000 tons of produce each year to neighboring countries and has increased the incomes of 1,000 farming households across China.
"The Belt and Road Initiative is a golden opportunity, a blessing for all," Yu said. "I have never seen Xinjiang safer or more flourishing than it is now."
Despite being one of the most remote and inhospitable spots on earth and the youngest city along the Silk Road, Horgos is not wanting for creativity. Among the city's smart initiatives are an economic development zone and an international cooperation center.
The economic development zone, set up in 2010, ensures that companies registered in Horgos enjoy a five-year tax holiday and are exempt from local corporate tax for the subsequent five years.
The international cooperation center, straddling the China-Kazakhstan border, is the world's only cross-border free-trade zone. Movement of personnel, vehicles and goods in the zone is unrestricted, and stores and visitors pay less or no tax.
Last year, the 5.28 sq km center welcomed over 5.5 million visitors from China and abroad, 33 times the number in 2012 when it opened, and spending reached $1.7 billion, almost three times as much as in 2016.
In Mongolian, Horgos means a place where caravans pass, as it was a trading post along the northern route of the ancient Silk Road.
In Kazakh, Horgos is known as Khorgos, a place where wealth can be accumulated. That resonates with what it is becoming today - a regional hub of trade and commerce, a portal for China's opening-up to the West and a linchpin of the Belt and Road Initiative.