Zhong using Rio letdown as motivation for Tokyo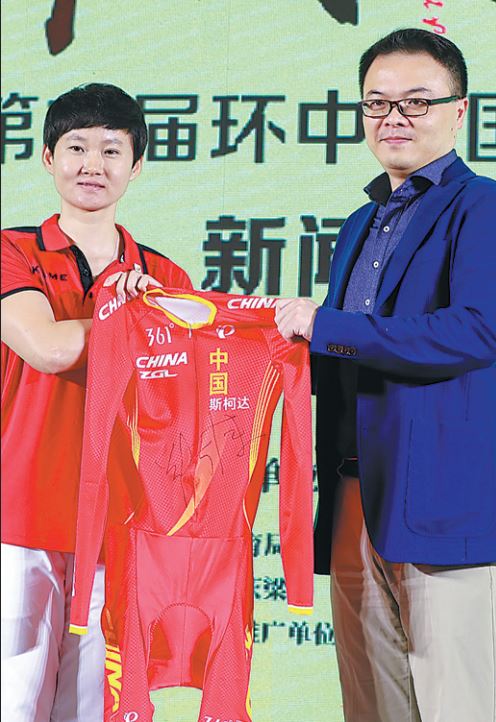 Regrouped and recharged, Olympic champion cyclist Zhong Tianshi is back on track to fight for an individual breakthrough at Tokyo 2020.
Zhong and Gong Jinjie brought home China's first Olympic gold medal in cycling when they won the team sprint at the 2016 Rio Games, but the 27-year-old knows she could have done even better.
"Our emotions were too high after the team victory and everybody celebrated as if the Olympics had finished," Zhong recalled of the historic night she and Gong set a world record of 31.928sec in the qualifying round before beating a Russian duo in the final.
"Nobody cared about anything else after the win and I couldn't stay focused for the rest of the event," Zhong told China Daily at last week's launch ceremony for the Tour of China road race in Beijing.
The excitement over ending the nation's Olympic gold drought in the sport took a toll on Zhong's physical and mental readiness for the individual races in Rio, in which she came up empty. Now she's embracing that memory as motivation for Tokyo.
"With no strings attached because I helped my country win, I'm now focused on having no regrets in Tokyo," said the Shanghai-native.
Still, the reboot took a little longer than Zhong anticipated.
Hampered by a lower back injury and lack of motivation, for a long while she couldn't recapture the competitive edge that propelled her to Rio glory - as evidenced by her botched start in the semifinal of the team sprint at the 2017 National Games.
After spending two months away from the track to allow her back to heal, Zhong realized the velodrome was where she was meant to be.
"It's not bad to have already won a Olympic gold medal, but I'm far from finished," said Zhong, who partnered with Song Chaorui to finish fourth in team sprint in her first post-Rio international outing at the 2018 world championships in March.
With the Asian Games serving as a test run for Tokyo, Zhong said she's recovered almost to her prime form physically and mentally.
Gong retired last October, so Zhong will pedal with new partner Lin Junhong in Jakarta to try to defend China's Asiad title.
In women's keirin and sprint, two individual disciplines that feature tactical overtakes in one-on-one battles, Zhong will compete head-to-head against compatriot Lee Wai Sze, the defending champion from Hong Kong.
"The chemistry between me and Lin has built up to where we feel confident to maintain dominance in the team event," said Zhong.
"Individually, I feel like me and Lee are 50-50 to win the gold medal. It will depend on who brings out more on the race day."
Meanwhile, China's track cycling team will fight for podium finishes in men's short-distance sprinting events with the goal of surpassing its haul of three golds at the last Asiad in Inchon, South Korea.
"We will try to maintain our lead in our strength event while building up for breakthroughs at future Olympics by taking the test in Indonesia as serious as we can," said team manager Niu Hongtao.