Superstar Sun Yang leads Chinese charge in Asiad swimming tournament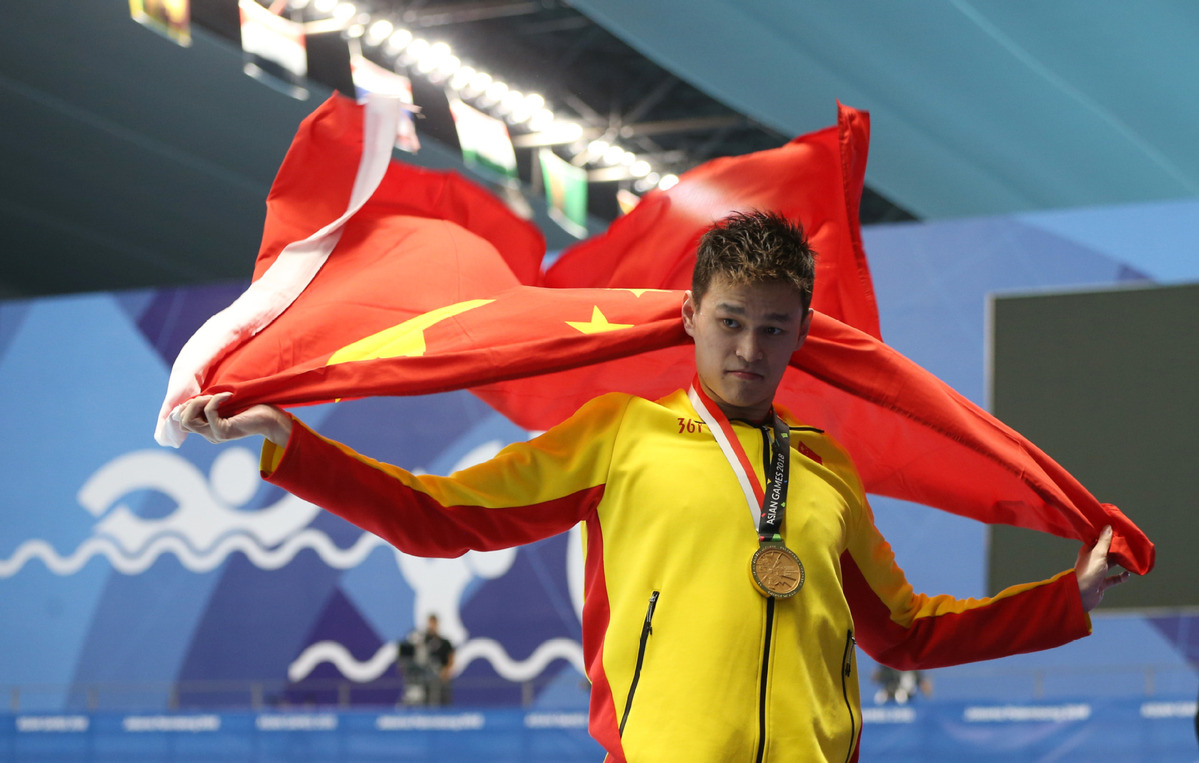 JAKARTA - Three-time Olympic champion Sun Yang claimed victory in the men's 200m freestyle at the 18th Asian Games here on Sunday, making a Golden Grand Slam in the 200, 400, 1,500m free from the Asian Games, World Championships and Olympic Games.
The swim king, who clocked a time of 1 minute 45.43 seconds for the title, led Chinese charge in the swimming pool against arch-rival Japan, wrapping up four out of seven golds on offer.
Wang Jianjiahe and Li Bingjie, both at 16, gave China a one-two finish in the women's 1,500m freestyle while world champion Xu Jiayu celebrated his 23-year birthday with a gold medal from men's 100m backstroke in a Games record of 52.34. Liu Yaxin won women's 200m backstroke title at 2:07.65.
"For eight years from Guangzhou 2010 until now, I have been waiting for this gold medal in 200m at the Asian Games. Not many swimmers could have waited for eight years in three Asian Games like me. My dream comes true finally. I am very excited," said Sun, who ran to the stand and shook hands with his parents.
Sun, who collected three titles from 400m, 1,500m free and 4X200m freestyle relay in Incheon Asian Games, will compete in the 400m, 800m, 1,500m and relay in Jakarta.
Japan, the host of the 2020 Summer Olympics, posed a real threat to China by winning the remaining three golds in pool, including women's 4X100m freestyle relay title with a Games record of 3:36 52.
Sun Peiyuan won first gold for China in men's changquan, which is also the Games's first gold.
Sun, a 29-year-old veteran who won the gold at the 2015 World Championships in Indonesia, displayed his master skills to impress the judges and audiences with acrobatic, swift moves to snatch the Games' first gold medal with 9.75 points.
China's hope for the 1st gold of the 18th Asiad was pinned upon the shoulder of Sun, and the victory didn't come easily as he was under the tremendous pressure to give China a morale-boosting start in their quest to top the medals table.
Sun said: "I felt huge pressure before the Games. Now it's time to relax. Winning gold was not easy at all. I did not have my best performance, but I'm happy to win the first gold (of the Games) for China."
Wushu was first incorporated into the Asian Games in 1990. The sport comprises Taolu and Sanda. Changquan, or long fist boxing, featuring imitations of animal moves, is the basic and main style of modern Wushu, mostly being performed in north China.
Elsewhere, Chinese fencer Qian Jiarui claimed women's sabre individual title after winning an all-Chinese final. Chinese duo Wu Jiayu and Ji Xiaojing came from behind to shoot down the gold of 10m air pistol mixed team event.
Lin Yingshin and Lu Shaochuan combined to win the first gold for Chinese Taipei as they triumphed in the 10m air rifle mixed team event.
China, who dominated the past nine editions of the Asian Games, led the medal standings with seven golds after the first matchday's competition.
The 2018 Asian Games, attracting more than 10,000 athletes, will run through Sept. 2.