Japan's cultural envoys make strong bid to boost China ties
Share - WeChat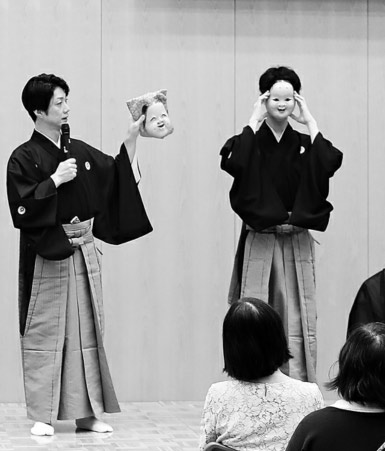 When Mansaku Nomura was just 3 years old, he made his stage debut playing a monkey. That was in Tokyo in 1931.
And now, aged 87, he is still active.
Nomura, who is referred to as a "living treasure" in Japan is keen to talk about kyogen, a form of Japanese theater. And on Aug 11 he did just that at the Japanese embassy in Beijing in the presence of his son Mansai Nomura, who is perhaps even more famous than him.
The event was part of the 40th anniversary celebrations of the signing of the Treaty of Peace and Friendship between Japan and China.
Mansaku Nomura is used to such events because for decades he has been an unofficial ambassador for kyogen, performing in cities like Adelaide, Milan, New York, Seoul and, of course, Beijing.
China is a natural setting for kyogen, he says, even though it is regarded - with noh, kabuki and bunraku - as a quintessentially Japanese traditional opera, as it is believed to have its roots in 8th century China.
The stage on which kyogen is performed is sparsely furnished and performers use masks to play different roles that extend to playing plants and animals.
The plots of the plays - which typically last 10 minutes - are humorous, and the movement tend to be frenetic and bustling, but with music that is unobtrusive.
When Nomura senior and junior walked into a room at the embassy for a lecture on kyogen, they are wearing dark green and black hakama outfits - traditional male Japanese wear that also has its roots in imperial China.
Accompanied by a handful of kyogen actors, they received a rousing welcome from the audience of about 150 people.
The night before, the Nomura troupe performed three kyogen pieces at the Beijing Tianqiao Performing Arts Center.
Mansaku Nomura's first journey to China was in 1976 - a couple of years before the friendship treaty was signed - as a member of a Japan-China Cultural Exchange Association delegation.
And, since then, he has brought his mission to China eight times, the last being in 2009.
At the embassy, he mentioned about the banners he recently saw hanging in the streets of Beijing, remnants of the 19th National Congress of the Communist Party of China in October.
"The message on the banners is a moving one," he said. "'Remain steadfastly true to whatever you set out to do.'
"Our group has as its goal to perform kyogen, and to do so in a way that is beautiful, intriguing and funny."
When asked about where kyogen is heading, Mansai Nomura said: "In the information age, creativity is critical. At the same time, an audience must be made to feel the beauty of every play, not only through language but also through movement and sound, and all that is something we constantly strive for."
For now Mansai Nomura, familiar to the Chinese mostly through his role as Abe Seimei in the movie Onmyoji, is preoccupied with things other than kyogen.
In July he was named as the chief executive creative director of the opening and closing ceremonies for the Tokyo Olympics in 2020.
"As with a kyogen, I want to make these events unique experiences for those who watch them," he said.
And central to the ceremonies will be a reaffirmation of Japanese traditional culture, he added.
One of the participants, who was at both the play and lecture in Beijing, Wu Min, a Japanese teacher at Beijing Yuetan Middle School, praises Mansai Nomura's versatility, saying: "The great thing is that whether as a kyogen performer, as an actor or a director, he does everything well. He's very creative and expressive.
"He began kyogen training when he was very young, just like what happens in many vocational schools in China."
Another of those who attended the performance was Japan's Ambassador to China, Yutaka Yokoi.
Commenting on the events, Yokoi says in a letter that this year is the 40th anniversary of the signing of the Treaty of Peace and Friendship, and he hopes that cultural communication between the two countries gets stronger.
Most Popular