OKC's hustle, muscle fire up Russell
Westbrook lauds Thunder's chances during China tour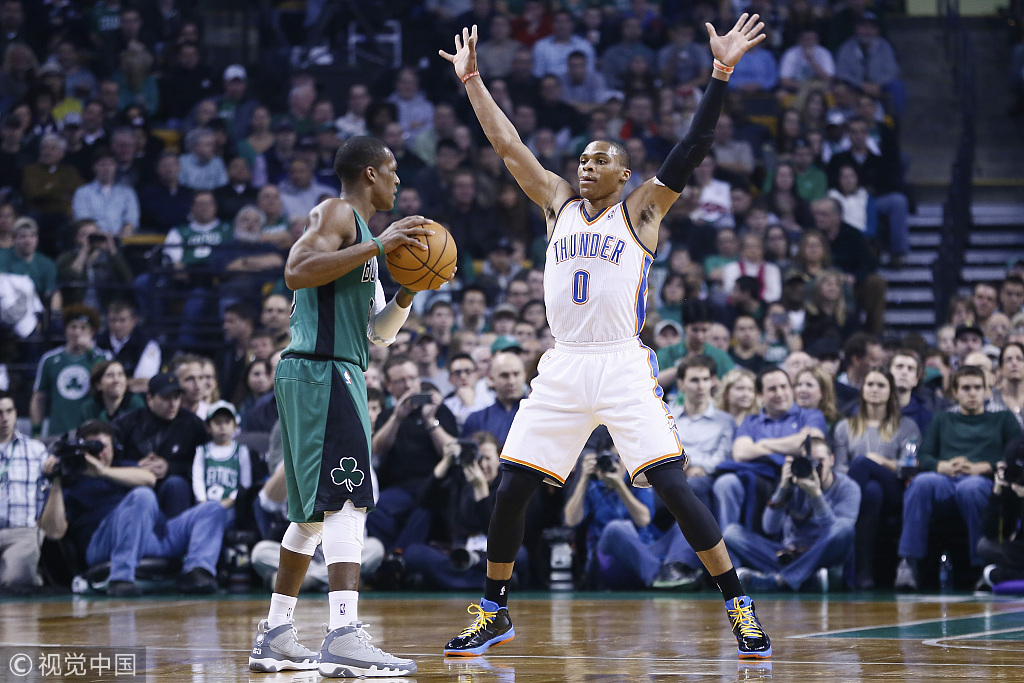 Russell Westbrook's demeanor during his recent China tour said it all. The Oklahoma City superstar is pumped for a new season he believes can end with an NBA championship.
Knowing Paul George is his wingman again is a major source of that optimism. Last month, George re-signed with the Thunder for a reported $137 million over four years.
"Paul has been an unbelievable teammate, obviously a great friend. I'm very, very excited that he is back and we're ready to make some noise," Westbrook told ESPN in Beijing on Sunday.
In stark contrast to his intense on-court persona, Westbrook cut a laid-back figure throughout his Aug 9-12 trip to China.
The 29-year-old wore a massive grin on his face for all of his engagements in Shanghai and the capital, whether that was meeting fans, hanging out with local fashion designers, coaching a street game or shooting hoops with kids.
With seismic player movements like LeBron James' arrival at the Los Angeles Lakers and ex-Thunder star Carmelo Anthony's departure to the Houston Rockets, the balance of power appears to be shifting in the Western Conference.
But Westbrook remains confident OKC still has what it takes to fight its way out of the wild west.
"We are just going to take it one day at a time. I think our team has a lot of great, young talent. We have one goal now and that is winning a championship," said the 2016-17 league MVP.
To fill the massive hole left by Kevin Durant's defection to Golden State in the 2016 offseason, OKC brought in George and Anthony from the Indiana Pacers and New York Knicks respectively last summer, forming an intimidating "Big 3" to counter the Warriors' superstar-fueled success.
However, with all three needing the ball in their hands, the chemistry didn't quite work out and OKC crashed out in the first round of the playoffs to an inspired young Utah Jazz outfit.
That result only serves as more motivation for Westbrook's Thunder.
The Lakers were one of multiple suitors for George's signature over the summer, but he will tip off the new season in blue again, with Westbrook's competitive spirit cited as one of the reasons he stayed.
Westbrook, for his part, has promised to return to the court even stronger-if that's actually possible after becoming the only player in NBA history to average a triple-double for two straight seasons.
"I'm trying to improve all aspects of my game and make sure that I come back better," he said.
"I will bring a lot of different things to the game," he said.
"In the summer I've worked on different things because there will be nights where you don't make shots but you can impact the game other ways," added Westbrook, who had a league-leading 10.3 assists per game last season and averaged 25.4 points and 10.1 rebounds in 80 games.
Westbrook was visiting China for a third straight summer, and was primarily here to promote a charity funded by his shoe sponsor, Jordan.
On the first day of his tour in Beijing, he attended an art exhibition featuring sculptures created by Chinese artists inspired by his personal style and can-do mentality.
Later, he had some encouraging words for underprivileged children benefitting from the Jordan Wings charity program.
"I just hope they can do what they want to do and be what they want to be, not just in terms of basketball, but for life in general," said Westbrook.
"They need to continue to believe in what they put in their minds, even if somebody tells them not to."
Most Popular
Highlights
What's Hot