Worries about a tariff on LNG rise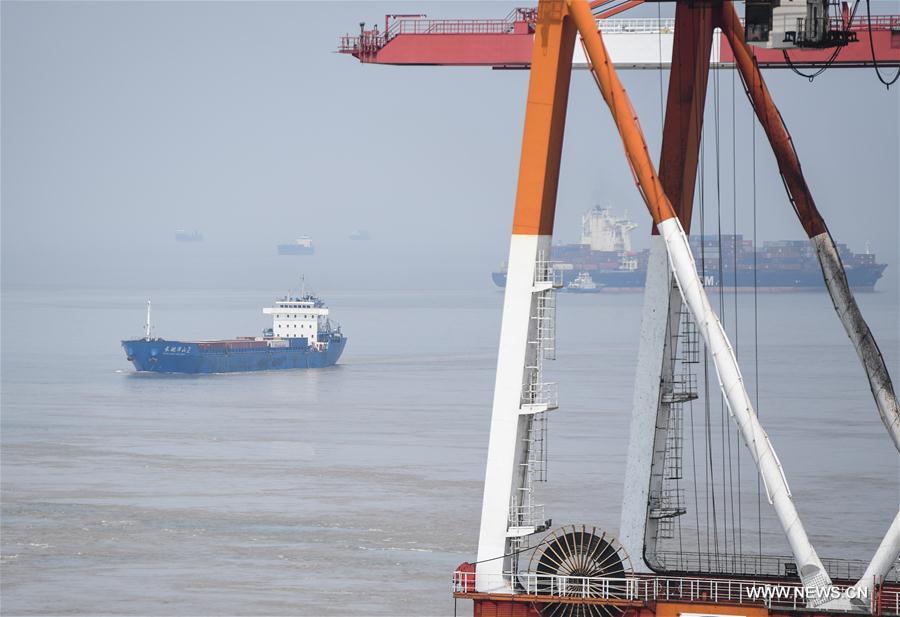 When US President Donald Trump made his first state visit to China in November last year, agreements between the United States and China related to liquefied natural gas amounted to tens of billions of dollars.
The deals were touted by Trump at the time as a big win for his visit. But now, if China's proposed 25 percent tariff on US LNG takes effect, either they will be off the table or US and Chinese companies alike will suffer financially if they stick to the deals.
China's tariff proposal is in retaliation for Trump's proposed new round of tariffs on Chinese goods.
The situation has the energy industry in both countries worried, said Barry Worthington, executive director of the Washington-based United States Energy Association.
Among the deals that might be in jeopardy, the US state of Alaska and Alaska Gasline Development Corp signed a memorandum of understanding with China Petrochemical Corp, China Investment Corp and Bank of China for deals valued at $43 billion.
Houston-based Cheniere Energy and China National Petroleum Corp signed long-term LNG sale and purchase agreements valued at more than $10 billion.
In addition, the LNG deal between Delfin Midstream and China Gas Holdings was valued at $8 billion.
Worthington, who was in Beijing last week for the International Energy Forum, described the mood there as "a lot of nervousness because no one is sure what will happen with the tariff".
"You have some people on both the Chinese and US sides who are convinced that the tariff is going to take effect and have terrific impact on both countries. There are others who think that people on both sides are negotiating a package and that, at the end of the day, there will either be no tariff or a tariff for a very short period of time. The opinion is a 50-50 split on both the US and China sides."
If the tariff takes effect and remains, the impact will be significant, said Worthington.
"There are multiple buyers and sellers in the global market, Chinese buyers will find other sources, US producers will find other buyers, but neither side will be happy," he said. "You will see price adjustment on both sides. US producers sell at lower price, and Chinese buyers are likely required to buy at higher price. Neither side wins with a tariff."
With the price of crude oil currently around $70 a barrel, drilling activity in western Texas, cooled by the price slump two years ago, has been booming since the beginning of this year-though that could change due to the tariff spat between the US and China.
Li Shaolin, president of PetroChina International America, a Houston-based subsidiary of China National Petroleum Corp, said the proposed tariffs list includes not only LNG, but also many other oil-and gas-related chemical products. The tariffs will have a profound impact on the US energy sector, Li said.
"The US has to look for other markets around the globe, and this will lower their competitiveness in the global market, consequently impacting oil and gas production," Li said.
It will also force China to look for products elsewhere. "It will affect our business of exporting US crude oil to China," Li said.
With China's policy shift to cleaner energy, anticipated US LNG exports to China and elsewhere prompted construction of a few large LNG terminal projects. These will be affected by the tariffs, said Worthington.
There are currently two LNG export terminals in the US-one in Maryland and one in Louisiana. They are loading shipments as quickly as possible, according to Worthington.
Four more LNG export terminals are under construction-one each in Georgia and Louisiana and two in Texas-and are expected to begin operating by the end of 2019.
"Those are multibillion dollar investments. Once completed, they will look for export cargoes as quickly as they can. The real impact of a tariff will come out for the next few terminals. If the tariff takes effect, those future terminals might have trouble getting financed," Worthington said.
Despite the potential tariff threat, Worthington said he is optimistic.
"People in the industries and governments are very aware of the negative consequence of tariffs on the energy sector. Before both governments allow that to happen, they will find a mutually useful deal for citizens on both sides," Worthington predicted.