She's got game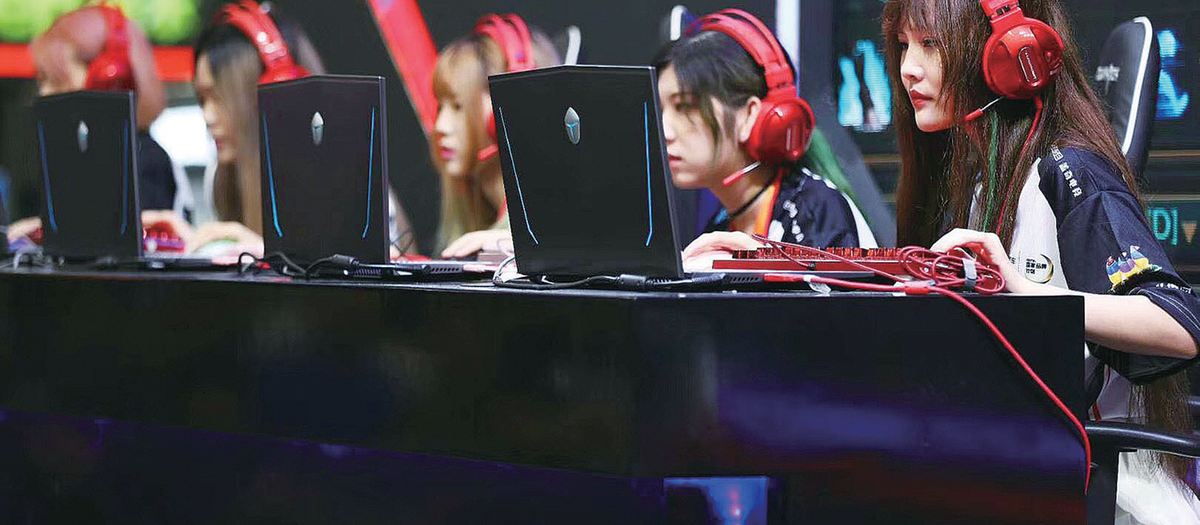 Male consumers might still dominate the Chinese gaming market, but the tides are slowly changing as an increasing number of developers are now targeting the once overlooked women
Female presence at previous editions of the China Digital Entertainment Expo and Conference, also known as ChinaJoy, was largely limited to show models. But the scenes at this year's Aug 3 to 6 ChinaJoy in Shanghai suggest that players in the domestic gaming industry developers have been busy targeting the wallets of the fairer sex too.
While men flocked to booths featuring the latest action games, Zhuhai-based game developer Xishanju's booth was filled with women. After all, the company's 3D dress-up game Yunshangyuyi is targeted primarily at them.
According to Xishanju's chief executive officer Guo Weiwei, the game was created after the developers realized that female gamers accounted for nearly half of the total players in another one of their games, a massively multiplayer online role-playing game (MMORPG) called Jianxiaqingyuan. Guo noted that women usually make up only 20 percent of the player base for MMORPGs.
According to a report released by the Shanghai Online Games Association in April, the number of Chinese female game players reached 367 million in February, up 6.4 percent from a month earlier.
Although most women play card or business management simulation games, a growing number is now spending greater amounts of time on action-based titles such as the massively popular multiplayer online battle arena game Strike of Kings by Tencent Games.
One of the reasons behind the rise in the female gamer population, according to Kern Zhang, the senior customer manager at mobile analytics firm App Annie, is the mobile internet boom.
"Unlike console-based games that usually require a long period of participation, mobile games are notably appealing to women as they are light, fun and particularly highlight their emotional demands," said Zhang in an interview with China Daily in June.
"And the detailed game graphics activate players' natural desire to share, especially their sharing of opinions on social networking sites."
The growth in the number of female gamers in China mirrors the global trend. Over in the United States, the world leader in the gaming industry, female players accounted for 62 percent of total mobile game users in 2017, according to San Francisco-based mobile game information provider Chartboost.
App Annie revealed survey findings in February which showed that the market size of tile-matching games, which is mostly played by women, has overtaken that of strategy games, which are male-dominated.
During the first half of this year, the consumption of Chinese female players jumped 13.5 percent year-on-year to hit 24.2 billion yuan ($3.5 billion), according to the China Gaming Industry Report released during ChinaJoy.
Liu Jiehua, research director of the report, explained that Chinese gaming companies had previously overlooked the spending power of female players, and this resulted in the limited development of games targeted at them. However, the tides are now changing as more developers are diversifying their focus.
One of the companies that has been ahead of the curve is Shanghai-headquartered gaming company Shinezone Network, which in 2011 launched its business management simulation game Flower Shop.
Targeted at women in European and US markets, the game became one of the most profitable of its kind within less than a year, according to Facebook rankings.
At this year's ChinaJoy, Shinezone launched a campaign to identify quality domestic games catered to female players that it could help break into overseas markets.
"Female players are more interested in the social networking function of games. That's why we have focused on this function in games like Flower Shop," said Li Hualiang, founder and CEO of Shinezone.
"Over time, we have set up teams within the company to develop games for female players because this group of gamers used to be overlooked, resulting in a gap in terms of supply," he added.
In late July, domestic gaming industry leader Shanda Group launched a campaign to design more Japanese style games which are generally well-received by Chinese female players.
Shanda Vice President Tan Yanfeng pointed out that the Shanghai-based company would be increasing its investments in the development of games for female players.
Foreign companies too are getting in on the act. Ubisoft, one of the global market leaders, brought several titles to this year's ChinaJoy that might appeal to female players, including the console game Just Dance.
Ubisoft's global CEO Yves Guillemot said he was surprised to see large groups of female players queuing to play their latest games at this year's ChinaJoy.
"Year after year, things have changed a lot in China. It's a good evolution. The more balanced the market is, the more likely publishers will create products for different groups of players," he said.
The increased female presence extends to e-sports as well. A survey released by PayPal in late July shows that 23 percent of e-sports game viewers in China are women, the highest among all monitored markets.
The KA e-sports team, which is made up of female players who are all professional full-time gamers, was one of the most eye-catching features at this year's ChinaJoy. The team's 18 players spent most of their time at the event playing the popular League of Legends.
According to Zhou Jie, the manager of the KA, this year marks the third time the team has taken part in ChinaJoy. The fact that Tencent Games invited the team to participate in the event, she added, is an indication of the growing charm of all-female e-sports teams.
"In 2016, our job was largely limited to helping promote products from different companies by playing them for people to see," said Zhou. "Last year, we managed to showcase our skills in some games. People used to notice us simply because we are female gamers. But it is now more evident that they also admire our skills. The passion for e-sports in China is currently at a high."
The female players in KA are no less professional than their male counterparts. The team trains at least nine hours every day from 1 pm to 10 pm, and though they are constantly encouraged to maintain a work-life balance, Zhou laments that most of the players spend their leisure time in front of their computers playing games.
"As an all-women team, we have more chances for commercial activities. But if we are only hired because of our appearances, people will label us as nothing more than 'pretty faces', which is the last thing we want. Being competitive in games is of the utmost importance," she said.
Founded in 2015, KA has already won two championships in different games in Shanghai. But the team has set for itself loftier goals — it wants to be the best female e-sports club in the world.
"Luckily, the career span for female players is a little longer, from 16 to 24. With that, we hope we have enough time to achieve our goal of becoming a charming and competent world-leading team," she said.
Contact the writer at shijing@chinadaily.com.cn