Metal tariffs hit soda, beer costs
Share - WeChat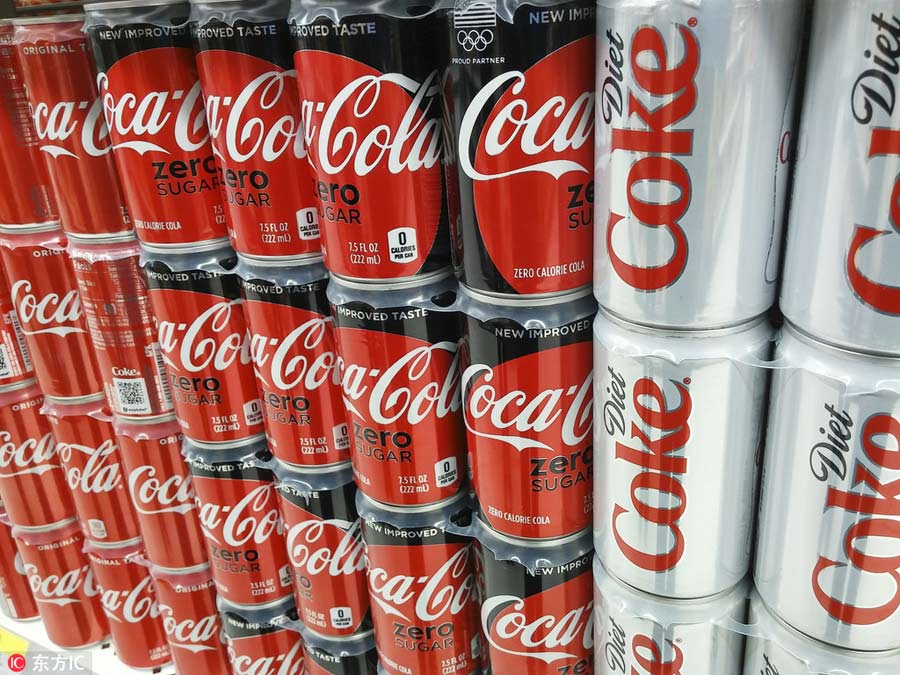 US soda and beer lovers might want to start stocking up, as the price for a can of fizzy drink is increasing under US President Donald Trump's tariffs on imported aluminum beginning in March.
The Coca-Cola Company recently announced that it would be raising the prices of its carbonated offerings due to rising freight costs and metal tariffs.
"We had to take with our bottling partners an increase [in prices] in our sparkling beverage industry in the middle of the year, which is relatively uncommon," the company's CEO James Quincey told CNBC last month. He said he expects the company's bottlers and retailers to pass along the higher prices to consumers.
The company refused to comment on details of the price increases.
Coca-Cola is not the only large US beverage maker that's decided to increase prices. US soda and beer makers have been under pressure since the imported aluminum tariffs were announced in March. And finally, it seems to be taking its toll on the manufacturers with production costs escalating.
Molson Coors Brewing Company, which owns Miller Coors, has also decided to hike prices of its beers for Chicago-area retailers. It is expected that beer drinkers in Chicago will now have to pay around $1 more for a case of Miller.
The Boston Beer Company recently said that it will be raising prices in the second half of the year, according to the Chicago Tribune.
Alcoa, the largest US aluminum maker that supplies metal used in everything from Coca-Cola cans to Boeing 747s, announced on Monday that it has asked the White House for an exemption from the 10 percent tariffs on imported aluminum.
"It has been five months since the implementation of president Trump's aluminum tariffs," said Jim McGreevy, the CEO of the Beer Institute, a trade group that represents brewers, beer importers and others in the industry. "The tariffs could be a $347 million tax on US brewers per year."
McGreevy explained that imported primary aluminum and can sheet are critical to the beer industry as more than 60 percent of all beer produced and sold in the US is packaged in aluminum cans and aluminum bottles.
"There are about 6,000 breweries in this country which support more than 2.2 million American jobs," McGreevy said, adding that these breweries have already been affected by the tariffs in different ways.
"In 2017, brewers bought over 36 billion aluminum cans and bottles, and aluminum is the single largest input cost in American beer manufacturing," McGreevy added.
He explained that US brewers using can sheet purchase aluminum by paying a Midwest Transaction Price, which consists of two major components: an underlying base price for the aluminum metal as traded daily on the London Metal Exchange and an additional premium known as the Midwest Premium, initially intended to cover the logistical costs of moving metal into North America, essentially a shipping and handling fee.
"We see that the base price for aluminum has gone up about 14 percent based on the tariffs," McGreevy said. "And the Midwest Premium has increased 135 percent."
Contact the writer at ruinanzhang@chinadailyusa.com