Bolt hopeful of realizing dream of pro soccer career in Australia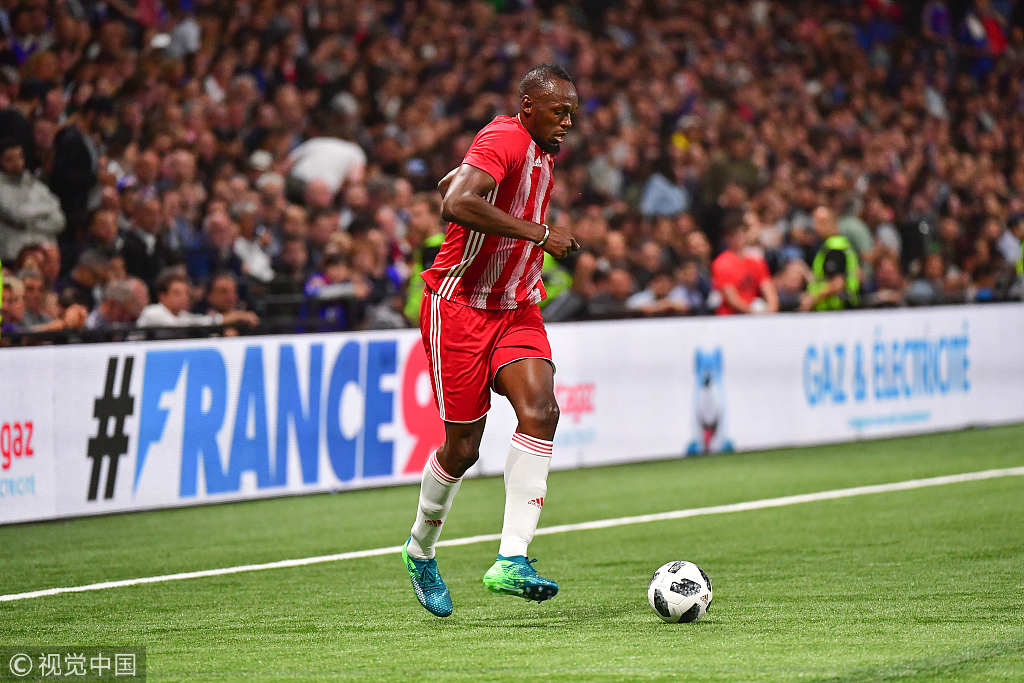 SYDNEY - Usain Bolt is edging closer to a professional soccer career.
The legendary Jamaican sprinter has negotiated an "indefinite training period" with Central Coast Mariners in Australia's A-League.
The eight-time Olympic gold medalist, who owns the world record at both 100 and 200 meters, has been chasing another career ambition since quitting the track.
"It has been my dream to play professional football and I know that it will involve a lot of hard work and training to get to the level required to play and make an impact in the A-League," the 31-year-old Bolt said in a statement released by the Mariners on Tuesday.
"I am very excited about coming to Australia and would like to thank the owner and management of the Central Coast Mariners for giving me this opportunity."
The Mariners were clear that Bolt is not guaranteed a contract .
"The agreement between the Central Coast Mariners and Usain Bolt does not guarantee a professional playing contract," the club said on its website.
"But it does provide the eight-time Olympic gold medallist with an opportunity to achieve his burning desire to play football professionally."
The 31-year-old, who retired from athletics last year, is an avid Manchester United fan who has long wanted to play top-flight soccer.
He has already tried out with teams in Germany, Norway and South Africa, but to no avail.
"I always say that 'Anything is possible, don't think limits,' and I look forward to the challenge," said Bolt, who is set to travel to Gosford, north of Sydney, to join the squad for practice.
The A-League season opens in October.
Some critics have regarded speculation of his latest attempt in Australia as a public relations stunt, but Mariners chief executive Shaun Mielekamp said he is optimistic about Bolt's opportunity.
"It is important that we don't get too caught up in the hype of possibilities, but we are committed to building a team that will win matches and instill belief, hopefully Usain can help us on this mission," Mielekamp said.
"We welcome Usain with open arms, and we will always remain grounded and focused on the job at hand."
Football Federation Australia last month responded with caution when reports emerged of Bolt's hopes to earn a contract to play in the A-League.
In a statement, the FFA said: "While Usain Bolt is one of the most famous athletes on the planet, he's not a professional footballer.
"If the trial goes ahead and Central Coast Mariners decided it stacks up and they want to offer him a contract, then we will have a discussion with them around that and what might be possible."
Bolt has previously trained with Norwegian club Stromsgodset, Germany's Borussia Dortmund and South Africa's Sundowns.
The Jamaican dominated sprinting since taking double individual gold at the Beijing Olympics in 2008.
He went on to win a further six Olympic golds and pick up 11 world titles, and retired after the 2017 world championships in London.
AP/AFP