St. Pierre bullish on China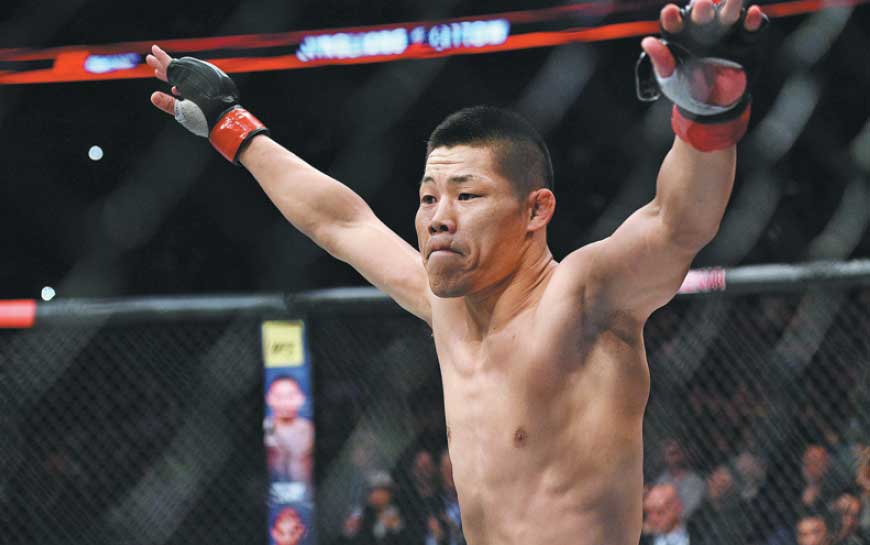 Ultimate Fighting Championship (UFC) superstar George St. Pierre thinks China could be the next big hotbed for mixed martial arts talent.
"I am very excited for China!" the former two-division champion said in Sydney on the weekend.
"I think China will become very successful in producing a lot of great martial artists, especially in the sport of mixed martial arts."
The 37-year-old Canadian said China's foundation in the fighting forms of kung fu is a huge advantage for up-and-coming competitors.
"I come from a traditional martial arts background with Kyokushin karate and Brazilian jiu jitsu, and I also studied a lot of wushu, Wing Chun kung fu and sanda fighting, so that is how I get a lot of my takedown entries when I close the distance," St. Pierre said.
"If you look at Chinese sanda, it's a mix of kickboxing with takedowns. If you take a good sanda athlete and teach him the submission skills, you'll have a perfect athlete that is very well rounded for fighting in the octagon."
UFC on Sunday confirmed its first-ever event in Beijing will be held at Cadillac Arena on Nov 24.
Following last year's sellout of its Chinese mainland debut at Mercedes-Benz Arena in Shanghai, the world's premier mixed martial arts organization is primed to deliver a repeat performance in the capital.
Last fall, UFC and WME/IMG China jointly launched the show that attracted 15,128 fans in Shanghai. The main event saw No 4-ranked contender Kelvin Gastelum take just two and a half minutes to KO former UFC middleweight champ Michael Bisping, and led by Li Jingliang, Chinese fighters won five of the card's 12 bouts.
Visiting Australia to present a series of talks focused on overcoming emotions in difficult circumstances, St. Pierre said the lessons he's learned in MMA are transferable to all walks of life.
"I will be discussing how I deal with fear and my tricks that I use to stay confident when I am facing a stressful event," he said.
"People can relate to it in their own world or their own field."
Widely regarded as the greatest pound-for-pound MMA fighter of all time, St. Pierre defended his welterweight title a record 12 times.
Last year he returned to the octagon to claim the middleweight belt with a submission victory over Britain's Bisping, but due to an ongoing illness known as ulcerative colitis, St. Pierre was forced to relinquish the title and step away from the sport.