Painting of relics shows no respect for cultural heritage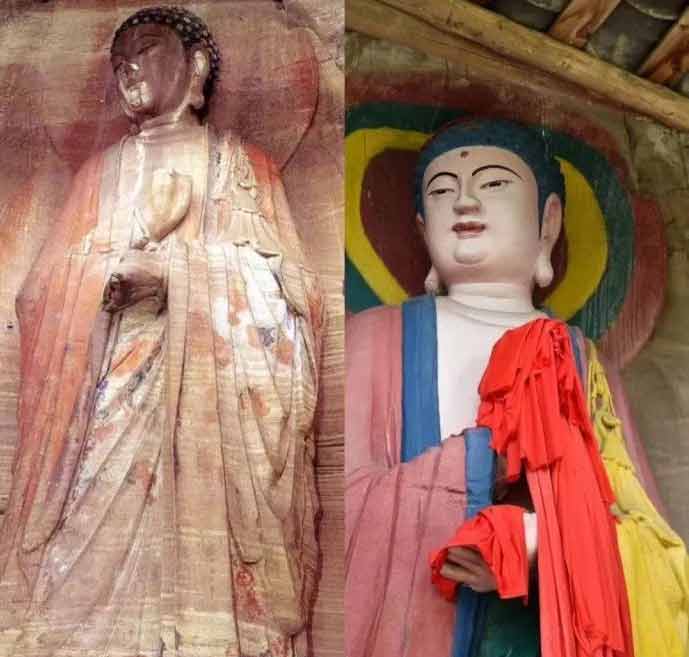 ACCORDING TO REPORTS, some Buddhist sculptures in Anyue, Southwest China's Sichuan province, that date back to the Song Dynasty (960-1279), were found painted a gaudy red and green. Gmw.cn comments:
The local government has already responded to the incident, saying the damage happened as early as in 1995 and was not reported until recently. It said it was local residents who hired carpenters and painters to paint several Buddhist sculptures and the local government stopped them before more were painted.
In 2012, the sculptures were put on the list of provincial-level antiques, and later included as backups for inclusion on the UNESCO World Heritage list. It is ridiculous for anyone to paint them, even in the name of "repairing" them.
Some say those who organized the painting might lack proper aesthetic taste. Maybe. But the fact is that in the past 800 years the Buddhist sculptures stood there and got very good protection. One cannot assume people in olden days had better aesthetic taste than modern people, and that is why people did not do any damage to the sculptures in the past eight centuries.
So it is not a question of whether people have good aesthetic taste, but whether people have respect for the antiques. The sculptures have not carried religious significance for a long time, but they are both records of history and valuable artworks. For these antiques, the proper attitude is to respect and protect them, and avoid unnecessary touching.
That attitude is in turn deeply rooted in our respect for civilization. From a wider perspective, it should be humankind's respect for nature and civilization. Actually, that respect is common among almost all people of this world, and has helped human civilization prosper up to today.
That respect should be combined with rule of law. People should respect the antique artifacts and the law should protect them.
China is one of the countries with the largest treasure of cultural and natural heritage. How to treat, protect and use this heritage and make more and better contributions to human civilization requires serious efforts.
Most Viewed in 24 Hours
China stories