Beer drinkers developing a taste for premium beverages
Share - WeChat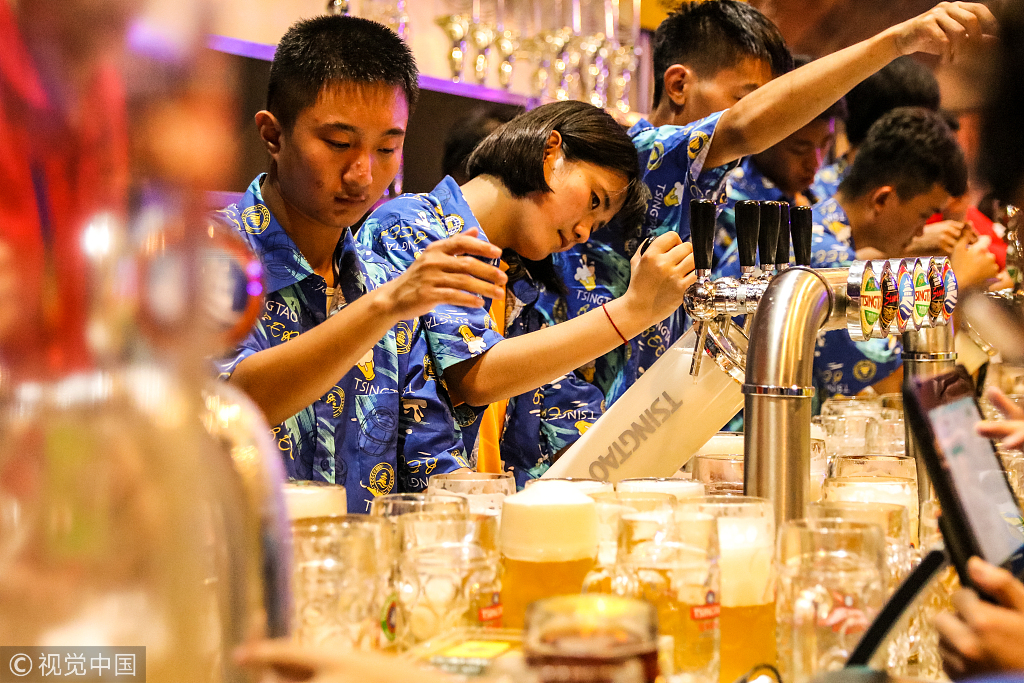 The 28th Qingdao International Beer Festival, one of the largest beer festivals in China, opened on July 20 in the coastal city of Qingdao in Shandong province in East China.
This year, the festival is expected to last 38 days and attract 200 brands from over 30 countries and regions, and offer more than 1,300 types of beer, said Mi Desheng, director of the tourism commission of the Xihai'an New Area, where the festival takes place.
However, the beer market in the country has seen a reduction in production volumes. In 2017, beer production dropped 0.7 percent to 44 million kiloliters, according to the Chinese Alcoholic Drinks Association, declining for its fourth consecutive year, according to data from ASKCI Consulting.
Data from Kantar Worldpanel show that at-home consumption of beer fell 1.9 percent between March 2016 and March 2017 and 0.1 percent between March 2017 and March 2018. The penetration-measured by percentage of consumers purchasing beer for home consumption-fell from 70 percent between 2016 and 2017 to 68 percent between 2017 and 2018.
A shrinking market has forced beer producers to respond to the challenges. In recent years, beer manufacturers in the country gradually shut down small and inefficient factories.
He Hong, deputy secretary-general of the China Alcoholic Drinks Association, said: "The shake-up of the Chinese beer industry could last two or three years, pushing beer manufacturers to upgrade their product portfolios.
He said future beer consumption is expected to be more fragmented and individualized.
Beer consumption in China has declined slightly since 2013 as more Chinese adults pursue healthier lifestyles, according to Jennifer Zegler, an associate of Food and Drink at Mintel, a UK-based consultancy firm.
When asked about their goals for 2017, Mintel research shows that four in five urban Chinese adults aged 20-49 plan to have a healthier diet, while three in four plan to exercise more. These lifestyle goals have contributed to the stagnation of beer sales as Chinese adults reduce the quantity of alcohol they consume.
While beer sales by volume in China have dipped, value has increased slightly as adults opt for better-quality alcohol. The trend toward premium brands is spreading as beer companies have created new higher-tier brands and imported more upscale varieties, while craft breweries have expanded.
The growing interest in premium beer has driven an increase in the value of retail sales, according to Mintel's research on China's beer industry.
Beer brands are beefing up their prices. Since March, the price of six 500 ml bottles of Budweiser has increased from 57 yuan ($8.38) to 85 yuan, a 50 percent jump. Tsingtao Beer raised its prices twice within the first six months of this year.
Besides raising prices, beer producers have restructured their strategies by prioritizing high-end products.
The China Alcoholic Drinks Association forecast that within three to five years, craft beer market shares will expand three to five times from 1 percent now.
China Resource Snow Breweries and Budweiser have increased their investment in craft beer. Snow Breweries' high-end brand Lianpu contributed 22 percent of its sales or 6.61 billion yuan last year.
According to delivery platform Ele.me and Baidu Waimai, in June, craft beer sold through online delivery channels increased between 40 percent to 260 percent year-on-year.
China's beer drinking population accounted for 48.57 percent of the total population in 2017, down 3 percentage points from 2011, according to Euromonitor International.
Wheat and craft beer are among those products with the highest penetration rates among Chinese beer drinkers. In addition, some beer drinkers who have not tried wheat or craft beer would like to try them, according to Mintel.
More than a quarter of Chinese beer drinkers would like to try craft beer but have not done so yet.
Both wheat and craft beer reflect the trend toward premiumization and Chinese beer drinkers with high household incomes are most likely to have tried each type of beer and liked them, according to Zegler.
"The likelihood of consumption of wheat and craft beer among beer drinkers with higher household incomes gives companies an audience to target," she said.
Creating more beer recipes locally in China could help to tailor formulas to the preferences of China's beer drinkers by including influential factors related to quality such as mouthfeel, alcohol content, flavor and ingredients, said Zegler.
The development of more premium beers tailored to local taste preferences could attract more Chinese beer consumers, according to Mintel.
Xinhua contributed to this story.