Trump administration's rollback on emissions triggers backlash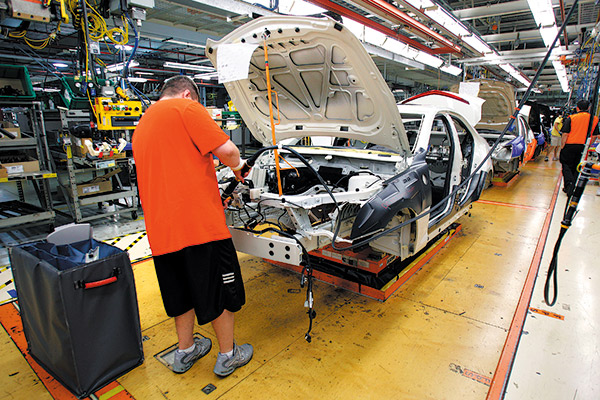 States reject president's push to weaken federal fuel efficiency standards
DETROIT/WASHINGTON-California and 18 other US states said on Thursday they would sue to stop a Trump administration proposal to weaken Obama-era federal fuel efficiency standards, arguing the United States has an obligation to protect the environment for future generations.
The administration billed the rollback it announced on Thursday, which would also revoke California's authority to set its own strict vehicle emissions rules, as a way to lower auto prices for consumers. Critics said it would accelerate climate change and increase fuel prices.
The 19 states, and Washington DC, announced they would sue in what is likely to be a heated legal showdown over the proposal.
"The Trump administration has launched a brazen attack, no matter how it is cloaked, on our nation's Clean Car Standards," California's Attorney General, Xavier Becerra, said in a statement. California "will use every legal tool at its disposal to defend today's national standards and reaffirm the facts and science behind them," he said.
The states that have adopted California's emission rules together make up about one third of the US auto market.
The administration said car manufacturers would benefit from the proposed rollback, but the US auto industry is pushing for a negotiated settlement between the states and the administration to lift uncertainty over the kinds of cars and trucks it will need to produce for the American market in the coming years.
The proposal to roll back anti-pollution efforts is in line with President Donald Trump's decision last year to abandon the 2015 Paris Agreement, under which countries agreed to take steps to mitigate global warming.
It also dovetails with the Republican president's broader efforts to unwind green regulation, much of it enacted by Democratic former president Barack Obama's administration, that he views as onerous to business.
The proposal from the US Transportation Department and Environmental Protection Agency would freeze fuel efficiency standards at 2020 levels through 2026, and require dramatically fewer electric vehicles as more people continue to drive gasoline-powered vehicles.
The administration said the freeze would boost US oil consumption by about 500,000 barrels of oil a day by the 2030s, and argued it would prevent up to 1,000 traffic fatalities per year by reducing the price of new vehicles and so prompting people to buy newer, safer vehicles more quickly. Environmental groups criticized the assertion about reducing crash deaths, and said the proposal would drive up gasoline prices, increase asthma-inducing smog, and reverse one of the most significant steps Washington has taken to curb climate-changing greenhouse gas emissions.
"The clean car standards are already saving our families billions at the pump, supporting nearly 300,000 American jobs, and cleaning up dangerous tailpipe pollution," said Rhea Suh, president of the Natural Resources Defense Council.
"We need to speed up that progress, not slide backward."
The administration must gather feedback on the proposal before it is finalized, a process that could take months and that could be further delayed by lawsuits.
Good for carmakers?
The Transportation Department says the proposal would shrink regulatory costs for automakers by $319 billion through 2029, reducing by more than $60 billion what General Motors Co, Ford Motor Co and Fiat Chrysler Automobiles NV each would have been expected to spend to comply with the Obama-era rules.
Toyota Motor Corp would save $34 billion and Volkswagen AG $20 billion.
Xinhua-Reuters