Apple in elite club as value soars past $1 trillion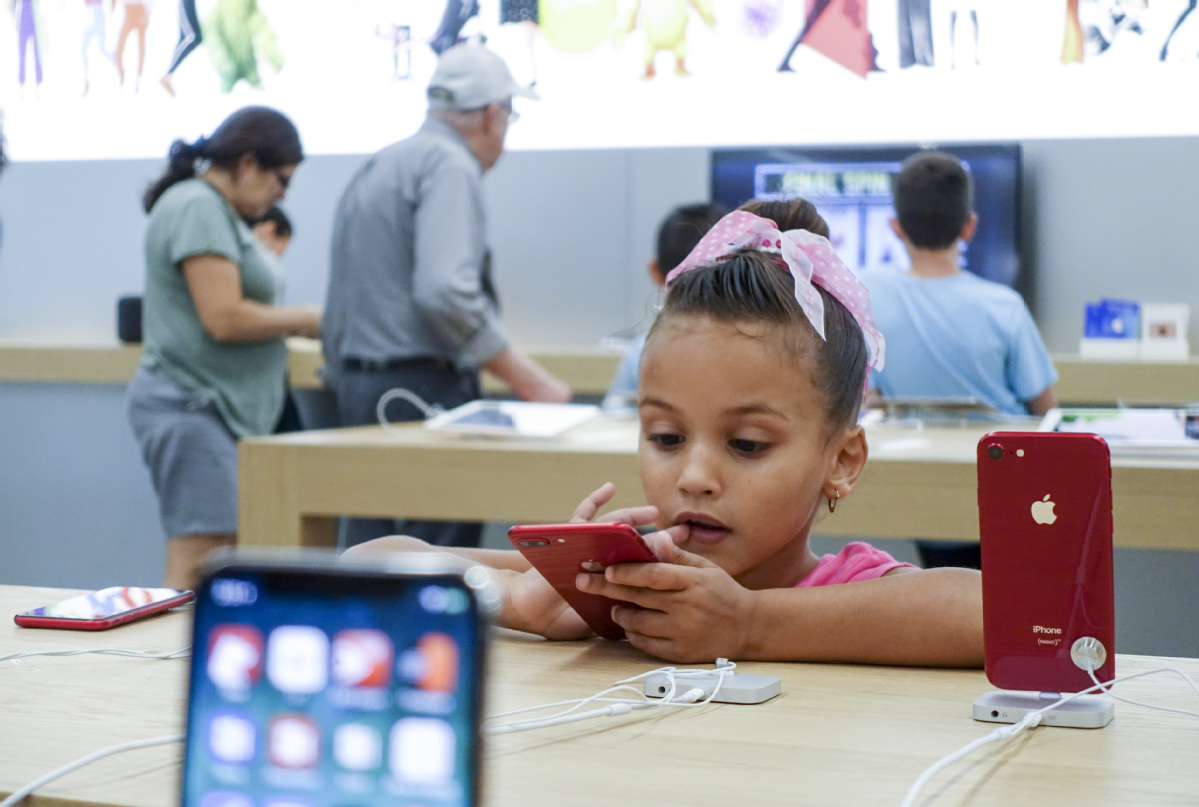 Apple Inc's market capitalization topped $1 trillion on Thursday, the first time a public United States company has reached the milestone. The tech titan kept the record valuation at market close.
The company's stock gained 2.92 percent during trading on the New York Stock Exchange, following a strong fiscal third-quarter earnings report released on Tuesday.
It closed at $207.39, having reached the trillion-dollar mark with an earlier share price of $207.05.
The iPhone maker, which went public at $22 a share on Dec 12, 1980, is up more than 20 percent this year alone.
Apple is not the first publicly traded company in the world to surpass the trillion-dollar mark. PetroChina Co Ltd briefly topped that valuation in 2007 when its stock began trading in Shanghai. But, the oil giant's shares quickly plunged afterward. PetroChina, which is also listed on the NYSE, is now worth about $205 billion.
Apple posted third-quarter revenue of $53.3 billion, an increase of 17 percent year-on-year. Quarterly earnings were up 40 percent, with international sales accounting for 60 percent of revenue.
Apple's iPhones are assembled in China, which is an increasingly vital market for the company. Third-quarter results showed that 31 percent of revenue came from Asia, with China being especially strong in the region.
But it was not all good news. The iPhone-maker missed Wall Street's estimate of shipping 41.79 million devices for the quarter. In addition, on Tuesday Apple lost its position as the world's No 2 smartphone vendor to Chinese smartphone maker Huawei Technologies Co Ltd, according to International Data Corp and IHS Markit.
The rankings are based on the number of devices shipped in the quarter ended June 30. Samsung remains in top place.
Nicole Peng, research director at global consultancy Canalys, said losing the second spot to Huawei has rung alarm bells for Apple, because smartphone shipments are very important to the US tech heavyweight's ambition in its service business.
"In the following quarters, Huawei is likely to maintain strong momentum banking on its Honor brand and Nova series smartphones," Peng said in a research note.
According to its third-quarter filing with the US Securities and Exchange Commission, Apple said tariffs and other protectionist measures could "adversely affect" the company.
In response to an analyst's question on Apple's earnings call, Apple CEO Tim Cook said tariffs show up as a "tax on the consumer", resulting in lower economic growth and sometimes causing unintended consequences.
Tariffs are not the approach to modernize trade relations in the way that is needed in some cases, Cook said. He added he is optimistic that Sino-US trade tensions will be sorted out because of the "inescapable mutuality" of the world's two largest economies.
Ma Si contributed to the story.