JD opens unmanned Indonesia store
Share - WeChat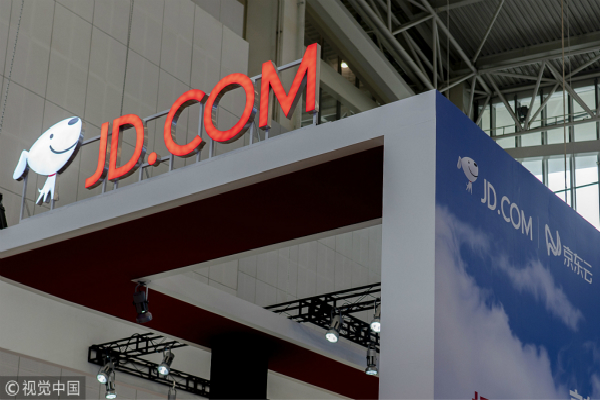 Chinese e-commerce giant JD has announced the opening of an unmanned store in Indonesia, the first of its kind in Southeast Asia.
The move marks JD's first attempt to bring its unmanned store technology overseas, amid fierce competition from Alibaba Group Holding Ltd and Amazon.com Inc.
Located in a popular shopping mall in Jakarta, the capital of Indonesia, the 270-square-meter JD.ID X-Mart is the largest store to leverage JD's unmanned store technology to date. It offers an expanded product selection, including fashion and apparel, as well as fast-moving consumer goods and beauty products.
In the AI-powered store, customers can simply pick up whatever they want and walk straight out of the store without getting slowed down by lines or payments.
The store leverages cutting-edge technologies, such as radio frequency identification, facial recognition and image recognition, to track retail activity.
Cameras placed throughout the space track and recognize customers' movement, and generate activity heat maps to monitor traffic flow, product selection and customer preferences. This data will be used to optimize inventory, product displays and all facets of store management.
JD has made a significant push in developing offline store technology as part of its boundaryless retail vision-the idea that consumers should be able to buy whatever they want, wherever and whenever they want it-online or offline.
The tech behemoth launched its first unmanned convenience store in Beijing last October. Now it operates over 20 unmanned stores across China.
JD launched its online shopping platform in Indonesia in March 2016. The e-commerce platform now serves 20 million consumers nationwide.
Its operations in Indonesia are supported by nine warehouses across seven islands, covering 483 cities and 6,500 counties. With a plan to build more warehouses, JD is expecting 85 percent of orders to be delivered the same or next day.
In addition to its activities in Indonesia, JD formed a joint venture with Thai conglomerate Central Group to enter Thailand in 2017. In January, it announced a strategic investment in Tiki.vn, Vietnam's leading business-to-consumer e-commerce platform, expanding its presence in the Southeast Asian market.
"JD's efforts in unmanned store technology in Southeast Asia will enhance its competitiveness and widen its presence in this region, where it can leverage its advantages in global logistics, supply chains, and experience and technology in platform operation," said Lyu Haoze, an analyst at China E-Commerce Research Center.
Lyu said the move will intensify competition among major e-commerce players that have also been expanding their footprints rapidly into the Southeast Asian market.