Policies to attract greater volume of foreign capital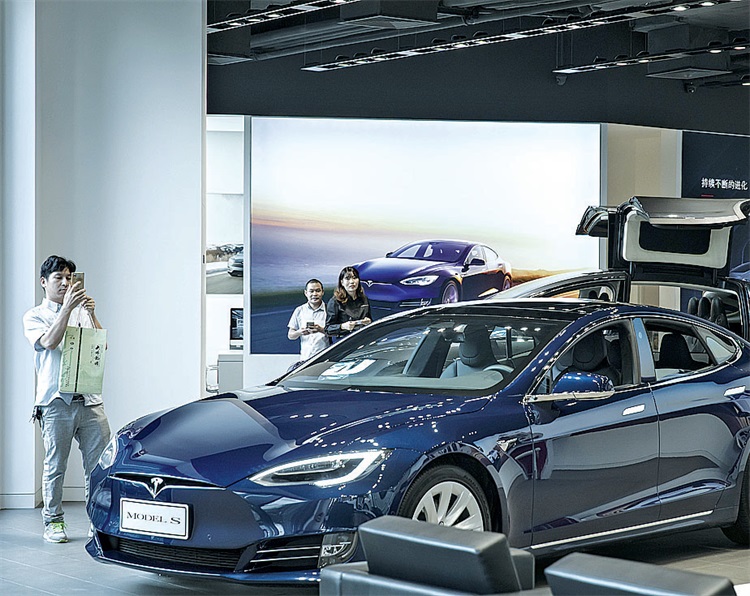 Electric automobile maker Tesla's announcement that it would build its first factory outside of the United States in Shanghai's Lingang New City has highlighted the city's allure as a destination for foreign investments in advanced manufacturing, according to Wu Xiaohua, head of the administration committee of Lingang.
The Tesla facility will be the largest ever foreign manufacturing investment in Shanghai, boasting an annual capacity of 500,000 vehicles. With the central government ending restrictions requiring foreign automakers to work through local partners in April, Tesla would be the first wholly foreign-owned automaker in China.
In its recently released set of 100 new policies which addresses the central government's call for further opening-up, Shanghai explained the measures regarding foreign investment in the advanced manufacturing of automobiles, aircrafts and ships.
Wu added that the Tesla project serves as a fine example of how international corporations can benefit from the new policies, noting that the city's advanced manufacturing sectors will be able to break down previous barriers and draw more foreign capital.
In a bid to show how leading manufacturers can benefit from the city's new policies released on July 10, officials took journalists on a tour of the Lingang area as well as companies such as Caterpillar Inc and Shanghai Zhenhua Heavy Industries Co Ltd (ZPMC).
Caterpillar Inc is the largest engineering machinery maker in the world. According to Song Feng, the manager of Caterpillar Remanufacturing Shanghai, the factory in Lingang has served as a remanufacturing center since 2006. The company was also the first foreign enterprise in China to be registered as a remanufacturer.
Remanufacturing is the creation of a product using a combination of reused, repaired and new parts. Globally, the company remanufactures 7,000 types of used parts. The Shanghai factory handles remanufacturing for 170 of them.
Song said that the new policies would make importing used parts easier, noting that the 47th item on the list of the 100 policies stipulates encouraging the construction of a national demonstration zone for imported advanced equipments and developing a sustainable economy.
He added that China's regulations involving remanufacturing should also be revised.
"Remanufacturing is still a new concept. The definition and administrative rules for remanufactured parts need to be updated to allow for more import of used materials as well as appropriate distribution of remanufactured items in China," he said.
ZPMC is a world leading manufacturer of port container machinery, heavy offshore equipments such as floating cranes and other engineering vessels. ZPMC also has a wealth of experience in shipbuilding and ship maintenance.
The company said that China's enterprises need to further develop communications and cooperation with foreign companies, especially those in the high-end shipbuilding and upstream sectors.
"International competition can be harsh in the short period, but in the long run, it will help the company to integrate international resources and serve global clients," said Yuan Jing, an official with ZPMC.
Contact the writer at zhangkun@chinadaily.com.cn