Market stability hinges on the future course of policy moves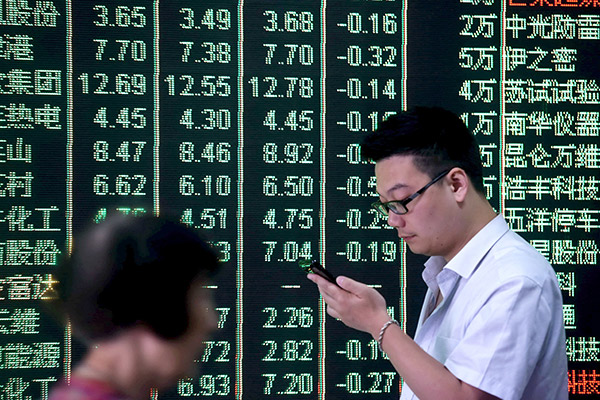 Chinese stocks ended lower on Thursday amid investors' concern over Sino-US trade frictions, but analysts have identified factors that could stabilize the market.
The benchmark Shanghai Composite Index fell by 2.00 percent to 2768.02 points, with military, environmental engineering and communication equipment shares leading the decline.
The smaller Shenzhen Component Index closed 2.50 percent lower at 8780.56 points.
The ChiNext Index, which tracks China's growth enterprises board, ended Thursday's trading down 2.06 percent at 1510.09 points. The index plunged by almost 3.72 percent at one point, its lowest since 2015.
The weak performance of A shares was mainly driven by the Trump administration's proposal of a higher 25 percent tariff on $200 billion of Chinese imports on Wednesday, according to Li Shuguang, an economist and a professor at China University of Political Science and Law.
"The proposed additional tariff has influenced market sentiment and will exert material effects on related companies," he said.
Liu Chunsheng, an associate professor with the Central University of Finance and Economics, said the mid and longterm outlook of the A-share market will be determined by the quality of the implementation of key policies, such as deleveraging and proactive fiscal policies, as well as changes in the external environment.
Online news portal ifeng quoted Li Daxiao, chief economist at Shenzhen-based Yingda Securities, as saying several factors will help to stabilize the stock market, including continuing net inflows of foreign capital, repurchases of listed companies and the introduction of pension funds into the market.
The A-share market has seen a streak of net capital inflows through northbound trading under the stock connect programs to other exchanges since July 18. On Thursday, a net total of 658 million yuan ($96.2 million) flowed into the market, according to data compiled by online financial information platform East Money.
Risk to the stock market is generally under control, but it takes time for the steadily growing economy to stabilize the market, according to Hebei province-based Yuanda Investment Consultancy.
Zhou Lanxu contributed to the story.