Bookshops are back in business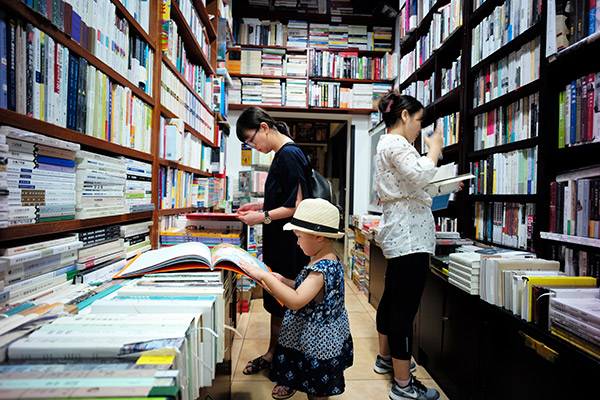 The Beijing municipal government is breathing life back into the brick-and-mortar bookstore industry as it faces pressure from the booming e-commerce sector, soaring rents and the growing popularity of digital books.
Since the emergence of e-commerce and digital reading materials, their convenience and cheaper prices have presented a challenge for physical bookstores. Despite Ernest Hemingway's belief that "There is no friend as loyal as a book", it is now easier to find a coffee shop in Beijing than a bookstore.
Thus, the Beijing government in July announced a plan to support bookstores by providing 50 million yuan ($7.33 million) per year to help establish more than 150 bookstores over the next few years.
The city will also encourage an influential bookstore chain to set up branches in busy streets, commercial centers, residential areas and at tourist attractions to improve visibility.
In fact, the book retail business has been slowly gaining momentum in recent years. According to Openbook, a market information service provider, in 2017, the book retail market reached 80.3 billion yuan for the first time, up 14.55 percent year-on-year. The physical bookstore sector showed positive growth of 2.33 percent year-on-year with market size reaching 34.4 billion yuan.
Although the numbers show some positive signs for brick-and-mortar bookstores, the profits of such shops are shrinking.
Qu Defang, general manager of Sanlian Taofen Bookstore, said the company generated 11 million yuan in 2017, with a profit of 360,000 yuan.
"With each book we sold we profited less than one yuan," Qu said.
"My secondhand Kindle cost about 300 yuan, and I can download books for free," said Huang Tiange, a 30-year-old medical doctor in Ningbo, Zhejiang province. "It is thin, portable and cheap."
Yan Bofei, CEO of Shanghai Jifeng Bookstore, an independent bookshop that had to shut down earlier this year, said soaring rents were the initial pressure bookstore operators faced.
"In the past two decades, the country's land prices have jumped multiple times but the sales revenue of books has only increased by one-fourth," he said.
Facing the challenges, a number of determined entrepreneurs have realized selling books alone is not enough to survive. Many new feature bookstores have emerged, combining traditional bookstores with cafes, event venues, even clothing and furniture stores.
One such store is Fangsuo, which started in Guangzhou, South China's Guangdong province, and has gradually set up branches in central business districts in Chengdu in Sichuan province, Qingdao in Shandong province, and Chongqing.
"Many think the physical bookstore is on the verge of death. But in fact, it has moved onto the right track," said Mao Jihong, founder of Fangsuo, as the store's Chengdu branch has broken even for two years.
"I want it to change how people use space in the city," Mao said. "In the past, the central commercial district was used for shopping, and shopping took up a large part of urban residents' leisure time.
"We aim to bring books, cultural exhibitions and art activities to central areas despite sky-high rents, so people can enjoy books, culture and art while shopping."