Starbucks teams up with Eleme
Share - WeChat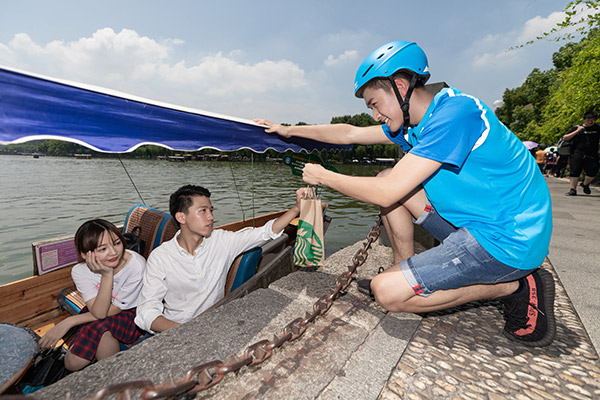 Having opened two of its largest stores in the world on the Chinese mainland within the past year, Starbucks said on Thursday it is partnering with Alibaba-backed food delivery platform Eleme to allow millions of Chinese customers to enjoy "coffee culture" outside of its retail spaces.
As a part of an exclusive partnership with e-commerce giant Alibaba, the delivery service will be launched in September in Shanghai and Beijing, and then expanded to the coffee chain's over 2,000 outlets in 30 cities across China.
A dedicated delivery team will be formed by the platform to provide the services, which will send the coffee to customers within 30 minutes of the order being placed. Starbucks and Alibaba's offline retailer, Hema Xiansheng, are also building joint kitchens, where some of the coffee and food will be made and sent from. Other businesses under Alibaba such as Tmall and Alipay will also join the partnership in different ways.
This is the first time that the 47-year-old US brand will have its beverages made outside its stores.
"It's a historic day for Starbucks," Kevin Johnson, Starbucks' CEO, said at a news conference in Shanghai.
The partnership was announced one week after the company reported a 2-percent slip in same-store sales and 7.6-percent decline in operating profit margins in China in its fiscal 2018 third quarter report. It's considered one of the worst performances the company has had in China, its fastest growing market, over the past nine years.
Startup brand Luckin Coffee is widely considered the disrupter that threatens Starbucks, the largest coffee chain in China with 74.6 percent of the market share, according to Euromonitor International.
By offering coffee at a much lower price or sometimes free and encouraging its customers to place orders from its mobile app, Luckin has managed to sell more than 18 million cups of the drink to 3.5 million customers within seven months since its establishment.
"Starbucks has been preoccupied so much on opening more and bigger stores in China in recent months that its new delivery project appears more like a passive defense against the fast rise of Luckin," said Wang Zhendong, chairman of Shanghai Feiyue Investment Management Co Ltd, a consultancy firm focusing on the domestic coffee industry.
Johnson, in response to questions on timing and competition, said that the company has been in talks with Alibaba since last year, and the market has always been full of competition while Starbucks's job is focusing on the value it can create.