Campbell's 'game-changing' Beijing boost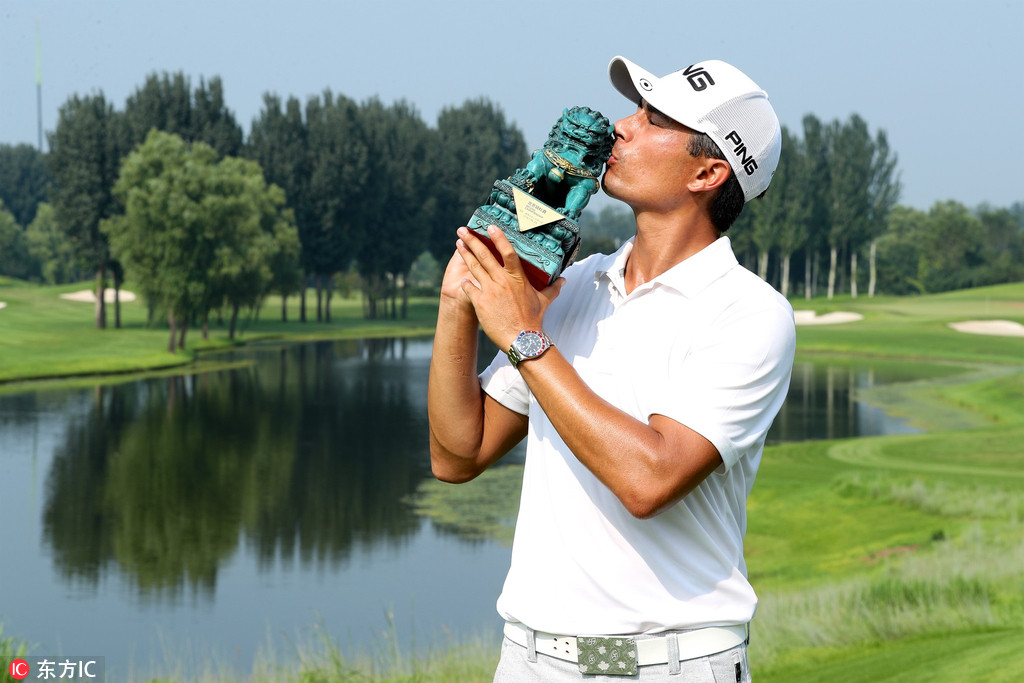 BEIJING - Canada's Peter Campbell leapt from 55th to ninth on the PGA Tour Series-China order of merit with 334,350 yuan ($49,000) following his surprise win in the Beijing Championship on the weekend.
Only five events remain in the race to finish in the top-five and earn status on next year's Web.com Tour, with the Tour resuming with the Suzhou Open at Jinji Lake Golf Club from Aug 30-Sept 2 and then moving on to the Qinhuangdao Championship at Qinhuangdao Poly Golf Club from Sept 6-9.
Picking up the 270,000 yuan winner's check at Topwin Golf and Country Club capped a remarkable change in fortunes for the 35-year-old Campbell.
Earlier this month, the left-hander narrowly missed the cut at both the Yantai Championship and Qingdao Championship, before nailing down his first pro victory in Beijing.
"This is a game-changer," said Campbell, the third Canadian to win on the tour, following Justin Shin and Eugene Wong, who notched victories in 2015.
"Before this, I was contemplating the rest of the year, but now things have changed, so I'll take a few days and reassess."
Campbell previously played on the Mackenzie Tour - PGA Tour Canada (2012-15) and PGA Tour Latinoamerica (2014-17) before joining the PGA Tour's third international developmental tour this year after finishing 16th in the second International Qualifying Tournament in Hainan.
A missed cut in the season-opening Chengdu Championship was followed by a tie for 14th at the Chongqing Championship, where he had a share of second place after 54 holes.
Another missed cut came in Changsha before ties for 26th in Haikou, Guilin and Kunming.
Following two more missed cuts in July, Campbell considered withdrawing from the Beijing Championship and even looked at what it would cost to change his flight.
"It was only $90 to change my ticket and it was so tempting," said Campbell, who lives in Florida but spends summers with his family in his native Nova Scotia.
Runner-up Zhang Huilin from China earned 162,000 yuan and moved to 14th on the money list (291,503 yuan) as he kickstarted his latest bid to qualify for the Web.com Tour, having just missed out in 2016 when he finished sixth on the order of merit.
American Charlie Saxon (817,167 yuan) and England's Callum Tarren (664,850 yuan) remained first and second on the order of merit after the weekend, while Korean Todd Baek (486,650 yuan) tied for fifth at Topwin to leapfrog Hong Kong's Motin Yeung (484,675 yuan), who recorded his fourth top-10 finish of the year.