Porsche pushes ahead with sales growth prediction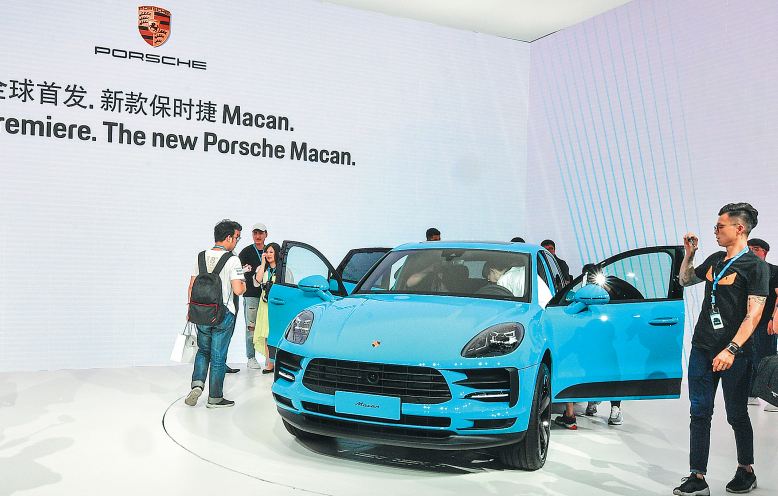 German manufacturer expects China sales increase on back of reduced tariffs
German luxury carmaker Porsche AG expects steady growth in China this year with the launch of the new Macan, despite a sales dip in the first half as a result of customers' wait-and-see attitude following the country's tariff cuts on imported vehicles.
Detlev von Platen, Porsche's board member for sales and marketing, said last week that the carmaker's China sales would approach 80,000 cars this year, up from 71,500 units in 2017.
"The Chinese market is a very healthy and strong market. Customers are very keen for our brand. We have a very positive and optimistic forecast of development of our sales in China," von Platen said.
He made the remarks during the global premiere of the revamped Macan midsized SUV in Shanghai last Wednesday.
The four-door model, retailing at 558,000 yuan ($82,058.8) in China, comes with a 2.0-liter, 252-horsepower, four-cylinder turbo engine. "The mid-sized SUV segment is the biggest premium segment in China and we believe that the positioning and image of the Macan fit perfectly with the lifestyle orientation of our Chinese customers," von Platen said.
Since the Macan was introduced into China in 2014, more than 100,000 units have been delivered in the country, nearly a third of its global sales in that time.
"The Macan has opened a completely new world for our customers. Eighty percent of Macan owners never owned Porsches before. And a lot of our Macan owners will maybe tomorrow drive the 911 and the 718," von Platen said.
The Macan, which is Porsche's best-selling model in China, is expected to help offset the sales dip in the first half of the year and bring its sales in the country to a new high.
Porsche moved 33,000 cars in China from January through June this year, dropping 7 percent from a year earlier, which von Platen said was largely the result of China's announcement in May to cut tariffs on imported cars from 25 percent to 15 percent starting July 1.
"We have been very pleased with the decision by the Chinese government to reduce import tariffs for cars. One effect is that some of our customers would wait and delay their purchases to have the new tariffs in place," von Platen told China Daily.
"We have transmitted all reduction of import tariffs into our retail prices for the benefit of our customers. So clearly, we expect deliveries to increase strongly again (in the second half)," he added.
Jens Puttfarcken, president and CEO of Porsche China, explained that because of China's tariff-cutting announcement in May, "we decided to stop importation and we didn't sell any cars to our dealers in June. Our dealers had to wait until we opened up importation from July 1".
China's fast-growing economy has seen a large number of affluent younger people who desire to trade up for imported luxury cars.
Puttfarcken said: "Chinese customers are very open to new things and they are typically almost one generation younger than customer communities in mature markets... To meet changing customer needs in this dynamic market, we continue strengthening our sales network in China with future-oriented innovation."
Porsche will increase the number of its sales sites in China to 114 by the end of this year from 106 at present in an effort to build a closer connection with Chinese customers, he added.
According to von Platen, the company will open an innovation lab in Shanghai later this year. "It will take the demand and feedback from our Chinese customers into account for our product development process.
"And it will work with Chinese startups to spot the new digital services that our customers will be using in the future," he said.
Among other things, the new Macan is equipped with the Connect Plus module for the first time as standard to satisfy customer needs in the digital era. The module underpins a slew of digital functions and services such as Voice Pilot intelligent voice control and the real-time traffic information that forms part of the standard online navigation system.
Contact the writer at lifusheng@chinadaily.com.cn