Pinduoduo debuts on Nasdaq
Share - WeChat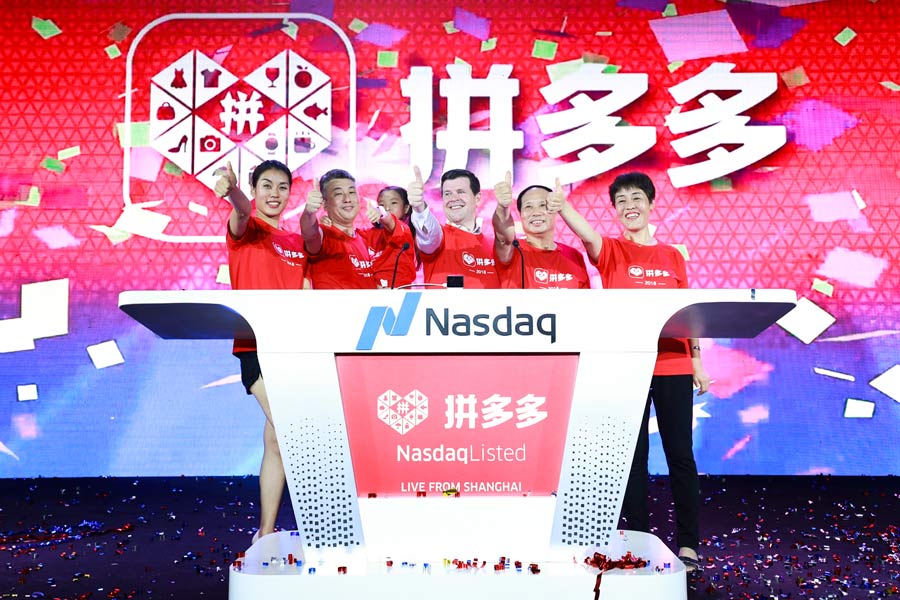 Shares of Chinese online group discounter Pinduoduo Inc debuted on the Nasdaq Stock Market on Thursday, with the company raising $1.87 billion to fight for a bigger share in China's fierce e-commerce market.
Trading under the symbol of PDD, the Shanghai-based company priced its initial public offering at $19 per share, which would translate into $24 billion in total market cap.
Opening price stood at $26.5 per share on the first trading day.
"While Pinduoduo was founded in Shanghai, we hope that our business model could eventually benefit consumers worldwide. That is why we choose to ring the listing bell in both Shanghai and New York," said Colin Huang, Pinduoduo founder and chairman during a listing ceremony in Shanghai.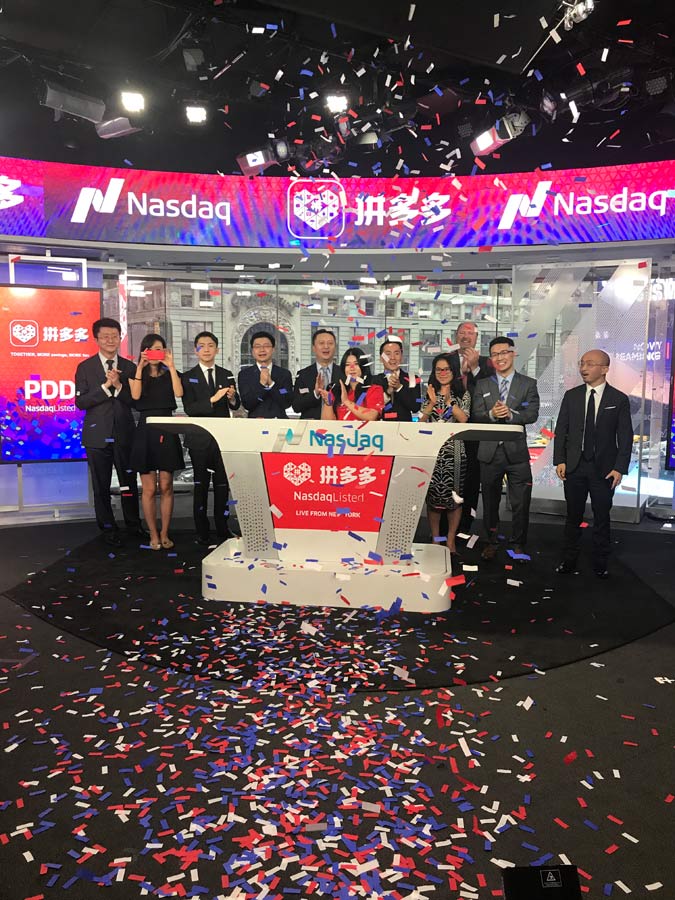 Huang said such an arrangement was made to facilitate several user representatives to join in the grand celebration.
The company said earlier Thursday that its flotation was oversubscribed by 20-fold from investors including Fidelity Investments and the sovereign funds of Abu Dhabi.
Pinduoduo plans to use 40 percent of the funds raised to enhance and expand its existing businesses, 40 percent on technological research and development, and spare the rest on daily operations and potential investment projects.
The social-commerce discounter, which counts on Tencent Holdings Ltd as one of its main backers, has over 344 million active users by July who buy everything including fruits, clothes, and gadgets from 1.7 million active merchants.
It operates like a social network and group-buying mashup. Users spot deals on the app, share links online (mostly from Tencent's WeChat messaging app) and recruit friends to buy together to get a discounted price.
Pinduoduo banking on user recommendation and social networking to boost sales has set it apart from the traditional search engine model adopted by most e-commerce gurus from Amazon to Alibaba.
And unlike bigger rivals who are sharpening focus on drawing top-notch brands and selling bigger-ticket items, Pinduoduo targets those in lower-tier cities who are generally more price-sensitive.
Per customer transaction of Pinduoduo was less than 40 yuan ($5.89), while that of Alibaba's retail sites stood roughly at 80 to 100 yuan, Huang noted.
Instead of targeting one specific consumer group, Huang said the site will expand and optimize product portfolio to broaden its audience base as much as possible.
"You could probably find a purchasing link on a luxurious scented soap from France one day on Pinduduo," Huang said. "We may not be able to meet everyone's needs for now. But I am sure we have already met someone else's."
Contact the writer at hewei@chinadaily.com.cn