Firework-like device explodes near US embassy in Beijing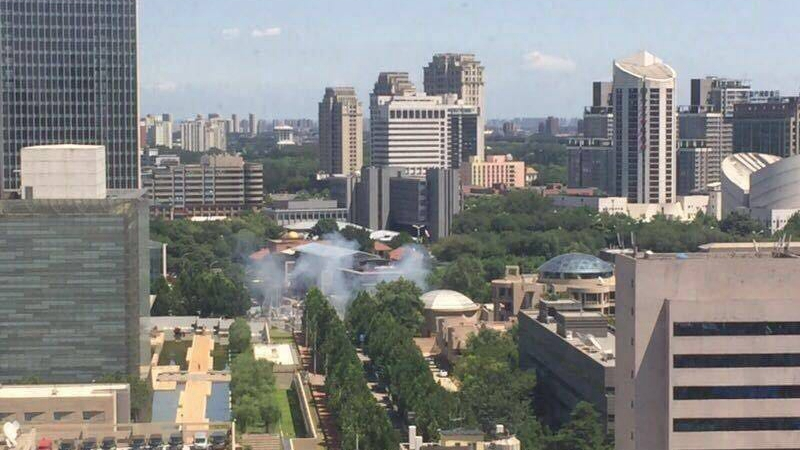 A man, surnamed Jiang, detonated a suspected fireworks-like device near the US embassy at the junction of Tianze Road and Anjialou Road in Chaoyang district in Beijing at around 1 pm on Thursday, according to Beijing police.
The man's hand was injured in the explosion and he was sent to hospital. His life is not in danger. The man is 26–year-old and from Tongliao, Inner Mongolia autonomous region. No other person was injured.
The police are investigating the case.
Visa service at the embassy was temporarily affected but it soon resumed, visa applicants waiting outside the embassy for scheduled interviews in the afternoon told China Daily.
"I was waiting to go inside the embassy when I heard a loud bang behind me. I thought someone had lighted up a firecracker. Then I noticed the smoke rising," a visa applicant surnamed Li who had was waiting outside the embassy for an interview at 1:15 pm told China Daily.
The police immediately evacuated the area. Later the visa applicants were allowed to go back to the embassy, Li added.
Blood and glass debris were visible at the crossroad, which is about 30 meters from the embassy's entrance for visa applicants. The incident did not damage any embassy property, China Daily reporters said.
FM: Incident near US embassy an isolated one
Foreign Ministry spokesman Geng Shuang said on Thursday that the incident happened at a crossroad near the US embassy is an isolated one, and police dealt with it in a timely and appropriate manner.
US embassy: No casualties or damage from blast
A US embassy spokesperson said in a statement that no other person was injured other than the bomber and there was no damage to embassy property.
The statement said there was an explosion at about 1 pm on Thursday on the street outside the South East corner of the embassy compound. There was one individual who detonated a bomb.
The police immediately responded to the incident, it added.