Stable macro policies aim to boost demand
Share - WeChat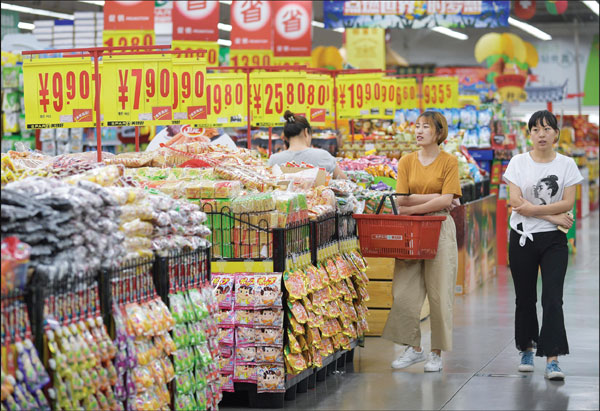 China will continue with stable macro policies and adopt a combination of fiscal and financial measures in an effort to boost domestic demand and bolster support for the real economy, the State Council decided in an executive meeting chaired by Premier Li Keqiang on Monday.
The government will maintain a policy of targeted and well-timed regulation to deal with external uncertainties and ensure that the economy runs within a proper range, and it will firmly refrain from resorting to a deluge of strong stimulus policies, according to a news release of the meeting.
A more proactive fiscal policy will be pursued, as agreed at the meeting. The government will focus on introducing deeper tax and nontax fee cuts, and more companies will be eligible for an additional deduction of 75 percent of research and development spending from taxable income, a policy that is expected to cut another 65 billion yuan of taxes within this year.
Efforts will be stepped up in issuing the planned local government special bonds, totaling 1.35 trillion yuan ($199 billion), for more tangible progress on ongoing infrastructure projects.
The prudent monetary policy will be continued with easing or tightening only as appropriate, and aggregate financing and liquidity will remain sufficient, the release said.
A better and smoother transmission mechanism is needed to see credit policy incentives effectively introduced and delivered. Financial institutions will also be called on to use the money freed by cuts in their required reserves to support small and micro businesses and debt-to-equity swaps.
The government will step up efforts to ensure delivery of the initial contribution to the state financing guarantee fund, targeting 140 billion yuan of loans for about 150,000 small and micro firms annually.
Local authorities that have made visible progress in expanding financing guarantees and reducing costs for small businesses will be meaningfully rewarded.
Also, the government will resolutely phase out "zombie" companies-those that take in only enough money to operate and service heavy debt-to free up their underused funding, and crack down on illegal financial institutions and activities to forestall risks.
"Any financial and fiscal policy measure must be considered in a broader context and all measures be well synergized and fully delivered to reduce costs for businesses in the real economy and sustain the sound momentum of growth through the latter half of the year," Li said.