Ikea stepping into a new digital world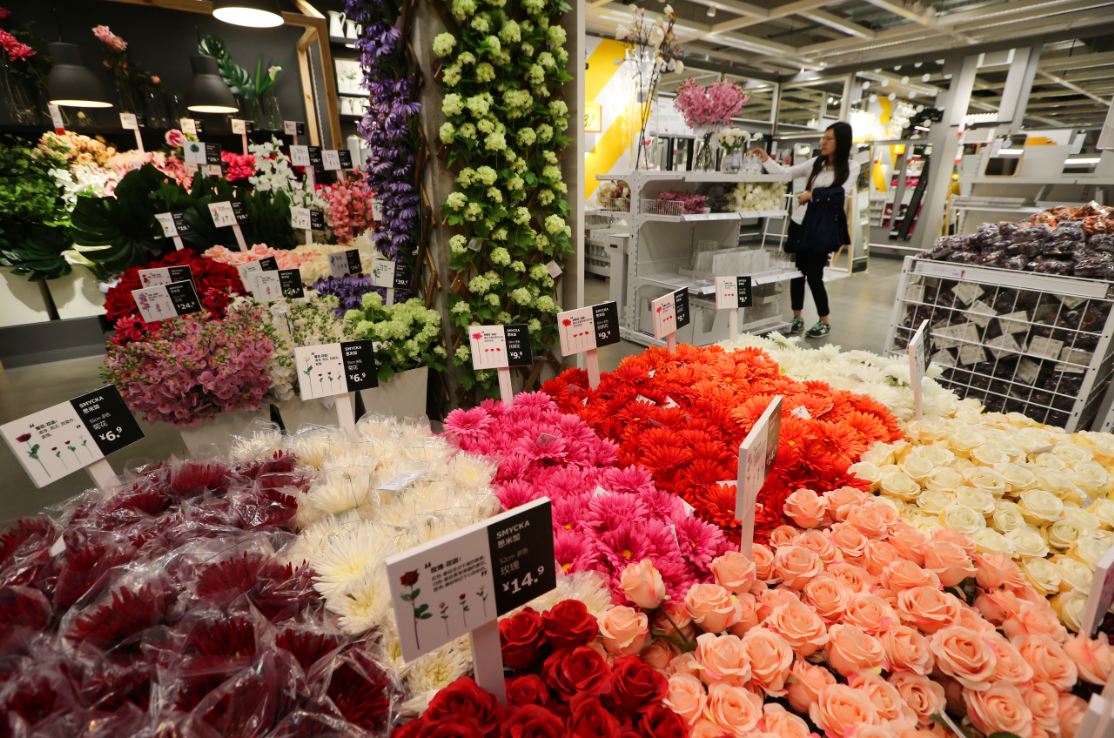 Swedish furniture giant exploring ways to improve customer experience, keeping pace with latest technologies
Having served Swedish furniture retailing giant Ikea for more than two decades, Group CEO Jesper Brodin said he believes the drivers behind consumers' demand for furniture is universal - such as seeking more storage space.
What changes over time, he said, is the slight difference in how certain spaces in the house are used, which is derived from technological development.
But that does not necessarily mean that the 75-year-old company is staying comfortably in place. On the contrary, Ikea is embracing the newest technologies to offer better shopping experiences to its consumers.
To gain greater inspiration, Ikea held its first Tech Festival in Shanghai in mid-April, as China is one of the fastest-developing economies in terms of tech and business models, according to Brodin.
At the end of its last fiscal year, Ikea's turnover increased 3.5 percent year-on-year to reach 34.1 billion euros ($40 billion). The number of Ikea members hit 110 million worldwide, with more than 30,000 new members registering every day.
The group has set up 355 stores in 29 countries and regions around the world. It has 25 stores in China so far, with the latest opening in Guangzhou of South China's Guangdong province.
Over the past few years, Ikea has accelerated its expansion in China by opening three new stores every year, leveraging the country's rapid economic growth and the rise of its middle and high-income groups.
In an exclusive interview with China Daily, Brodin talked about Ikea's steps into the digital age, his understanding of the Chinese market, and his love for the company.
Is this the first time that you have held the Tech Festival in Shanghai?
It is actually the first time that we have the Tech Festival at all. We have decided to speed up the development of the Ikea concept together with the Ikea community and ecosystem. We will look into new ways of serving our customers better. It is based on urbanization - people moving into cities, and new opportunities arising from new technology to offer greater convenience.
Why did you hold the event in China?
There are many strong digital centers in the world, such as San Francisco and Stockholm. But China is the fastest-developing digital market in the world.
Customers here are so quick to change. In China, everything that is scheduled to happen will happen a little bit faster. From the entrepreneurship point of view, it's natural to host the event in Shanghai. To do it in Shanghai is a little bit more symbolic for us, because we opened our first store in China in Shanghai.
Have any interesting solutions come to light during the festival?
Absolutely. It is mainly about helping customers in the buying process. For example, with augmented reality technology, consumers can get a better understanding of how it actually looks and feels to have a certain piece of furniture in their home.
When consumers are panicking a little bit and don't know what to choose, there are digital tools that help us to interact with people and help them to make better decisions.
Here in China, we have adapted to Tencent's WeChat social media app with pop-up advertisements and an official Ikea account. It is all about helping customers by making the buying process easier and faster.
How was Ikea's business performance in China last year?
In 2017, we saw more than 14 billion yuan ($2.1 billion) in furniture sales. We had close to 100 million visitors, which is to me a more important number.
What is your plan for China this year?
We will continue to speed up. We are planning six new stores from August this year through to August 2019. We decided a few years ago to open three new stores per year and now we are trying for six. You might say that's not so many. But our stores are big. It's a big investment both for us and the community.
For first-tier cities, we will look for bigger footprints, with our agenda turning toward digital and services. We are looking at how we can present Ikea to customers in a smaller format in city centers with the help of digital technologies.
In second and third-tier cities, we will look at big, flagship and full furnishing experiences.
Who are your target consumers in China?
I would say that we are targeting middle and high-income people in China. But from the demographic point of view, there has been a shift away from poverty, so it makes sense that we are seeing the rise of the middle and high-income people in China.
We do not only serve customers with big wallets. That's what somebody else can do. We celebrate lower prices. The price of a Lack table right now for example is lower than when we started in China. We have used our economies of scale, innovation and local sources in China to do things a little bit better in terms of quality and a little bit lower cost-wise every year.
Based on your experiences, how have Chinese consumers developed over time?
I started in Ikea in 1995 and China was one of the first markets I visited. For me, it has been a personal experience to see this country's incredible change and improvement.
If you look at the living conditions in China 25 years ago and now, you can see that people's living standards have risen significantly. All generations in China have adapted to a more modern lifestyle.
Chinese consumers are now looking for self expression and individuality, and they are very demanding when it comes to function. They are also very quality-conscious customers and don't compromise on health and quality.
An increasing number of Chinese furniture makers are adopting the Scandinavian or the modern lifestyle in their designs to attract customers. Do you consider that a challenge?
No, that's not what I am sleepless about. We have always faced competition. Ikea is one of the biggest furniture retailers in the world. In Sweden we have up to 33 percent of the local market share. But in China, our market share is 4.6 percent. So we are spending more time on how we can better understand our customers, rather than our competitors.
To be honest, I admire a diversity of approaches and I admire a lot of competition.
China is one of the markets in which we are investing most heavily. In the past 10 years, we have been working really hard to find how we can be in tune with the development of China. New needs are emerging. We are not only bringing new knowledge to China, but we are also learning from China.
Would you elaborate on your experiences of learning from China?
I have always learned from China about the true spirit of entrepreneurship, about daring to do things, and not being afraid of failure. The adaptability in China is something that I have not seen in any other place in the world. We have also seen the efficiency of China - lean and agile.
I am still waiting for a breakthrough though, which depends on creativity. It has started now. It is still fair to say that the level of creativity is still limited in China right now. But we have seen a shift, which is based on conscious investment from government-backed companies.
It matters how you actually spark creativity. It's a cultural shift and takes a long time. But since we are in China, it will happen a little bit faster.
What is Ikea's charm that has kept you at the company for 23 years?
Ikea is a company that is constantly developing, growing and opening up new opportunities, so I have been able to discover the world. I have lived in nine countries while working with Ikea. This has developed my own talent and ability to be part of the international community.
What is your working philosophy?
Be brave enough to set directions and believe in them. Be committed during the tough days. Work hard to get it done. Feel confident in yourself and your strength, and also to rely on other people's strength.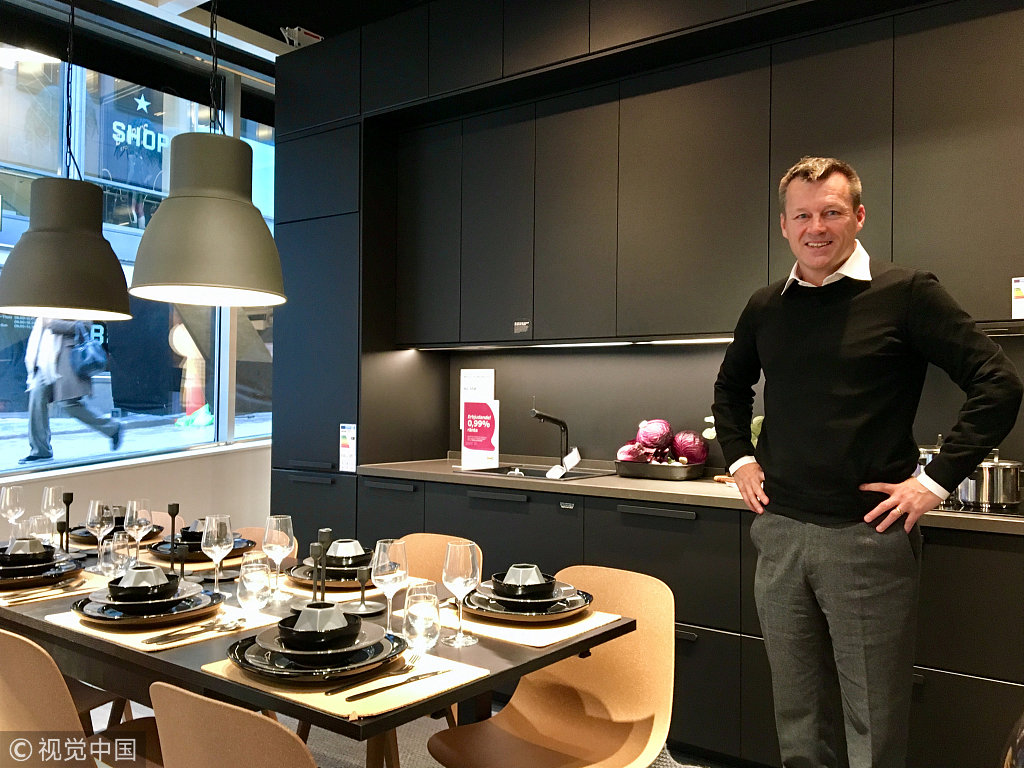 CV
Name: Jesper Brodin
Age: 50
Nationality: Sweden
Career:
September 2017 onwards: CEO of Ikea
2013-17: Range& supply manager, Ikea& MD Ikea of Sweden
2010-13: Supply chain manager, Ikea
2008-10: Regional manager, Ikea China
2002-08: Business area manager, Kitchen& Dining, Ikea of Sweden
2000-02: Assistant to Ingvar Kamprad and Anders Dahlvig, then CEOs of Ikea
1997-2000: Regional manager, Ikea Trading Southeast Asia
1995-97: Country manager, Ikea Trading Pakistan
1992-95: Manager for Best Western Supply, Sweden
Education:
1994: Master of Science, Chalmers University of Technology