Saxon braced to charge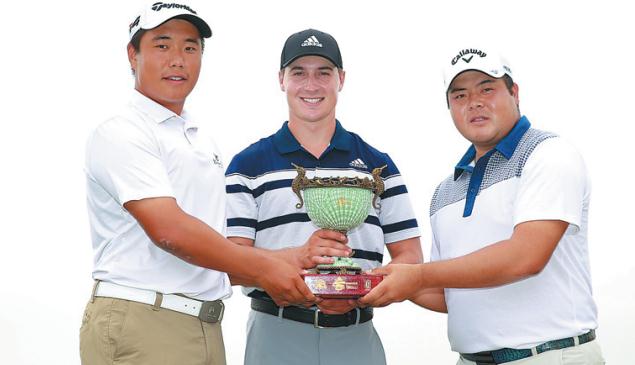 HAIYANG, Shandong province - Charlie Saxon is determined to keep "the pedal down" at this week's Qingdao Championship as he eyes greener pastures in the US.
Saxon lost his Web.com tour card last year after struggling for form following hip surgery, but the big-hitting American is now closing on a PGA Tour Series-China order of merit victory that would seal a return to the "path to the PGA Tour".
Saxon has earned 783,085 yuan (about $117,000) from seven events in China this year, including two wins, and is well clear of Hong Kong's Motin Yeung (436,675 yuan) at the top of the money list with four tournaments remaining.
After a tie for 16th in last week's Yantai Championship, Saxon is hoping to put himself in contention at Tiger Beach Golf Links, a sister course of Carnoustie, host of this week's British Open.
"I need to keep the pedal down. A lot of good players are here trying to chase me, so I have to keep winning and that starts on Thursday," said the 25-year-old.
"I didn't play well last week, but I worked on a few things so hopefully it'll be a lot better this week.
"I love the course here; it's really neat. I didn't expect to come here and see this, but it's a really cool course and one of my favorites we've played this year."
Yeung, 24 is also in good form after backing his first pro win at last month's Kunming Championship with an eighth-place finish last week. He believes his game is suited to the seaside links course in Haiyang, near Qingdao, Shandong province.
"My game felt pretty solid last week; I just hope that this week some part of it will shine a little more and that will bring my score down," said Yeung.
"I think this course suits me because you have to hit straight tee shots and I think that's something I'm doing well right now. I didn't lose one ball last week and hopefully I'll keep it going this week and catch up to Charlie."
South Korea's Todd Baek is third with 429,650 yuan and, like Saxon, he's keen to return to the Web.com Tour, where he played in 2015 and 2016 after qualifying from the first PGA Tour Series-China season in 2014.
Baek is focused on at least finishing in the top five by the end of the season.
"I like the course setup. It's pretty challenging and it's tough, so I think you have to stay patient out here," he said.
"It's going to be windy and you can find some trouble, so I'm looking forward to the challenge," added Baek, who won the Haikou Championship in May.
"Hopefully I can get another win here. My goal this year is to finish top five and I'm heading that way, so I need to practice hard and stay on course. There are a lot of good players out here on this tour, so I need to keep playing well."
Every tournament on this year's PGA Tour Series-China offers 1.5 million yuan, a 25 percent increase over purse levels from 2016.
The PGA Tour established PGA Tour Series-China in 2014 as its third international developmental tour, following in the footsteps of PGA Tour Latinoamerica and the Mackenzie Tour-PGA Tour Canada.
Since its inception, PGA Tour Series-China players have received Official World Golf Ranking points for top finishes at official tournaments.