Ice cream diplomacy: China has sweet tooth for Philadelphia brand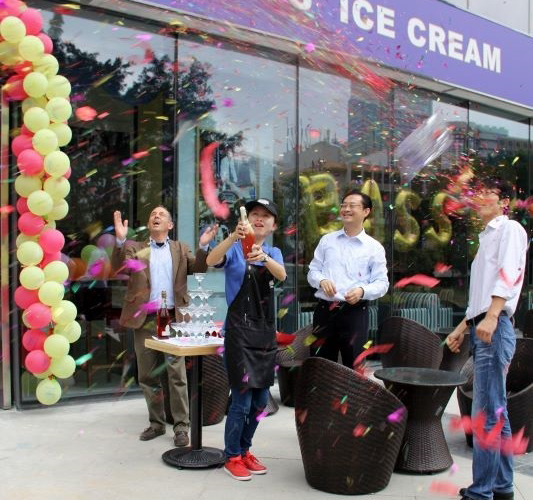 Tariffs or not, people are likely going to keep eating ice cream. And in China, they particularly like the rich flavors from America's oldest brand.
The Bassetts Ice Cream Co has been in business in Philadelphia since 1861. It began shipping to China in 2008 and to the Republic of Korea in 2016.
Michael Strange, the president of the company, which gets its name from his mother's side of the family, sees ice cream as pretty much exempt from tariffs.
"One of the great things about ice cream, unlike a Porsche or a Ferrari, people of modest means can afford the most expensive ice cream," he told China Daily on Tuesday.
Bassetts' distributor in China is Beijing Sino-American United Food Co Ltd, which also operates six ice cream shops on the mainland under the Bassetts brand.
Bassetts uses economical ocean freight to get its product to China.
"It costs me more to ship product to Chicago than it does to ship it to China," Strange said.
The company loads the ice cream on a container ship in New York at minus-20 degrees Fahrenheit, and it is refrigerated during the 45-day journey to Asia.
Bassetts passes on the cost of a 19 percent tariff (which predates the current trade dispute) and a value-added tax "in the teens" to its client in Beijing, which then adds it to the retail price.
"Once it is on the ship, my customer owns that product, so he's got to pay the tariff on his end as well as the freight costs," Strange said.
"The majority of the product we sell over there is in our bulk 2 1/2-gallon tubs and prepackaged pints for grocery and the internet," Strange said.
In case you were wondering, here are Bassetts' flavors: banana, birthday cake, butter almond, butter pecan, butterscotch vanilla, cherry vanilla, chocolate, chocolate chip, chocolate chip cookie dough, cinnamon, coffee, cookies and cream, dark chocolate chip, dark chocolate, eggnog, English toffee, French vanilla, green tea matcha, Guatemalan ripple, Irish coffee, lemon sorbet, mango, mango apricot sorbet, mint chocolate chip, mocha chip, moose trax, orange sorbet, peach, peanut butter swirl, pistachio, pralines & cream, pomegranate blueberry chunk, pumpkin, raspberry sorbet, raspberry truffle, rum raisin, salted caramel pretzel, strawberry and vanilla.
You may notice the number of buttery flavors.
"The driver is the amount of butterfat in our product. We have a 16.5 percent butterfat recipe, which makes the product very rich and creamy," Strange told Public Radio International.
Strange said that nut and fruit flavors are the most popular in China, in addition to a green tea matcha, which Bassetts whipped up specially for the Asian market.
One amusing anecdote Strange told was that Bassetts probably won't be selling ice cream "moon cakes" for now.
"Moon cakes are normally a gift in China. Our customer was packaging these things in a really exceptional package. The problem with that is there have been prohibitions against gift-giving to executives at state-owned entities.
"In China, a true moon cake is a wheat-dough skin with red bean paste in the center and a salted duck egg in the very middle," he explained.
Bassetts' version was a chocolate shell around ice cream and "in the very center in lieu of a duck egg yolk, we had a ball of sorbet".
As far as the trade friction between the US and China, Strange said: "I don't think it's had an impact on our sales there yet," because the Chinese government hasn't started to discourage consumers from purchasing US products.
The amiable ice cream man is optimistic.
"We love shipping our product there (to China)," Strange concluded. "I am hopeful that this back-and-forth between the US and China on tariffs doesn't result in an increase in the tariffs on ice cream."
Contact the writer at williamhennelly@chinadailyusa.com.