ZTE shares soar in HK, Shenzhen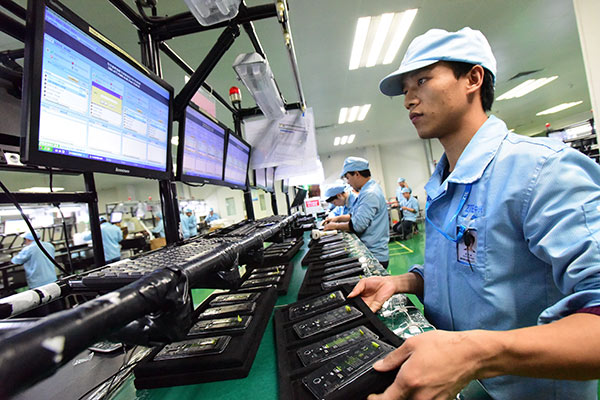 Escrow agreement paves way for lifting of seven-year supplier ban
Shares of ZTE Corp surged by 25 percent in Hong Kong on Thursday, after the company signed an agreement with the United States, paving the way for the lifting of a seven-year US supplier ban.
China's second-largest telecom equipment maker's share price skyrocketed to about HK$14 ($1.78), after the US Commerce Department said the ban on ZTE doing business with US companies will be removed once it places $400 million in an escrow account.
"Once the monitor is selected and brought on board, the three-pronged compliance regime-the new 10-year suspended denial order, the $400 million escrow, and the monitor-will be in place," the US Commerce Department said in a statement.
Shares of ZTE in Shenzhen also surged by the maximum daily 10 percent following the announcement of the news. The telecom equipment and smartphone maker ceased most of its operations in April after the US government imposed a seven-year ban on its purchase of crucial US technologies, including chips, for allegedly violating sanctions to export goods to Iran.
The company is currently operating on a temporary waiver that started from July 2 and is set to expire on Aug 1.
Shen Meng, director of boutique investment bank Chanson & Co, said the overwhelming response from the stock market reflects the optimism that ZTE is on the way back to business.
ZTE accounts for around 10 percent of the global telecom equipment market and is the fourth-largest smartphone vendor in the US, according to data from China International Capital Corp. It also boasts close cooperation with a string of US suppliers and supports nearly 130,000 high-tech jobs in the US.
Once the ban is lifted, ZTE, which employs around 80,000 people, is expected to restart major operations.
Shares of smaller US suppliers, which are more dependent on ZTE, pared losses after the news, including optical component makers Acacia Communications Inc, Oclaro Inc and Lumentum Holdings Inc.
Xiang Ligang, founder of telecom industry website cctime.com, said: "The moment is finally around the corner. ZTE must resume its business as soon as possible, given that the final sprint toward the commercialization of fifth-generation mobile communication technology kicked off in the middle of June."
According to him, however, it will take time for ZTE to rebuild its brand and trust in overseas markets. The incident will also serve as a lesson for all Chinese companies venturing into foreign countries.