'Skyscraper' caper puts The Rock in a high place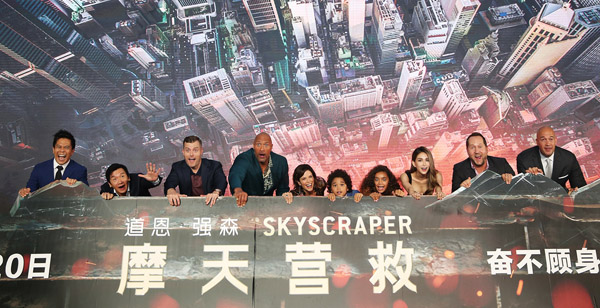 A literal Hollywood giant and one of the most familiar faces to audiences in China, Dwayne "The Rock" Johnson has already dominated the country's big screens twice in the first half of this year.
His first outing was the box-office smash, Jumanji: Welcome to the Jungle, the board-cum-video game action adventure. Then, in April, the former wrestler returned to theaters in the guise of primatologist Davis Okoye who's tasked with solving a genetically-modified monster crisis in Rampage.
But now, the 195-centimeter-tall athlete turned actor, has reinterpreted the muscular hard-man role for his latest action epic.
In the upcoming film Skyscraper, he stars as a "wounded" hero, an amputee who has lost one leg, the California-born star explained during his recent visit to Beijing, the latest stop on the film's promotional tour.
An original tale, written and directed by Rawson Marshall Thurber, the film will be released in Chinese mainland theaters on July 20, one week later than the film's North American release.
The film is set in a fictional Hong Kong high-rise building called The Pearl, which, at over a kilometer tall and comprising of 240 floors, is depicted as the world's tallest building in the movie. The plot centers around Johnson's character, Will Sawyer, a US war veteran and former FBI hostage rescue specialist who loses a leg after being seriously injured during a mission.
Sawyer begins a new life as the eponymous skyscraper's security consultant, but criminals start a fire and frame him. With dazzling stunts, including jumping from a giant crane into the burning building, the protagonist has to clear his name as well as rescue his family, who are trapped inside.