Getting their act together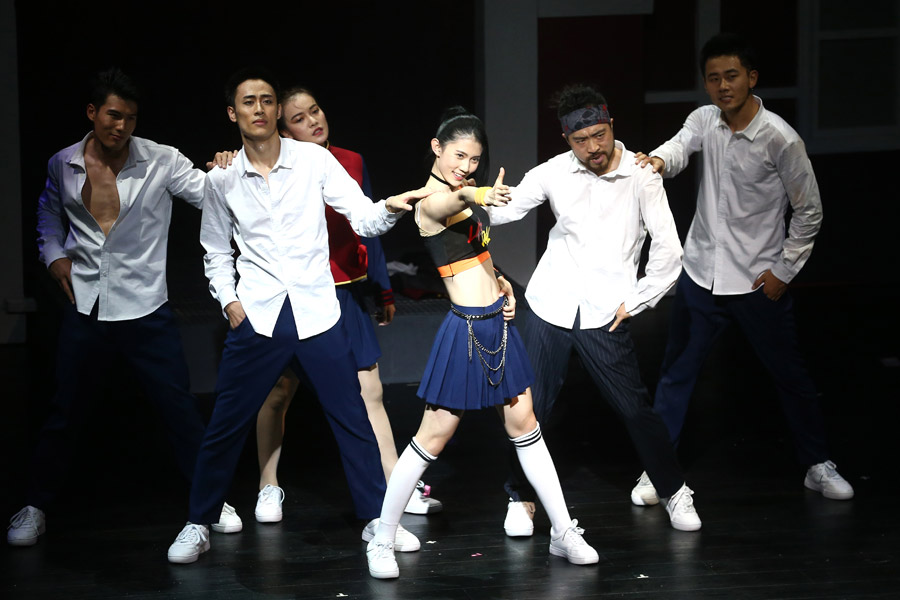 Artistic duo team up to fulfill their dream, Chen Nan reports.
Several years ago, when Chinese actor Deng Chao and scriptwriter Yu Baimei met in the lobby of a hotel in Beijing and decided to use their own money to open a theater in the capital, they were prepared for it to fail.
"It was a dream for us and we just wanted to try," says Deng, adding that this had been his goal since he was in his third year of studies at the Central Academy of Drama in Beijing.
The theater, named Super Theater, has around 500 seats and is located in a hutong near Wangfujing Street, a popular commercial area in the capital.
Since its opening on June 26, 2016, the theater has staged more than 300 shows, which have attracted over 100,000 people.
The success of the theater was beyond the expectations of both Deng and Yu, which led them to open a second Super Theater two years later.
On June 28, the new theater opened in Gu'an county, Hebei province.
Occupying about 2,500 square meters, the theater has two venues with capacities of 390 seats and 100 seats respectively, as well as three rehearsal rooms and cafes.
"When we launched the first Super Theater, I said that I enjoyed acting in theater because it's like a magic box, containing various emotions," says Deng.
"Now, with the second theater, I am proud to share the magic of theater with more people."
Deng, 39, who was born in Nanchang, Jiangxi province, rose to fame by acting in popular TV series such as The Young Emperor and Happiness Is Like Flowers and big-budget movies, including Chinese director Feng Xiaogang's film Assembly, and Hong Kong actor-director Stephen Chow's film The Mermaid.
In 2014, Deng made his directorial debut with The Breakup Guru, and he directed his second comedy, Devil and Angel, the following year.
According to Yu, Deng's partner and longtime friend, who is also the scriptwriter for Deng's two directorial ventures, the duo started making preparations for the second theater over a year ago.
Gu'an is part of the Jingjinji (Beijing-Tianjin-Hebei) economic circle. A two-hour drive from downtown Beijing, Gu'an is a growing city, and Yu expects that the Super Theater there will become a key entertainment venue for the local people and people from nearby areas.
The opening play for the new theater was a 90-minute comedy, titled Tai Chi, which was staged until July 8.
The scriptwriter Yu, whose real name is Wu Tao, is known for his original comedies, and his company, Baimei Studio, is home to a dozen Chinese comics, including Liang Chao and Yu's wife, actress Dai Lele.
However, the new comedy, Tai Chi, unlike his other works, combines Chinese martial arts, dance and comedy with minimal onstage dialogue.
Speaking about the play, Yu says: "We wanted to present a different form of comedy," and adds that a team from South Korea joined in the production, including director and scriptwriter Lee Jun-sang.
Meanwhile, besides staging original comedies, Yu also travels to Scotland every year for the Edinburgh Fringe Festival-the largest arts festival in the world-where he sources small and mid-budget plays to present in China.
So, during the past two years, audiences at the Super Theater have seen productions, including Morgan and West: More Magic for Kids, a comedy by Rhys Morgan and Robert Wes, a duo of magicians from the United Kingdom, and Sticks, Stones and Broken Bones, a show by Canadian puppeteer Jeff Achtem.
"We bring in shows catering to families. And the feedback from the audience proves that language is not a barrier," says Yu.
"Before I came to Beijing from my hometown, Xi'an, when I was about 25 years old, I had never watched a play performed in theater, but now my 4-year-old kid has watched more than 40 shows.
"So, you can see the huge change in China's performance market."
And while he is happy with the sold-out shows at the theater, Yu is also concerned about the future of Chinese comedy and the younger generation of Chinese comics.
"Compared with five years ago, we have fewer good comedy scripts and talented young comedians.
"The market (for Chinese comedy) is growing, which makes the situation urgent," says Yu.
Contact the writer at chennan@chinadaily.com.cn