The world through his eyes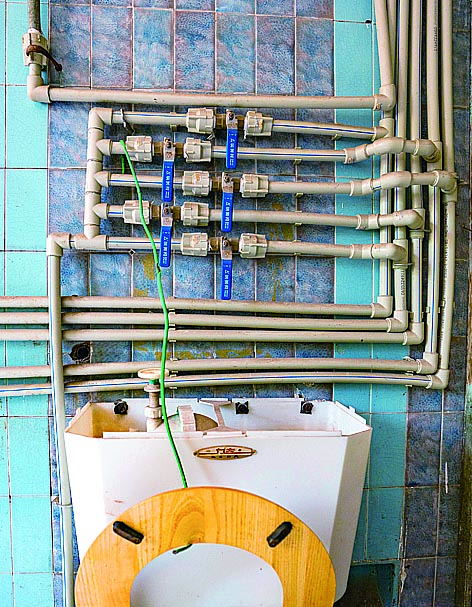 Does it ever worry you that people might be disappointed when they realize the difference between your works and reality?
What I show is the potential in places, such as when the weather is good or when light is ideal. I think that's what real art does — it brings out the potential of places or people.
Was switching professions at 35 years old to become a fulltime photographer a difficult decision to make?
I can see how it's a hard decision for many people. But not for me. I am the type of person who gets comfortable with being uncomfortable.
I didn't hate my life as a programmer. I made good money, had some decent friends, but there was always a little throb at the back of my head warning me that I was meant to do something greater in my life, though I didn't know what exactly.
I have always enjoyed creative stuff but I had never taken a photo. So I gave it a thought and bought an expensive camera while traveling in Kuala Lumpur. The photo was terrible, the worst photo ever. It made me wonder how a sunset can be so beautiful in real life and so ugly on my camera.
Then I put on my computer science hat, thinking of the photo as a bowl of data that I can manipulate. Then I sought to determine the differences between the camera sensor and the human retina.
I think I am a very romantic person, so I want my photos to look like this rich cinematic universe as well. I am still figuring it out. But that is my incentive — to make the photo as beautiful as my imagination of the world.
How did the partnership with Ritz-Carlton differ from your other globe-trotting experiences?
I am happy sleeping under a tree in a park. But the great thing about staying at the Ritz-Carlton is the people working here. They are so nice that it's like they wake up and take a happy pill. That's something I would like to have, cause I always want to make people happy.
What's your happy pill?
I don't take myself seriously at all. I have no ego, which is the greatest creative gift that anyone can give to themselves. When you stop taking yourself seriously or worrying about what everyone else is thinking about you, you have a quietness in your mind that levels out to a natural, happy state.
What's the next plan in your photography career?
I am opening a series of art galleries around the world, in Queenstown and probably in Shanghai. In a world where everything is digital, people may appreciate something that is real and rare.