Antsy Wozniacki really bugged after quick exit at Wimbledon
Dane says opponent 'got lucky' as insect attack adds to her annoyance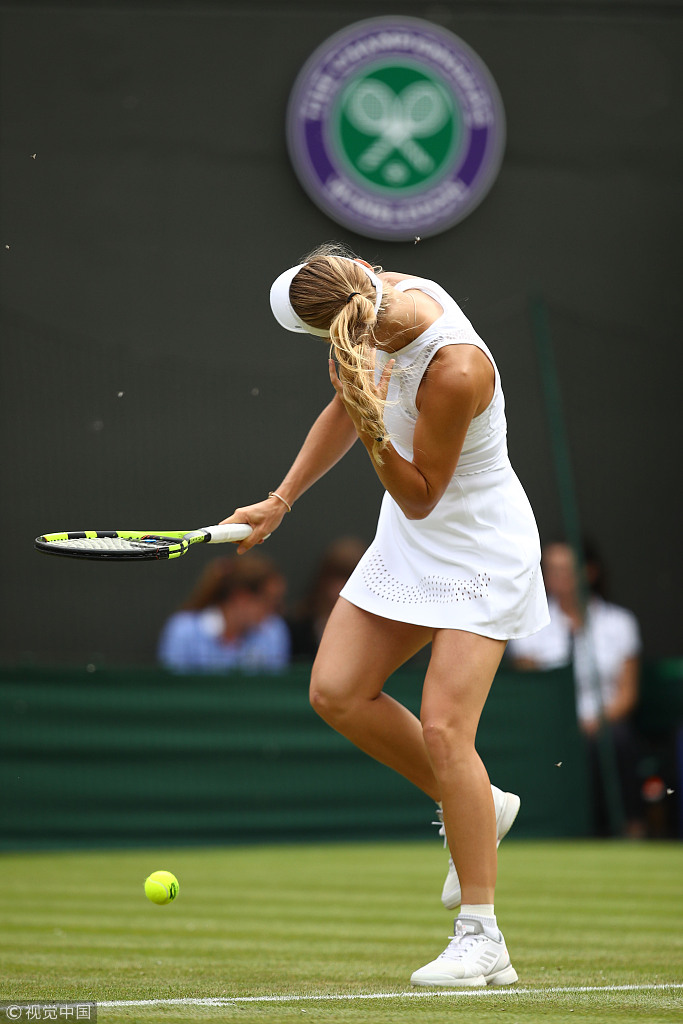 LONDON - Caroline Wozniacki was handed fresh Wimbledon woe as the world No 2 was stunned 6-4, 1-6, 7-5 by Ekaterina Makarova in the second round on Wednesday, then told the Russian: "You won't go far."
Wozniacki, plagued by an invasion of flying ants during the Court One clash, saved five match points but has now failed to get past the last 16 in 12 visits to the All England Club.
It was a bitter defeat for the 27-year-old Dane, who was expected to challenge for the Wimbledon title after winning her first Grand Slam crown at the Australian Open in January.
Wozniacki told Makarova not to get too optimistic about making a deep run at the All England Club, despite the Russian winning the women's doubles title in 2017.
"I think she played above her level and really raised it and got a little lucky and played well when she needed to," said Wozniacki, who lost to the 30-year-old in the second round of the US Open last year.
The Dane had won all of their seven previous meetings up to that point.
"I don't know that she would be able to keep up this level for the rest of the tournament," she added.
World No 35 Makarova, who next faces Czech world No 66 Lucie Safarova, shrugged off Wozniacki's unflattering summary of her chances.
"I don't know what to say. Yeah, maybe I was lucky today. Good for me. Thanks, God!" she told WTA Insider. Flying ants also did their best to darken Wozniacki's mood.
The former world No 1, who is currently ranked second, asked the umpire if there was something that could be sprayed to keep the bugs away. "They're in my mouth and in my hair and everywhere-we need to do something. Is there a spray?" she said.
"I want to be here to focus on tennis, not eating bugs."
Wozniacki arrived in southwest London in good form on grass following her victory at the Wimbledon warm-up event in Eastbourne last week. But once again she exits Wimbledon in embarrassing style, leaving the grass-court Grand Slam as the only one of the four majors at which she has never reached the quarterfinals.
Makarova insisted in the aftermath of her victory that she had tried not to think about the match points slipping away.
"I couldn't win with a lot of match points, but I kept fighting and playing an aggressive game and finally it worked," said Makarova who had led 5-1 in the final set.
"I was really nervous, because you need to win this point.
"When it was 5-5, I started thinking about those match points on my serve at 40-0.
"But I told myself: 'No, you are not going to lose this match'. I forgot it and started over."
Makarova, playing in her 44th consecutive Slam, is hoping to emulate her run to the Wimbledon quarterfinals four years ago when she was beaten by Safarova
The 30-year-old has twice made the semifinals at a major-both at the US Open in 2014 and 2015.
Roger, Serena supreme
Roger Federer extended his flawless winning streak at Wimbledon to 26 consecutive sets as the defending champion crushed Lukas Lacko, while Serena Williams powered to her 16th successive win in Wednesday's second-round action.
Federer delivered a Centre Court masterclass lasting 89 minutes as the Swiss star hit 48 winners and 16 aces in his 6-4, 6-4, 6-1 victory.
The 36-year-old is now on his joint second longest streak of sets won at Wimbledon-his best was 34 between the third round in 2005 to the 2006 final.
In his 20th Wimbledon appearance, top seed Federer, a 20-time major winner, is bidding to become only the second player to claim nine singles titles at the All England Club after Martina Navratilova.
Federer wasn't the only former champion in peak form on Centre Court as seven-time winner Serena routed Bulgarian qualifier Viktoriya Tomova 6-1, 6-4.
Williams brushed aside Tomova in just 66 minutes with 24 winners and four aces to extend her streak of consecutive match wins at the All England Club.
"It was better than the first round. I'm happy I'm going in the right direction," Serena said.
"I'm getting there. I expect to get there, not only for Wimbledon but for the tournaments in the future."