Eat beat
Three's company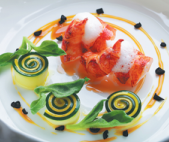 Located on the top floor of the Kunlun Hotel, Heavenly Jin has a panoramic view of Beijing's CBD. It provides an exceptional convergence of authentic Chinese, French and Japanese flavors, created by a team of experienced culinary professionals. Three-star Michelin chef Aurelien Poirot is responsible for the French cuisine, while Zheng Yongsheng from Howard's Gourmet Hong Kong and Kris Wong from LaBombance in Hong Kong take care of the Chinese cuisine and Japanese cuisine respectively. Blue lobster with Italian chiehqua, crispy sea cucumber and a sushi platter is one dish best enjoyed in Heavenly Jin's elegant surroundings.
No 2 Xinyuannanlu, Chaoyang district, Beijing. 010-6590-3388-5406.

Go Marco Polo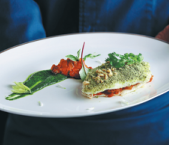 Roman chef Davide Carboni is presenting a new Marco Polo dinner menu at Daccapo Italian Restaurant until the end of July. The fusion menu is a collaboration between Carboni and his Chinese team, where East meets West in fine foods made with passion and innovation. An exciting voyage experience with Venetian merchant and adventurer Marco Polo includes green pea risotto with tempura red prawn and nori, homemade tagliatelle with Peking duck ragout, slow cooked marinated beef cheek with five spices and soy potato puree with a Shaoxing wine sauce.
Daccapo Italian Restaurant, No 99 Jinbao Street, Dongcheng District, Beijing. 010-8522-1888.

Taste of Shunde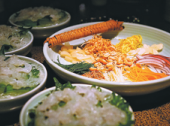 To celebrate winning Timeout Beijing's 2018 chef of the year award, Jing Yaa Tang's executive chef Li Dong is bringing a new menu of Cantonese cuisine to the capital this summer, after paying a visit to Shunde, Guangdong province, to taste their best delicacies. Shunde sashimi is Li's first dish which blends fresh fish meat with egg roll, sliced carrot, onion, garlic, lemon leaves, ginger, sliced crispy taro and many other ingredients, leaving an exciting and fresh flavor in the mouth. Pan-fried dace with lotus root and green pepper, and fried glutinous rice with Chinese sausage topped with cherry shrimp are both must-try dishes.
Taikoo Li Sanlitun North, No 11 Sanlitun Road, Chaoyang district, Beijing. 010-6410-5230.