Driving safety a key priority for Pirelli
Share - WeChat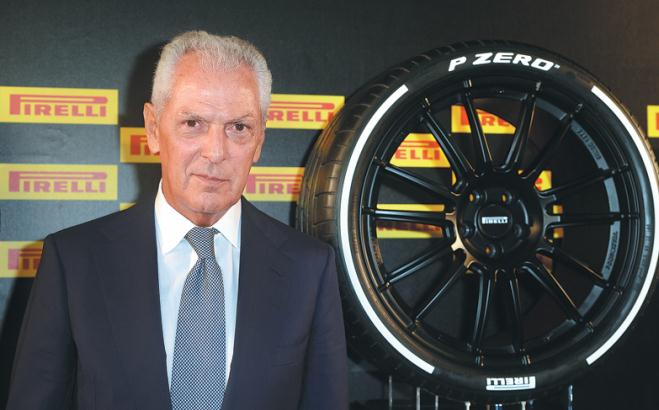 Italy-based tiremaker strives to bring technology-driven products for rising demand from local customers in China
Established in 1872, Italy-based Pirelli & C SpA is cruising ahead in the Chinese market, bringing more technology-driven products to the country to fulfill the local demand for better, safer and more intelligent products.
After being bought by State-owned China National Chemical Corp, or ChemChina, in 2015 together with its historical shareholders Camfin SpA and Russian investor LTI, Pirelli has widened its access to the promising Chinese market and placed it ahead of other tiremakers in the region.
Going forward, the company plans to focus more on digital transformation. Its 2017 annual report said: "In Pirelli, digital innovation has brought, among other things, great organizational, process and cultural changes, which together have projected the company into the advanced industry 4.0 model. The digitalization process has allowed Pirelli to revolutionize the relationship with its customers."
In an interview with China Daily, Pirelli CEO Marco Tronchetti Provera said the company highly values the Chinese market and will invest further in the country to bring more advanced and digitalized products to its customers.
What are your plans to develop in the Chinese market in the coming years?
We will continue to invest in China in the three years from 2018 to 2020, as already indicated in our Industrial Plan for 2017 to 2020. The aim is to increase our high-value capacity, constantly improve our product mix, progress our digitalization and constantly improve our environmental sustainability. In addition, we are also expanding our distribution network, which today includes 3,700 points of sale. Our aim is to reach more than 5,000.
How do you see your business relations with Chem-China after the acquisition?
We are leaders in the highend segment where there is a requirement for high-tech products and services. In China, the market potential is growing and in a few years it will be the most important market in the world. Chem-China's support will be decisive in capturing this market growth.
What are the differences between Chinese customers and those in Europe and the United States, such as consumer habits?
The number of Chinese customers is increasing. Growth in China is double-digit. As for people's habits, they are similar-they want to drive nice cars with good performance and safety. In the future, we can better use information coming from the tires. I think that Chinese customers will greatly appreciate the information we are gathering related to performance and safety, as data on aspects such as grip and tire wear will help to prevent accidents and increase driving safety.
How can digital technologies improve your company's business?
In many ways, digital technologies help improve our business, not only in our factories, but across all areas of our company. We have a system called Smart Factories, which predicts the need for maintenance and aligns production to the best productivity of each machine, linking all 19 plants we have around the world in real time. We also have a forecasting system within the company to optimize efficiency between production and sales globally.
We have recently launched the Cyber Tire, a system conceived for the Original Equipment channel. This is integrated into the cars' onboard electronic equipment and can detect changes in key parameters, and then send the information to the car, which in turn can adjust its control systems.
What are your priorities in China?
Our priority in China is to enter more and more with our technologies, always keeping the high-end segment as our target.
What business opportunities will emerge through the Belt and Road Initiative?
The Belt and Road Initiative provides better infrastructure and links globally, which also means an opportunity for the automotive business. The growth of any region is related to its infrastructure and creating a large market that guarantees the growth of technologies and new jobs.
Overall, it is a very ambitious initiative that is giving China a central role in the world economy, thanks to economic policies that are pushing the country's industrial output toward higher-added-value production.
How will you compete with rivals across the world and in China?
We always compete with our people and our technology. That's the value of Pirelli, with a strong brand that we feed through many initiatives: from Formula 1 to soccer, contemporary art exhibitions in Milan, the Pirelli Calendar and via many other sports.
What's your biggest achievement in China as the group CEO?
The company's biggest achievement is being the first to penetrate the market and become the leader in the high-end segment. We established a factory in 2005 and we have the only factory in China dedicated just to the premium sector.
Another achievement has been in brand recognition, where Pirelli has quickly become a brand known for technology with an Italian touch.
What is effective leadership for a company engaged in Chinese business?
We are a global company and our approach in each country has always been to have strong roots in local communities. When we establish a factory in a country, we are there for decades.
The best achievement would be to be considered Chinese in China. With our Chinese consumers, Chinese employees and all our local partners, we are supporting our growth and success in the country.
How do you motivate your international team?
The Pirelli international team has wages and salaries related to results, but a strong motivation comes from the pride of belonging to a group that has continued to grow globally, supported by the success of its technology.
How do you handle hardships and setbacks, if any?
We overcome them. Any difficulty will become an opportunity to do more and to do better.
What are your dreams or ambitions in China?
Our dreams and ambitions are to be the leader in technology and the first player that delivers a unique technology in China. Not only in terms of products but also what our tires are able to deliver in terms of information, enabling better understanding of the role of tires in the automotive sector.
What are your hobbies? How do you spend your leisure time while in China?
My real hobby is to spend time with family, sailing or skiing. In China, I spend time visiting factories, meeting people and my team, always trying to imagine with them how to do better tomorrow.
What is your life and business philosophy?
Passion, commitment and hard work can make all dreams come true.
CV
Name: Marco Tronchetti Provera
Age: 70
Nationality: Italy
Career:
2015 to now: Executive vice-chairman and CEO of Pirelli
1992-2015: CEO of Pirelli
1986: Joined Pirelli
Previously: Founded family sea transport business in the early 1970s
Education:
Bachelor's degree in economics and business administration from Bocconi University of Milan