Capital concept taps into spirit of 'baijiu'
Share - WeChat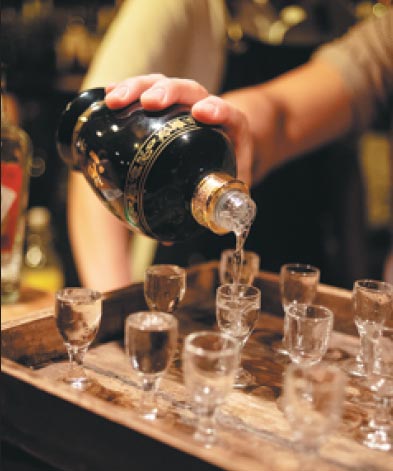 Every country is connected to a distinct alcoholic beverage: Mexico has tequila, in Russia it's vodka, Japan is synonymous with sake, and for China, it's baijiu (white spirit).
Baijiu is the best-selling liquor in the world, even though most people outside the country have never heard of it. There are many factors that account for this lack of acclaim, including its high alcohol content (50 percent or more), the tradition of drinking it in consecutive shots and the aging population of its loyal consumers.
However, one bar has big plans for the future of baijiu. Capital Spirits, which claims to be the world's first baijiu bar, opened in Beijing in 2014 and has been bringing this liquor to the forefront of people's palates ever since.
"When we first opened, we knew that a lot of foreigners were really interested in experiencing baijiu. It is still the most misunderstood spirit even though it is the world's biggest-selling," says US native, David Putney, co-owner and manager of the bar.
While many people are put off by their first experience with the drinking style at Chinese banquets-where you often drink until the bottle's empty-Capital Spirits presents baijiu in a more subtle form: cocktails. More appealing to women and millennials, mixed drinks have the power to make brands such as Red Star and Niulanshan into global household names.
Most Popular