Airbus sees room for competition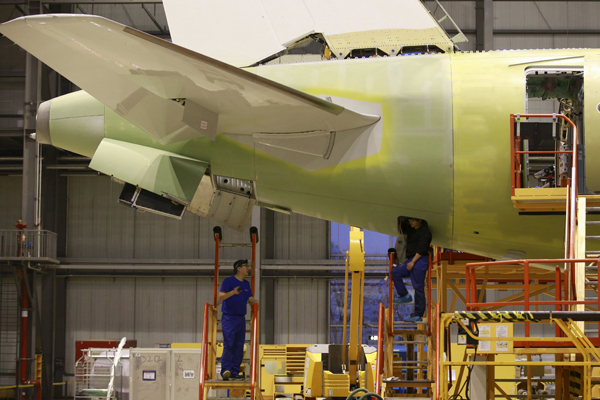 Editor's Note: This year marks the 40th anniversary of China's reform and opening-up. China Daily interviewed top executives of well-known multinational companies for their views on the country's socioeconomic development.
Company attributes success in China to partnerships with domestic industrial players and quality of products, services
Please use three words to describe China's changes in the past 40 years.
Internationalization, dynamics and digitalization.
How has your company benefited from China's reform and opening-up?
Airbus entered the Chinese mainland market in 1985, and established its first office in the Chinese mainland in 1994. At that time, China's civil aviation market had just started to grow and Airbus only took up about 6 percent of market share. Now, we take up about 50 percent of the market, and it is mainly due to our strategic partnership with Chinese industrial players, in addition to the quality of our products and services.
Currently, China is the largest market of Airbus, and we have seen the biggest growth rate here. We deliver about one fourth of our planes to the Chinese market every year. Looking forward, there is huge growth potential in China's civil aviation market in the next decade. In recent years, outbound tourism has grown rapidly, but only about 10 percent of people in China hold passports. If that number grows to 20 or 30 percent, it will be a massive market, and we can foresee that the market will grow robustly.
Airbus is not only bullish on the importance of the Chinese market, but also the innovation ability of China. We hope to share our abilities and achieve mutual benefits with China.
What measures are needed if China wants to deepen reforms?
I follow with interest the growth of the high-tech sectors in China, such as the internet, big data and artificial intelligence. Some emerging technology industries in China are in advantageous positions, and there is a vast population and market. A large number of industries in China need digitalization and automation.
Airbus would like to cooperate with those firms to achieve mutual benefits, which will make us more competitive and help the high-tech firms become stronger.
How do you view China's role in the world today? Could China's experiences and practices be used to solve global problems?
What China has experienced in the past 40 years has been a success, and it shows the world that there is more than one path for successful human development. China will not impose its development model on other countries. Each person's shoes fit their own feet. Other countries have their own approaches, and China's development model and experiences may provide some inspiration for others. Undoubtedly, the global consensus is that China is now a strong emerging global and regional force.
Has competition intensified between Airbus and Chinese companies?
It is reported that the C919 large passenger jet will enter the market by 2021. The market is big enough to provide opportunities for multiple manufacturers to compete with each other. We don't rule out the possibility to cooperate with Commercial Aircraft Corp of China in the future. We are open to this prospect. We already have some cooperation in noncompetitive areas.
What's the most unforgettable experience you have had in China?
The reform and opening-up policy has provided me with the best platform for my career. I started working in 1995, and the best example is my cooperation with Airbus. I was lucky to be able to work at the Airbus assembly line in Tianjin in my 30s. I learned a lot from the management of the factory. The aircraft manufactured there are of the same standard as those made in Europe. We would like to build the assembly line into an industrial benchmark, and the assembly line has helped to drive the growth of Airbus in China.
Apart from economic development, what progresses in the other fields have you witnessed in China in the past 40 years?
China has made significant achievements in its efforts to alleviate poverty in the country. In addition, the nation has accomplished a great deal in the education sector. The number of educated people in the country is constantly growing, education forms have become more diversified, and more people are going to study abroad.
In addition, the medical, pension and insurance sectors have witnessed great improvements, and this serves as a foundation for society allowing it to move toward prosperity. Last but not least, the science and technology sectors in China have achieved remarkable progress, and China now has several top high-tech firms in the world that are attracting global talent, and they are investing significant amounts in research and development.
CV
Name: George Xu
Age: 46
Nationality: China
Career:
January 2018 onwards: CEO of Airbus China
2014-17: Head of the Tianjin Municipal Committee of the Communist Youth League
2011-14: Chairman of the board of Airbus Tianjin final assembly line and vice-president of Tianjin Free Trade Zone Administrative Committee
2008-11: Deputy general manager of Airbus Tianjin A320 family final assembly line and director of the investment promotion bureau of Tianjin Free Trade Zone Administrative Committee
Education:
Bachelor of engineering from Tianjin University
MBA from Roosevelt University
Doctorate in economics from Nankai University