US bike maker's decision exposes another ugly side of Trump policy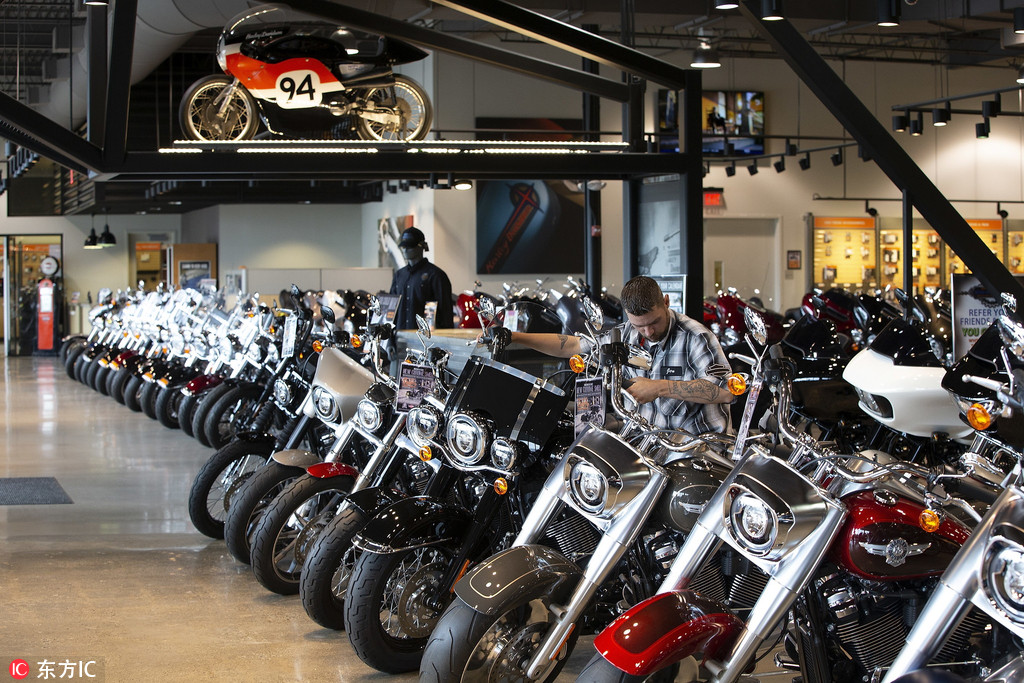 US motorcycle maker Harley-Davidson's announcement on Monday that it would move more production out of the United States is the latest reminder that the US' unilateral measures to increase tariffs is causing self-inflicted wounds.
The Wisconsin-based company, which US President Donald Trump called a "true American icon" and thanked for "building things in America" at a meeting last February, said it will implement a plan to shift the production of motorcycles for export to the European market from US factories to plants overseas to avoid retaliatory tariffs.
The decision came a few days after the European Union rolled out tariffs on $3.4 billion of US goods, including motorbikes, in retaliation to US barriers on imports of European steel and aluminum, which in turn prompted Trump to threaten more duties on European cars.
Tariffs on motorbikes Harley-Davidson exported from the US to the Europe, its second-largest market, jumped from 6 percent to 31 percent, resulting in an average additional cost of $2,200 per bike, the company said in a regulatory filing on Monday. It added that increasing production outside of the US to alleviate the EU tariff burden is not the company's preference, "but represents the only sustainable option". The company's shares closed nearly 6 percent down on Monday.
Trump responded saying he was "surprised that Harley-Davidson, of all companies, would be the first to wave the White Flag". "Taxes just a Harley excuse-be patient!" he tweeted.
Experts following the US' escalating trade spat with the EU and other economies are not surprised by Harley-Davidson's decision. Paul Krugman, winner of the Nobel Prize for economics and renowned columnist, said what happened to the iconic bike company will happen tomorrow to "a lot of other businesses".
"Yes, the US runs a trade deficit. But commerce still estimates that more than 10 million jobs are supported by exports, and many will be put at risk, so will jobs in many US companies that rely on imported inputs," Krugman tweeted on Monday.
Chad P. Bown, Reginald Jones senior fellow at the Peterson Institute for International Economics in Washington, said the costs to the US of its own trade policy actions are accumulating. "Trump's tariffs on inputs like steel, aluminum, or the hundreds of 'parts' on the Section 301 list feed into US production, frequently through cross-border supply chains," he said. "Raising the prices of intermediate inputs raises the costs to downstream US industries and makes American firms less competitive both in the North American and global markets."
Trump's tariff on steel imports has caused Mid Continent Nail Corporation in Missouri, the largest such enterprise in the US, to lose about half of its business in two weeks. "The company employing 500 people earlier this month has laid off 60 temporary workers. It could slash 200 more jobs by the end of July and be out of business around Labor Day (Sept 3)," Missourinet.com reported on Friday.
On June 20, German automaker Daimler AG said it had lowered its 2018 earnings outlook, a change that it says is partly due to increased import tariffs on US vehicles in China. Daimler manufactures vehicles in the US.
Harley-Davidson is the latest example of how businesses are finding themselves in the crosshairs of the trade disputes between the US and its major trade partners. It also proves that winning a trade war isn't that easy. More businesses, consumers and farmers in the EU, China and, without doubt, the US are likely to feel the brunt of the tit-for-tat tariffs.
Commenting on the "strong concern domestically" in the US because of Trump's trade policy, a Chinese Ministry of Commerce spokesman said on June 21: "China hopes the United States can take seriously the voices of all parties and get back on the right track."
With the dominant US bike maker shifting production out of the US, it is time for US policymakers to stop taking reckless measures and to move cautiously and rationally ahead.
The author is deputy editor-in-chief of China Daily USA.
Most Viewed in 24 Hours
China Views