Average pay of 2018 graduates less than expected
Share - WeChat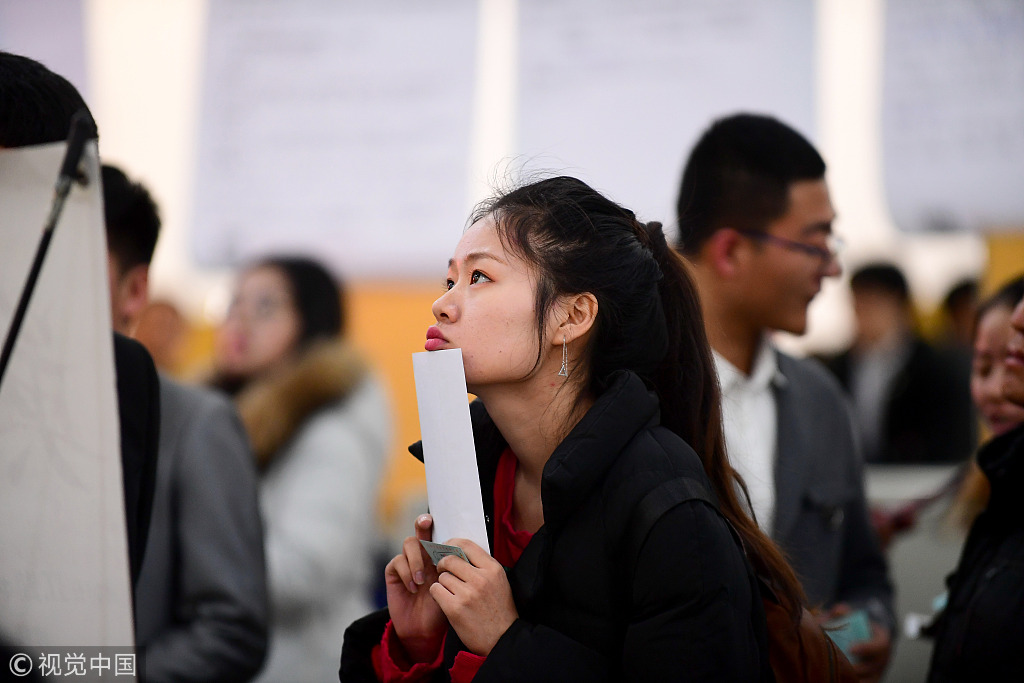 The average monthly pay of 2018 college graduates in China is 5,429 yuan ($828.74), much less than the 6,174 yuan that graduates expect, according to a survey recently published by the classified advertising website Ganji.com.
Forty percent of new graduates expect to earn 8,000 yuan per month, while 9.5 percent of them expect a monthly salary of over 10,000 yuan. In actuality, 80 percent of them earn less than 8,000 yuan a month.
More than half of graduates take salary and workload as their priorities in choosing a career, said the survey. Male job seekers mainly focus on wages, working intensity and hours, while their female competitors are more concerned about training, mentoring as well as the match between job requirements and their abilities.
The service industry, such as catering, marketing and customer service, demands the largest number of graduates. South China's Shenzhen provides the highest monthly salary in catering, which stands at 6,623 yuan on average, followed by Shanghai and East China's Suzhou with 6,431 yuan and 5,998 yuan respectively.
In marketing, the eastern city of Hangzhou in Zhejiang province hires the largest number of graduates and offers the highest salary of 8,074 yuan, while customer service personnel are in greatest demand in Ji'nan, East China's Shandong province with a significantly higher salary of 6,591 yuan.
As for working location, opportunity and development are the major concerns of fresh graduates seeking jobs. The survey shows that 42 percent of graduates choose to work in their hometown to enjoy a better social life, interpersonal connections, job opportunities and quality of life. Another 58 percent prefer jobs in other provinces for plenty of job offers and broader space for development.
Wang Junwei contributed to this story.