Henan's first intl korfball competition ends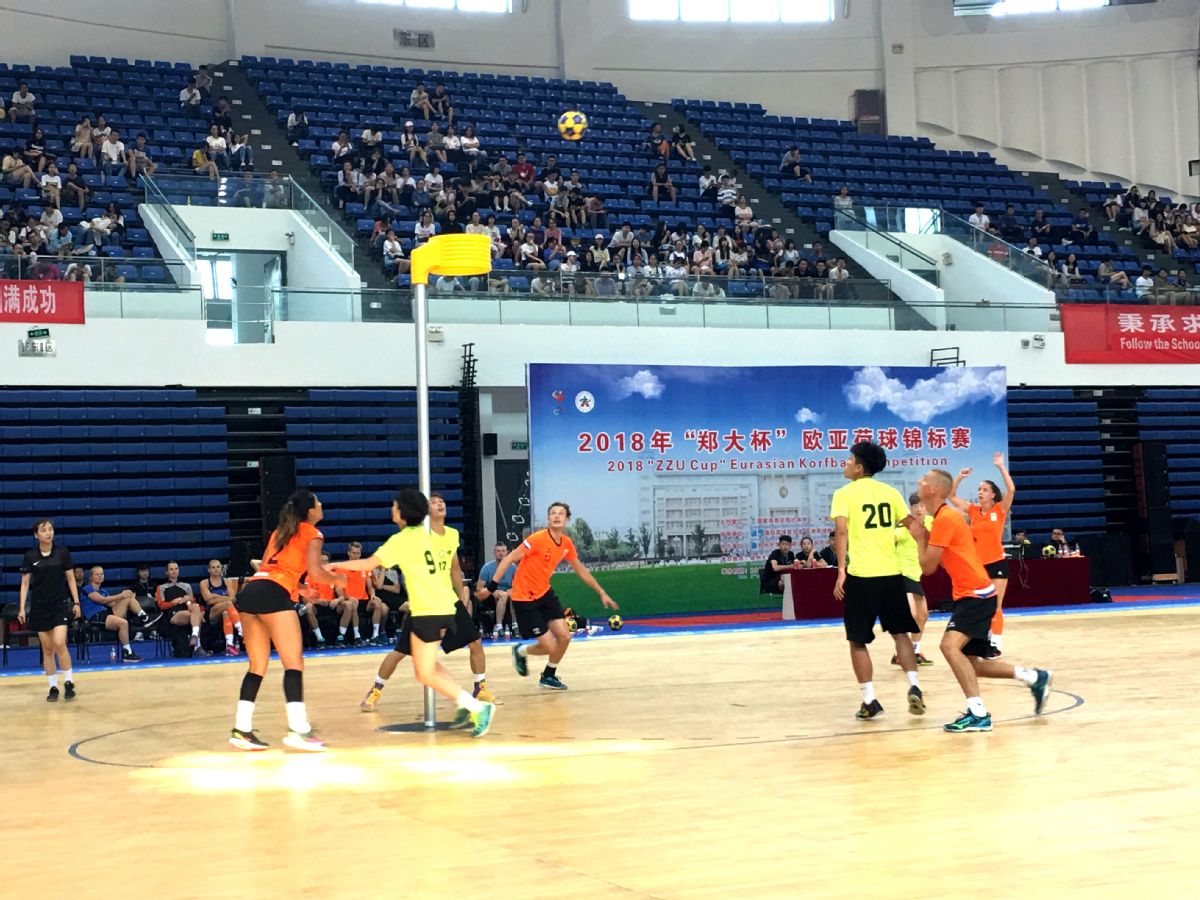 On Monday, the 2018 "ZZU" Eurasian Korfball Competition ended successfully after its four-day competition in Zhengzhou University, Central China's Henan province, marking the first time the province has ever held an international korfball competition.
The Netherlands korfball team, Chinese Taipei korfball team and Chinese mainland korfball team were ranked in the top three positions after intense competition from June 21 to 24.
The competition was approved by the International Korfball Federation and was jointly hosted by the Chinese Leisure Sport Administration Center and Zhengzhou University, creating a good platform for Chinese students to know more about korfball, said Ma Xiangcheng, chief coach for the China national korfball team.
"Even though korfball looks similar to netball or basketball, korfball is special," Ma explained, noting the sport is played by two teams of eight players with four females and four males in each team or with eight players in each team, and the objective is to throw a ball through a bottomless basket mounted on a pole that stands 3.5 meters high.
"There are more than 500 clubs and over 100,000 people playing korfball in the Netherlands. Almost all Dutch people, including the young and the old, the males and the females, like playing it. It looks like a big family sport," Jan-sjouke van den Bos, performance director for korfball in the Netherlands, told China Daily.
In fact, the sport has more than 100 years of history, as it was first invented in 1902 by Nico Broekhuysen, a Dutch school teacher.
Korfball is played in over 60 countries and regions, and it has been a part of the World Games since 1985. The IKF World Championships have been held every four years since 1978, with Belgium and the Netherlands as the leading nations in the competition.
"Four players for each team are in one zone, and the others are in the other zone. Within each zone, a player may only defend a member of the opposite team of the same gender, so that the sport has a low risk of injury. What's more, cooperation and efficient teamwork are the keywords for the sport," said Daan Preaninger, 22, a Dutch player.
Preaninger started to play korfball when he was 7 in the Netherlands. "Coming to China to join the competition is also a way to learn and to communicate," said Preaninger.
Zhengzhou University focused on studying the korfball in recent years, so it is also meaningful to host such an international sports event here, said Liu Jiongtian, president of Zhengzhou University.