Japanese automaker Suzuki gets set to pull out of China
Share - WeChat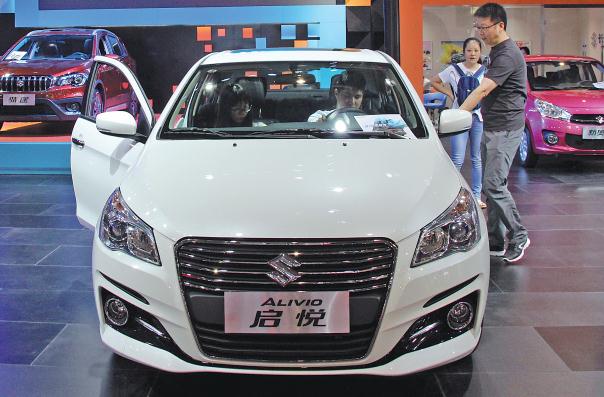 Manufacturer calls it quits to focus on other international markets
Suzuki Motor Corp has announced it is to pull out of China after struggling to compete in the world's largest car market for more than 20 years.
Executives at the Japanese carmaker said they are in talks to dissolve its existing Chinese joint venture, Changan Suzuki Automobile Co, NHK reported last week.
According to the Japanese broadcaster, Suzuki wants to focus its resources on its largest market, India.
Established in 1993, Changan Suzuki was one of China's first car manufacturing joint ventures. The brand's small economy cars were popular in the burgeoning market, with the Alto model even a household name at one point.
The company's sales peaked in 2011, with some 220,000 units sold in the year. But sales have fallen ever since. Statistics show just 21,000 units sold in China from January to May in 2018, a 47 percent fall year-on-year.
Cui Dongshu, secretary-general of the China Passenger Car Association, said Suzuki's flagging sales is the result of its failure to introduce larger vehicle models as the market demand quickly evolves.
"Suzuki has been too preoccupied with its smaller cars strategy. Besides, as more and more economy cars are switching to electric, Suzuki may have to pull out of China," Cui said.
China is requiring carmakers in the country to produce a certain percentage of new energy cars from 2019, and Suzuki lacks such models in its lineup.
Also last week, Suzuki announced that it has withdrawn from the other Chinese joint venture, Jiangxi Changhe Suzuki Automobile Co, by transferring its equity to its partner Changhe Automobile.
Changhe Suzuki was established in August 1994 and had been producing and selling Suzuki-branded automobiles since June 1995.
"The management situation at Changhe Suzuki had been in critical condition since the company had not been able to achieve its sales targets in recent years," said Suzuki in an announcement.
The major reason of its lackluster performance was the brand's limited model choices.
In the past 20 years, Suzuki introduced just four models via the joint venture.
Statistics show that Changhe Suzuki sold 26,370 cars in 2017, down 42 percent year-on-year, while, in the same year, total vehicle sales in China stood at nearly 30 million units.
As reported by NHK, Suzuki hopes that pulling out of China may allow it to concentrate its efforts in India, where it holds a dominant market share through a majority stake in the country's largest carmaker Maruti Suzuki India Ltd.
Its compact models including the Alto and Baleno remain among India's best-selling cars and will thus allow it more time to make preparations for electric mobility in the country.
India has announced plans to stop selling conventional gas-fuelled cars by 2030.
"Maruti Suzuki's market share (in India) is 50 percent, and we need to be considering now how we're going to maintain that share in 2030," Indian newspaper Economic Times quoted Suzuki Chairman Osamu Suzuki as saying.
Suzuki has already made some early moves. In April 2017, it announced an agreement with Toshiba and Denso to manufacture automotive lithium-ion battery packs in India.
With an investment of $180 million, the facility in Gujarat is expected to start production by 2020.
Suzuki also said it would earmark record investment this year in India for research and development into technologies such as electric vehicles, according to the Economic Times.
India is the world's fifth-biggest passenger car market, based on estimates of demand reaching 10 million units annually by 2030 from 3 million at present. In comparison, China sold more than 24 million passenger cars last year.