Electronics recycling platform Aihuishou eyes overseas growth
Share - WeChat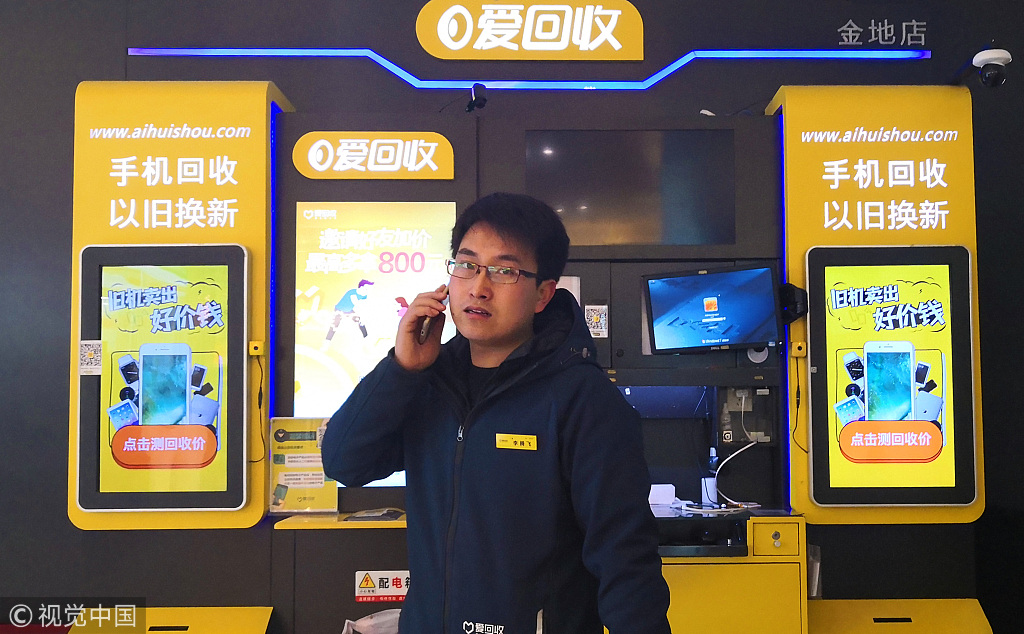 Aihuishou.com, one of China's largest electronics recycling platforms, plans to build a global online marketplace for trading secondhand digital items, marking an initial move to make inroads into overseas markets.
The Shanghai-based company will invest approximately $200 million to develop the platform and push for global expansion, Chen Xuefeng, CEO of the Shanghai-based company, said at a recent news conference in Beijing.
"The company is looking for suitable investment targets in Indonesia, Thailand and the United States," Chen said. So far, Aihuishou has already reached strategic cooperation with major trade markets for used digital products, such as Hong Kong, Dubai, Miami, India, Russia and Brazil.
The platform, called Paijitang, could provide international sellers and buyers with improved services for secondhand electronic products such as disposal, standard rating and purchase, Chen said.
According to data from international information provider IDC and market research institute GFK, global mobile phone shipments exceeded 1.5 billion units in 2017, and secondhand phones are generally resold three to four times, which indicates huge potential in the sector.
There are major bottlenecks in trading secondhand digital products around the globe - consumer demand varies from region to region, and traditional trading models are relatively inefficient, according to Chen.
Earlier this year, Aihuishou made investments in Cashify, an Indian online marketplace for used smartphones and electronics, as well as Brazilian counterpart Trocafone.
These partnerships would enable these target companies to learn from Aihuishou's cutting-edge technologies, and bring about operational efficiencies into their business, Chen said.
On Wednesday, Aihuishou announced the launch of intelligent recycling machines that can facilitate users in recycling their secondhand items.
"Within only one minute, the user can get some of the collection money from Aihuishou via their Alipay account (a popular e-payment system in China). The whole process of collection and transaction takes about three days," said Ni Chun, vice-president of Aihuishou.
The company aims to deploy about 10,000 intelligent recycling machines in first-tier cities including Beijing, Shanghai and Shenzhen, Guangdong province, within one year, according to Ni.
To date, Aihuishou has set up five operation centers and more than 260 recycling stores mainly in China's first and second-tier cities. Chen said that by the end of 2018, the number of physical stores will exceed 400.
Li Yinan, an analyst at China Co-Harmony Investment Fund Management Co, said that companies that trade used products need to establish a sound and sustainable strategy.
"There is tremendous market potential ahead. But the profit margin is relatively low, so online-to-offline startups in this sector need large-scale operations," Li said.