Dawn of a new ice age for skate greats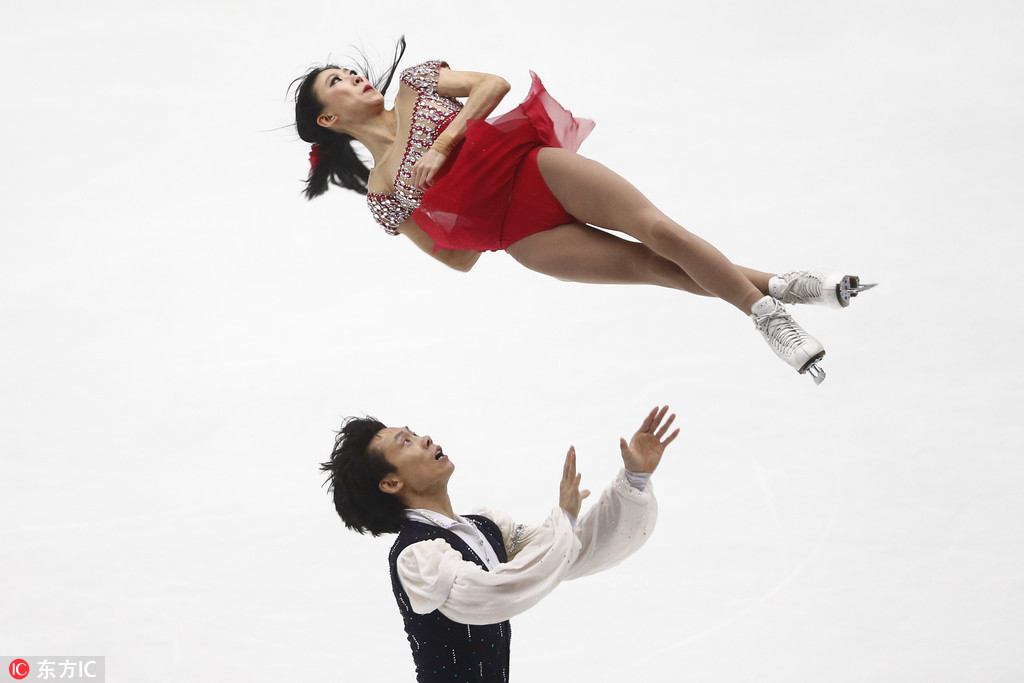 China's former world champs Tong and Pang now blazing a trail in business
Chinese figure-skating royalty Tong Jian and Pang Qing are ramping up the showbiz factor as they bid to bring their sport to the masses.
Since retiring in 2015, the two-time world champion pair have been busy-getting married, giving birth to a son and exploring new ways to grow figure skating in their homeland, where ice events are gaining more exposure leading up to the 2022 Beijing Winter Olympics.
Having already opened a startup company and an indoor rink under their name, Tong and Pang stepped up a gear on Wednesday by signing a partnership with US-based sports and entertainment giant WMEIMG to facilitate their business in youth training, venue operation and ice-show production.
"With such a strong partner, I believe we will make further progress in turning figure skating and related ice events from just sport to an urban lifestyle and a tool of youth education," said 39-year-old Harbin native Tong.
The signing ceremony was held at the newly opened Pangqing Tongjian Skating& Art Center, the first of three planned venues in Beijing operated by the couple's company, iskating, and featuring a standard figure-skating rink, a gym, and catering and educational facilities.
WME-IMG will optimize the operation of the center, providing elite technical staff and organizing more figure-skating shows in China and overseas.
Four experienced foreign experts-including 2014 Sochi Olympics ice-dancing champion pair Charlie White and Meryl Davis of the United States-have joined the center as technical directors, in charge of tailoring training curricula and choreographing routines for commercial shows.
"I am looking forward to working with them to help realize their dream to grow the sport in the region," said White, a friend of Tong and Pang.
Having shot to fame by winning their first world title in Calgary, Canada, in 2006, Tong and Pang are considered China's second-best figure-skating pair of all time, behind 2010 Olympic gold medalists Zhao Hongbo and Shen Xue.
Tong and Pang, who won silver at those 2010 Games, transferred their talent to the exhibition circuit in 2013, headlining various shows organized by WME-IMG and embracing the tour business as an effective way of promoting the sport.
Determined to chart a different path from his counterparts, Tong gave up a coaching position on the national team to set up iskating in June 2015, initially focusing on entry-level junior training.
The first show run by the company proved a huge success in November, with 8,000 fans packing the Capital Gymnasium in Beijing to enjoy a 90-minute, Alice in Wonderland-themed performance.
"The impressive turnout really boosted our confidence that high-quality ice shows have great market potential and appeal to the urban public as a feast for the eyes," said Jia Xu, the chief executive of iskating.
The company plans to run two more shows this year, starting with one in Shanghai in the summer, and then expand its business to neighboring countries in the Asia-Pacific region.
WME-IMG's renowned Star on Ice show, which mainly tours North America, will merge with some iskating events to bring more young Chinese performers to a bigger stage, said Duan Kun, vice-president of client marketing for WME-IMG China.
Tong has invited several respected retired Chinese skaters to join his coaching team, including Gao Song, Liu Jiaxing and former national team pairs coach Ding Yang.
On Wednesday, China's 2012 world junior men's singles champion Yan Han became the latest to sign up as a performer.
The 22-year-old, whose competitive career has been hampered by injury in recent years, said: "Tong and Pang's business has opened up more possibilities for us to continue our careers on a broader platform beyond our athletic prime."