Firms showcase technological prowess
Share - WeChat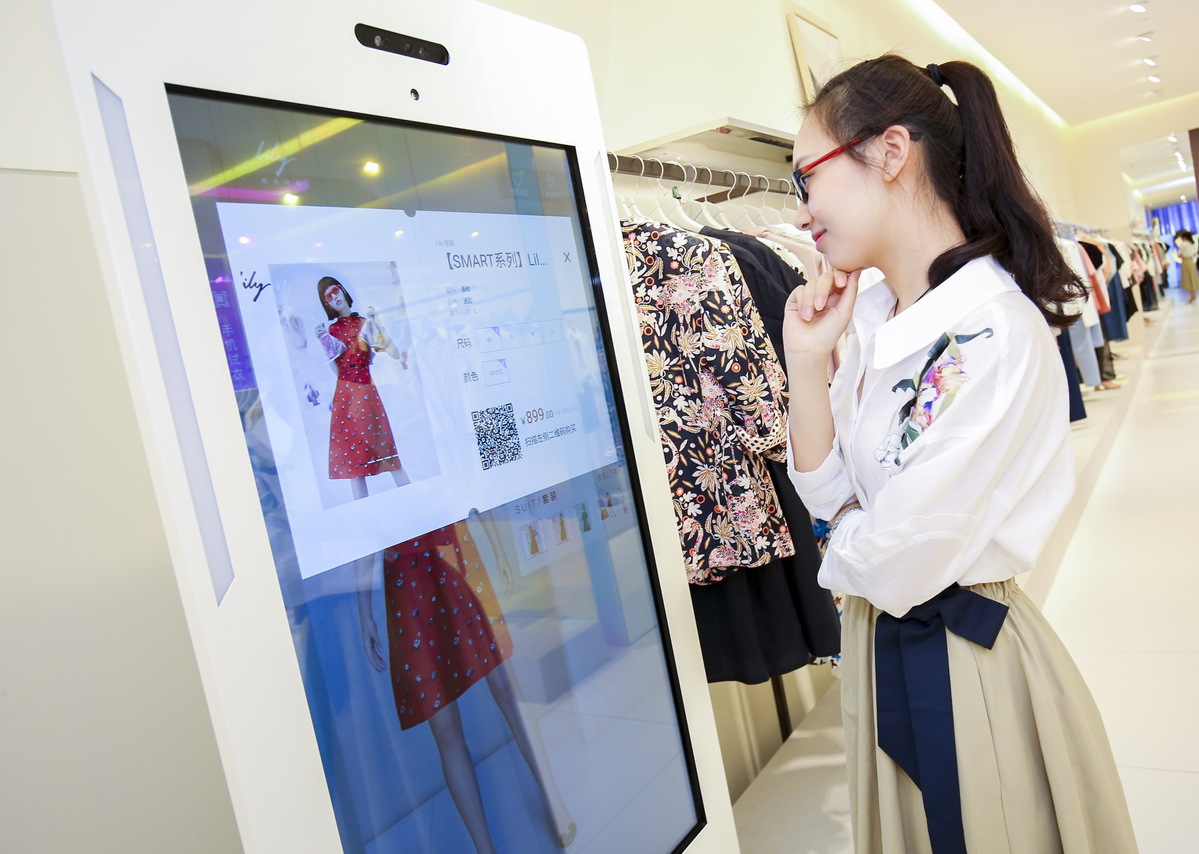 Cutting-edge technologies became the key battleground of this year's June 18 retail promotion gala, with companies showcasing their technological prowess throughout the shopping and delivery process.
Alibaba Group Holding Ltd this year unveiled smart recommendations for clothing powered by an intelligent fitting room located in apparel stores such as Lily. Through facial recognition technologies, a "magic mirror" system allows customers to view themselves in the clothes they pick within two seconds, the company said.
By factoring in gender, age, climate and other factors, the feature can swap real life clothes with other recommendations, removing the need to rush between clothing racks and changing rooms. The devices are available in more than 100,000 brick-and-mortar stores across the country.
Cainiao Network Technologies Co Ltd, Alibaba's delivery arm, unveiled what it calls an "express delivery tower" for storing unattended parcels during this year's June 18 shopping gala. The large-capacity, automated courier tower is five floors high and can store 600 to 800 parcels. The company said the inner space can be adjusted to meet the changing demands of densely populated areas.
The "machine" is equipped with 16 delivery spots to allow multiple express deliverymen to work simultaneously, maximizing efficiency. The machines support facial-recognition technologies for parcel pickups and have been put into use in selected communities and parks, according to Alibaba.
Jointly developed with Hangzhou Dongcheng Electronics Co, the express delivery tower holds a number of national patents and strives to meet the needs of populations living near shopping malls, office buildings or university campuses.
JD unveiled autonomous planes, self-driving trucks and intelligent terminal devices as part of its June 18 shopping bonanza. Its unmanned plane JDY-800 has a 1,000-kilometer flight range with a maximum takeoff weight of 840 kilograms. The company said it expects to put the plane into operation by 2020.
The e-commerce giant's newly unveiled autonomous truck is nine meters long, 3.5 meters high and 2.5 meters wide. So far, it has finished 2,400 hours of test driving for automated logistics operations.
Equipped with sensors, radars and cameras, the autonomous truck can detect and track surrounding objects, and is set to enter into commercial operation by 2020.
Xiao Jun, vice-president of JD, said the company plans to utilize various types of logistics drones, depending on the demands on its logistics network.
"We plan to build a three-tier intelligent logistics network, which consists of main lines, branch lines and distribution terminals, using drones and unmanned delivery vehicles, by combining our cutting-edge technologies," Xiao said.
The e-commerce behemoth has been investing heavily in intelligent logistics operations by using drones, robotics and driverless vehicles for parcel delivery, aiming to bring down costs and transform the logistics industry.
It used drones to deliver packages in Xi'an, capital of Northwest China's Shaanxi province, during its June 18 shopping festival last year, and carried out smart robot deliveries at several universities, such as Renmin University of China, Tsinghua University and Zhejiang University.