EU should judge the US by its actions, not reputation
Share - WeChat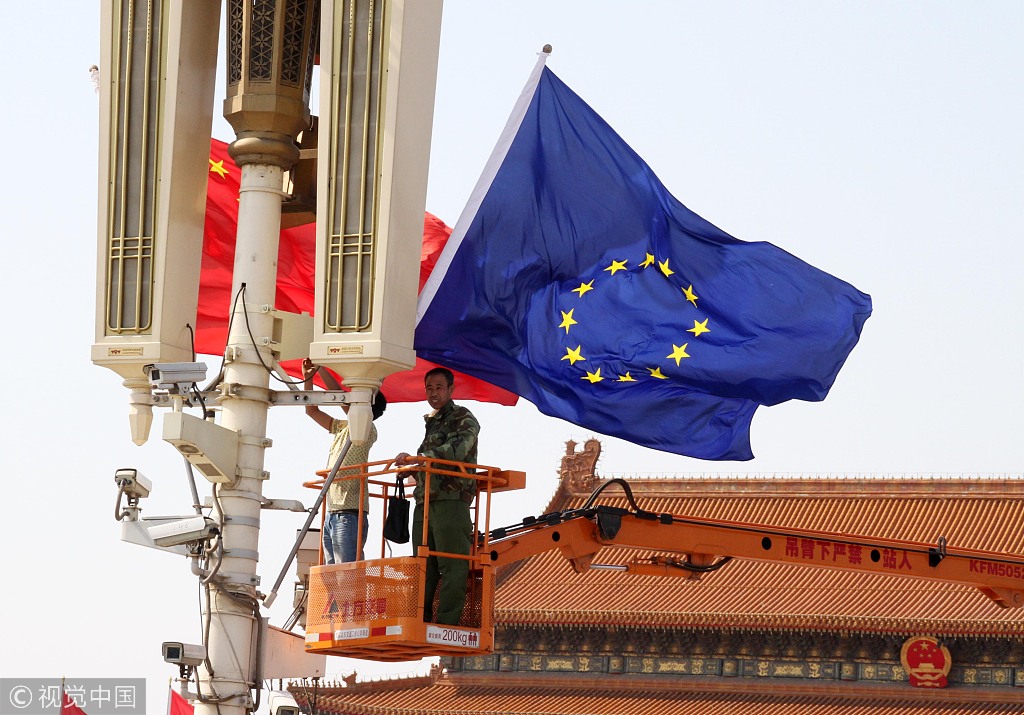 Beijing and Brussels have been preparing for the annual China-European Union summit scheduled for July in Beijing, while the United States is turning its selfish unilateral policies into damaging and disruptive actions.
This is a reality Beijing and Brussels must face when approaching the summit and to build it into a sustainable and progressive platform. Of course, investment treaty, market penetration, increased flows of goods and people, and other issues should be listed on the agenda. But, as the leading drivers of globalization and multilateralism, the two sides must realize the changing global political and economic situations have already forced them to change their approach to the summit.
This means the China-EU summit must go beyond the mutual level to stabilize global governance at a time when the US is either withdrawing from multilateral pacts or disrupting the decades-old rules and consensuses established by the international community. In this sense, the summit looks to be historic and different from the previous ones.
However, this does not necessarily mean the rest of the international community should accept the US' disruptive policies. True, the US is the world's largest economy. But since the global supply and production chain has greatly contributed to the US' success, the entire international community should force the US to fulfill its international responsibilities.
So when Beijing and Brussels compare their notes for next month's summit, they should decide on what common actions to take in order to prevent Washington from turning the escalating trade tensions into war. Washington has already put Beijing and Brussels in the same boat, but what it has not realized is that the long global production chain, too, is in that boat.
It is necessary for Brussels and Beijing to warn Washington that it should withdraw its high punitive tariffs on exports from China and the EU for its own good. That the EU still has 28 members and 500 million consumers gives it a strong leverage to oppose the US' disruptive trade policies. And along with China's countermeasures against the US, the EU can use this leverage to force US decision-makers to change their anti-globalization and unilateral trade policies.
Considering the flip-flop nature of the Trump administration, Beijing and Brussels must establish long-term coordination to force Washington back on the track, and to behave like a responsible global leader.
China has been making concerted efforts to make the world a peaceful and prosperous place through cooperation, consensus and mutual trust, which shows it is a responsible global player.
After Xi Jinping became China's top leader in 2012, the overarching goal of China's diplomacy has been to forge a new type of international relations featuring mutual respect, fairness, justice and win-win cooperation, and to build a global community of shared future.
The EU is committed to globalization and a multilateral global system, and it is delving into the global problems so as to build a better world characterized by fair governance, with special focus on Eurasia. In many ways, the EU has been pursuing the same diplomatic goals as China, although on some occasions its interpretations and practices are different. This broad convergence of their goals should prompt the two sides to establish a comprehensive strategic partnership by removing ideological barriers, as President Xi said during his recent meeting with German Chancellor Angela Merkel in Beijing.
China and the EU have long planned to become "strategic partners", but their efforts have been hampered by the lack of mutual trust. So Brussels must reflect why Beijing's relations with most of the EU members are better than the overall Beijing-Brussels ties.
It's time Brussels started acting not only as a regulator of relationships but also as a promoter, advocator and pioneer of healthy, constructive and visionary partnerships. It's also time the EU changed its approach toward the US to build sturdy and productive relations with other leading global players, including China.
The author is deputy chief of China Daily European Bureau.
Most Viewed in 24 Hours
China Views