Healthcare advances to benefit countries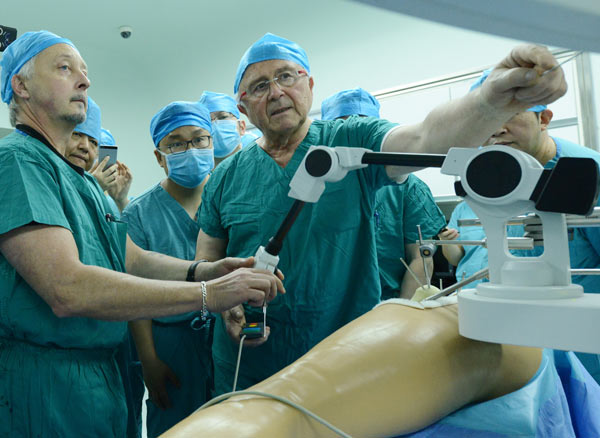 Deeper collaboration between Britain and China on medicine and healthcare can benefit both nations, said a senior member of China's National Development and Reform Commission at the China-UK Cooperation Forum on Healthcare, Technology and Education in London on Wednesday.
Ou Xiaoli, director general of the social development department at NDRC, said healthcare and living standards have improved vastly in China during the last four decades.
"One of the key achievements is the great increase of life-expectancy for hundreds of millions of people," Ou said. "The average life expectancy rose to 77 years in 2017 from 66 years in 1978. At the birth of the People's Republic of China in 1949, it was only 35 years."
Within a short period of time, Ou said China has been able to develop the world's largest basic medical insurance network. It covers all citizens, provides insurance for patients with serious diseases, and enables patients to receive emergency medical services and overall improved medical assistance.
China faces a surge in demand for care from an aging population.
"Economic growth and higher personal incomes mean Chinese people demand better healthcare, leading to an increase in costs," he said. "It is important to strengthen our collaborations with countries like the UK on medicine and health."
More than 500 million pounds ($669 million) of healthcare and life science deals were signed by UK Prime Minister Theresa May on her visit to China this year.
Liam Fox, the UK's international trade minister, said he believes advances in medicine and technology are opening up new opportunities to manage and cure disease.
John Loughhead, chief scientific adviser at the Department for Business, Energy and Industrial Strategy, said: "Research and innovation now are global endeavours and that's why UK and China have agreed to develop such significant research development over the last 40 years."
He said it has courted more than 460 partnerships across more than 40 funding initiatives.
Loughhead said, "The UK's partnership with China is not only about economic ambition, but it is also about working together to address the pressing problems that we all face today and for me this is the real triumph of those programs."