Keeping up with the Kenyans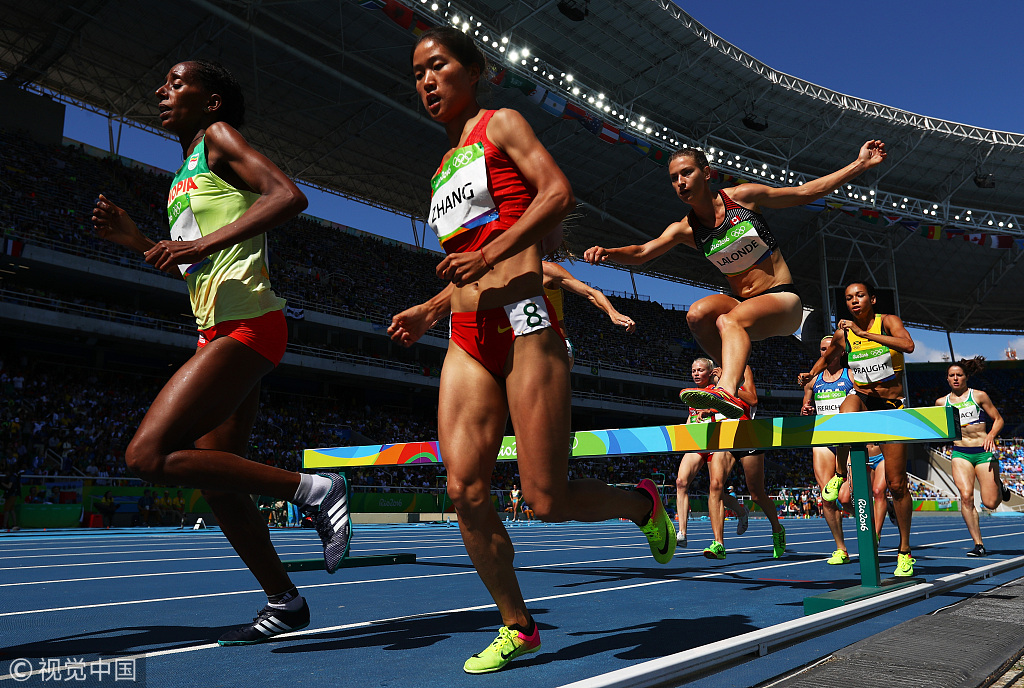 Chinese athletes travel to East Africa for joint training camp
Zhang Xinyan had sound knowledge of Kenya's prowess in global athletics before she visited the East African nation in late April to participate in a month-long training camp on the outskirts of Eldoret, a town known to Kenyans as the "Home of Champions".
The 24-year-old middle-distance runner from Gansu province represented China in the 3000m steeplechase at the 2016 Rio Olympic Games.
It was a watershed moment for Zhang and five other Chinese athletes when they landed in Kenya at the peak of rainy season in April to meet the country's big names in middle-and long-distance running and participate in a joint special training course.
Zhang and her colleagues from Yunnan province were quick to acclimatize themselves to the humid weather and rugged terrain in Eldoret as they embarked on a journey to rediscover their racing mojo.
During training at the modern track owned by Moi University on the outskirts of Eldoret, Zhang reunited with Hyvin Kiyeng Jepkemoi, Kenya's 26-year-old steeplechase icon who bagged a gold medal at the 2015 World Athletics Championships in Beijing and silver at the Rio Olympics.
Despite the language barrier, the duo had instant chemistry as they shared fond memories of the highly competitive races that earned them global recognition.
Zhang and Jepkemoi originally met at the Rio Games, where the Chinese and Kenyan track teams were conspicuous.
"I could not fathom a reunion with somebody I consider a heroine in the 3000m steeplechase, and our training here in the Home of Champions will definitely be a game-changer in our careers," Zhang told Xinhua during an interview in Eldoret.
She said she has always held Kenyan middle- and long-distance runners in high esteem, and training with them would be a boon to her career.
"It feels great to mingle with personalities who have dominated the global middle-and long-distance races. This experience will ultimately have a positive impact on the future races that I am slated to participate in," said Zhang.
Jepkemoi likewise hailed the reunion with Zhang and her five colleagues, describing it as a "joyous occasion" since it marked her first opportunity to train with Chinese athletes in her hometown.
Jepkemoi grew up in a hilly village near Eldoret and was inspired by relatives and neighbors who made a mark in national athletic championships back in the day. She developed a strong affection for China after visiting Beijing and Shanghai, where she was struck by the nation's economic and industrial miracle.
Kenya's high-altitude landscapes offer an ideal training ground for athletes aiming to maintain their edge, and Zhang and her colleagues were beaming with confidence as they prepared for the final stage of their training at the Eldoret camp, which is about 2,000 meters above sea level.
Zhang Guowei, a coach of the Yunnan track-and-field team, said the grueling training boosted the endurance of Chinese athletes as they prepare for upcoming races, including the national athletics championships in Guiyang City, capital of southwestern China's Guizhou province, later this month.
"Training at an elevated altitude that is energy-sapping will help our athletes handle grueling races at home and in foreign countries with ease," Zhang said.
The team also included male marathoner Dong Guojian and female long-distance runner Zhang Deshun, both from Yunnan province.
Dong said it was quite an experience to run in Kenya, which is home to so many world-class athletes.
"The atmosphere of just focusing on running fast helps me a lot," he said.