Pop idol Jay in a basketball league of his own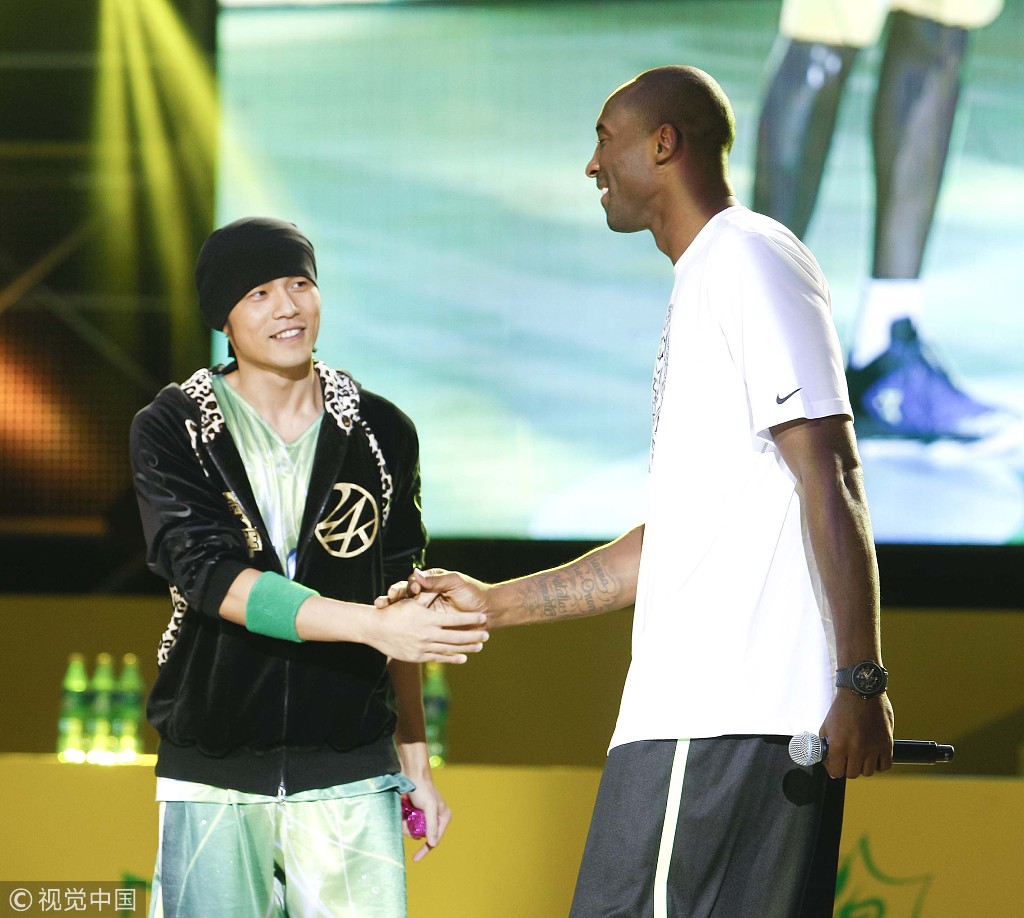 Chinese pop megastar Jay Chou is indulging his passion for basketball by forming his very own league.
Chou, who has played one-on-one with NBA legend Kobe Bryant in the past and is friends with Brooklyn Nets player Jeremy Lin, on Tuesday launched the JYB League, a 3-on-3 competition created in conjunction with PCG Bros Sports and Starz Sports, in Beijing.
In keeping with the musical crossover, American rapper and actor Ice Cube was also in attendance to back the project, which aims to give grassroots players a fun platform to enjoy the game.
JYB stands for "Jiu Yao Battle", a combination of Chinese and English which means "Just Battle", a motto of Chou's.
"Everyone knows that I love basketball and we just need to battle on the basketball court," said Chou.
"I'm not a professional player, so running back and forth over the whole court is too challenging for me. The 3-on-3 game is a great way for more grassroots players to join the sport."
With a prize of one million yuan ($156,000) for the champion, the league will feature the best eight teams from the DDD 3x3 Basketball City tournaments and teams from reality show Dunk of China, which is broadcast on video and streaming platform Youku.
The DDD qualifying tournaments, which are organized by PCG Bros Sports and are expected to attract over 5,000 domestic and foreign players, will begin on July 28 in 14 Chinese cities.
"A year ago when I reached out to Chou and said that we were planning this league, he asked me if it would be a platform for non-professional players to pursue their dreams," said Eric Chang, the general manager of PCG Bros.
"I answered yes and that was exactly what we are trying to do. Through the platform we want to find more young basketball players."
JYB games will also feature a strong musical element as organizers seek to blend sport and entertainment.
"Basketball has been in my life for about 40 years, and I know that entertainment elements are crucial to the sport," said Starz Sports chairman Lu Hao.
"Leagues like the NBA and CBA are like never-ending TV shows. By adding entertainment elements to attract the younger generations, the sport can have more possibilities in the future."
The 3-on-3 game is gaining in popularity in China, especially after it was announced it will make its Olympic debut at the Tokyo 2020 Games.
Last week, the Chinese Basketball Association 3x3 League revealed this year's competition, its fourth edition, will feature games in over 30 provinces and municipalities around the country in a bid to attract more grassroots players, in particular teenagers.
Moreover, in January, the CBA announced it will build toward the Tokyo Olympics by staging another national 3x3 tournament, which is open to amateurs and professionals alike and offers members of the winning team the chance to play at the Games.
CBA president Yao Ming believes 3x3 has opened a new window of opportunity for Chinese basketball because, unlike the traditional five-on-five game, it is new to almost all countries.
Speaking earlier this year, Yao said: "The first Olympic basketball tournament was at the 1936 Olympics in Berlin, and after almost 30 years of development 3x3 basketball was announced to join the 2020 Summer Olympics, reshaping the history of the sport. This is a new start for Chinese basketball."