Greener logistics to help cut plastic pollution
Share - WeChat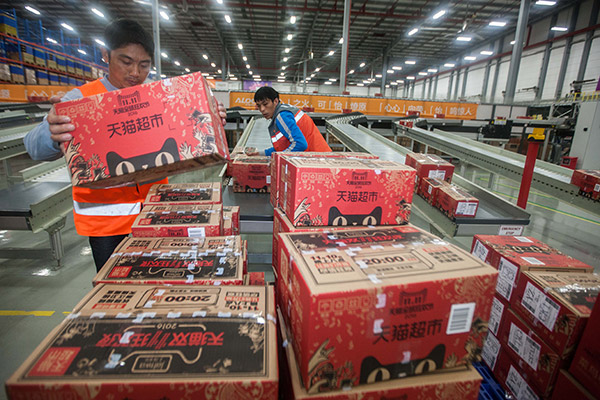 BEIJING-The rapid development of China's logistics industry has made daily delivery services quicker and cheaper, and now the world's largest delivery service market is looking to make logistics greener by reducing plastic pollution.
The country saw about 40 billion parcels delivered last year, up 28 percent year-on-year, ranking top globally for the fourth consecutive year, official data showed.
The 40 billion parcels required about 8 billion plastic envelopes and a huge number of rolls of tape, which is a growing concern for environmental pollution, according to Sun Kang, secretary-general of the China Express Association.
The problem of parcel packaging pollution has drawn attention from regulators. It is reported to be one of the topics highlighted at a tone-setting national meeting on environmental protection in May that aims to achieve a fundamental improvement in the quality of the environment and build a Beautiful China by 2035.
The State Post Bureau and another nine government agencies in November issued guidelines that require half of external packaging to be biodegradable, 90 percent of bills to be electronic, and packaging for each parcel reduced by 10 percent by 2020.
The country's top standardization administration issued new guidelines in February that require packages for express delivery goods to be thinner and more recyclable effective from September.
Meanwhile, many logistics market players, both State-owned and private, have taken measures to address the challenge.
China Post Group Corp, the State-owned postal service provider, said last month that it is aiming for more than 90 percent of its waybills to be digital and for over half of its packaging materials to be biodegradable by 2020.
Cainiao Network Technology Co Ltd, the logistics affiliate of Alibaba Group, announced plans in late May that all of its delivery sheets will be made from renewable materials by 2020, and it will promote the use of a paperless, electronic system for logging deliveries.
E-commerce site Suning.com plans to increase the number of recyclable delivery boxes to 200,000 this year and use at least 2 billion green packages by 2020.
China's green logistics technology equals or even outperforms that of foreign counterparts, but the country is still in the early stages of developing a green logistics mechanism, said Fang Xi, a senior State Post Bureau researcher.
"It takes effort not only from logistics firms, but also improving public awareness and a sounder regulation framework," Fang added.